Knitting Focus On India
Karl Mayer is promoting its HKS 3-M tricot and FL 20/16 raschel knitting machines in India for various applications for the domestic market.
Jürg Rupp, Executive Editor
Warp-knitting machinery manufacturer Karl Mayer Textilmaschinenfabrik GmbH claims to have a global market share of some 80 percent and is continuously expanding its position. To bolster this position, the Germany-based company started an offensive strategy in India in the middle of last year. Now, the first results are known. Textile World talked to Tim Wollnik, senior manager, marketing and sales, Karl Mayer, to get a first insight into the efforts made in this evermore promising country in Asia.

At the end of June 2012, company Chairman Fritz P. Mayer opened a new market initiative in India by welcoming customers to an event presenting the third generation of its HKS 3-M tricot knitting machine. At the same time, the Karl Mayer Academy India and a new customer service center opened in Surat, on the west coast of India in the state of Gujarat.

Advertisement
Strong Growth
Karl Mayer's India service branch was inaugurated in 2009 in Mumbai. In the last two years, the company noticed a growing demand for warp- knitting machines in India. After carefully examining the situation, the Indian branch further developed its supply of services, training programs and new machines and made improvements in keeping the necessary spare parts available.
The site in Surat is home to the Karl Mayer Academy, which offers operator courses as well as basic courses, with the target of increasing the level of know-how in India's warp-knitting Industry. At the same site, Karl Mayer is sharing the location with its local representative, A.T.E., which has located in Surat to offer spare parts storage and sales support.

Figure 1: This pink and gold sari was produced on Karl Mayer's FL 20/16 multibar raschel machine.
India Focused On Warp-knitting Machines
At the June 2012 event, Karl Mayer presented the HKS 3-M with a special focus on the different needs of the Indian textile manufacturers. The third-generation version is a versatile and flexible high-performance machine. Thanks to the special knitting motion and knitting elements, the model is said also to be suitable for very low stitch densities and coarse gauges. The substantial lapping variety turns the HKS 3-M into a three-bar high-performance tricot machine with highest versatility of products, according to the company.
The application range stretches from ground structures for embroidery, automotive textiles, upholstery fabrics, sportswear, shoe fabrics, outerwear, ground fabrics for printing, billboards and mosquito nets to coating substrates.
Fascination® Sari
India is the land of the sari, the beautiful dress for ladies. By creating a new range of patterns on the Fascination® Lace FL 20/16 multibar raschel machine, that machine is said to offer a new possibility to produce sari fabrics in a one-step process. Previously, a ground structure was produced on a high-speed tricot machine such as the HKS 3-M, and the embroidery was made in a separate step. With the FL 20/16, it is possible to produce a ground fabric and the embroidery-like design directly in one process on the machine. The result is a ready-made sari fabric.
The FL 20/16 offers the following technical features:
Four ground guide bars and 16 pattern guide bars each feature Karl Mayer's EL drive.
The Kamcos® computer platform features motion control/multi-speed facility. This advantage enables warp yarn delivery and fabric take-down speed to correspond to a pattern's specific requirements.
When producing a complete sari measuring 5.5 meters long, the machine's computer facilities can handle the data sets to produce two matching saris next to each other.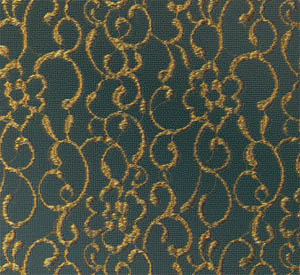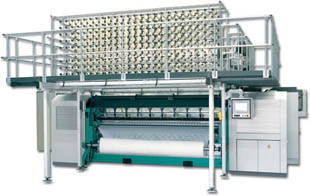 Figure 2: Karl Mayer's FL 20/16 multibar raschel machine is able to produce embroidery-like designs for sari fabrics.
Embroidery-like Effects
The fabric in the sari shown in Figure 1 features a filigree, lattice-like ground with a dense, allover pattern. The 16 pattern bars on the marquisette ground construction create the ensemble. In order to produce the 3-D design, the pattern bars are placed in positions 1 to 16, in front of the four ground guide bars.
Ground construction worked on the FL 20/16 can range from marquisette to tulle constructions. Patterns also may be created by processing yarns with different-colored sequences. Bright, iridescent yarns may be combined with monochromatic yarns to create other colored accents.
Changing Market Demands
In recent years, India has changed from a mainly second-hand-machine market to a new-machine market. Indian warp-knitting companies have realized the advantages of modern equipment in order to reach highly efficient production as well as higher quality targets. In that regard, TW asked Wollnik why Karl Mayer has made such an investment in Surat.
"Well, the biggest number of new machines was being sold in the area of Surat," Wollnik answered. "Therefore, this location was chosen for the academy."
When asked about the company's first experiences with the new academy, and whether ideas and plans are being realized, Wollnik replied: "Yes, we are happy with the development. The academy is in full operation, increasing the range of participants from customers to working together with textile universities. Our expectations are entirely fulfilled."
High Expectations
What does Karl Mayer expect from the Indian market?
"We see great opportunities and prospects for Indian warp knitters, considering the huge local market as well as the possibilities for export of ready-made garments," Wollnik said. "On the other hand, the strongest market in Asia for the time being is China, and it has been for quite some years. Nevertheless, other Asian countries such as India, but also South Korea and Taiwan, are on the rise again. So, our expectations for the future are quite high."
March/April 2013