The New Trützschler Group: Getting Fibers Into Shape - One By One
Trützschler Group CEO Dirk Burger, Ph.D., talks to Textile World about his company and its future direction.
Jürg Rupp, Executive Editor
Trützschler GmbH & Co. KG — a group of companies with some 2,700 workers and nine production sites in Germany, United States, Brazil, India, China and Switzerland — is a leading global supplier of machinery and equipment for spinning, nonwovens and man-made fibers; as well as card clothing.

Trützschler was founded in 1888 by Paul Heinrich Trützschler in Crimmitschau, Saxony, Germany. He was followed by his sons Bruno, Karl and Willi. After World War II, Hans and Hermann Trützschler began reconstruction in Mönchengladbach and developed the company into an international enterprise. Today, Managing Partners Heinrich Trützschler and Dr.-Ing. Michael Schürenkrämer lead the group together with Managing Directors Dirk Burger, Ph.D., CEO, and Andreas Ebennöh, chief technical officer, who share the operation of the business. The managing partners mainly focus on the strategy and development of new business areas.

Burger recently spoke with Textile World about the company highlights and future direction.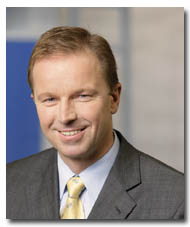 Dirk Burger, Ph.D.
TW: Trützschler was known as a leader in the field of classic spinning preparation. Then, there was a radical rethinking (See Table 1). Why did the company expand the product portfolio at such a pace?
Burger
: From our point of view, Trützschler has changed over the last decades up to now more in an evolutionary way. In the '60s, '70s and '80s of the last century, we expanded our original spinning preparation program of blowroom machines to carding machines and draw frames. At the same time, the early globalization of Trützschler began with the start-up of production sites in North America, Brazil and India. In 1985, we presented a feeder for roller cards, which could control the web over the whole width. With this product, we started to learn about the nonwovens industry. Many industry contacts motivated us to get more involved.
TW: What were the main reasons to acquire all these companies?
Burger
: The natural fibers sector is somewhat limited, so these acquisitions focused on man-made fibers. With card clothing from Hollingsworth, we could offer development, sales and marketing of cards and clothing from one source. Erko allowed us to further extend the web-forming portfolio. Fleissner is one of the leaders in nonwovens bonding. Bastian's technology enabled us to further round out our portfolio with competence in winding. Swisstex complements our competence in man-made fibers and will open new markets.
TW: What are the main advantages of this group?
Burger
: First of all, to offer complete spinning preparation solutions for natural and man-made fibers. Synergies are quite obvious: It does not matter if you prepare fibers or the carding for spinning or nonwovens production; it's more or less the same technology. And there are a lot of synergies, for example, in the man-made-fibers sector: We can serve customers with one team for all products, demonstrating our enlarged competence. All sectors cover fiber treatment. If we formulate Trützschler's comprehensive competence, we can say "getting fibers into shape."
Burger describes the company's philosophy: to be fast when changes occur; to lead in technology; and to be close to the markets and, therefore, to the customers. On top of all is the proximity to the customers with strong and fast local service.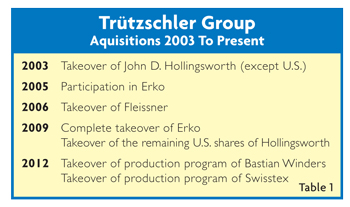 TW: How have you been able to integrate all individual group members?
Burger
: Integration is like a soccer game: A group of stars is not a team yet. They need focused coaching, which we do very carefully. On one side, we support the individual strengths of the group members. On the other side, we integrate them into a corporate team and culture. We deliberately did not close any branches, and consequently, there is no big move of people from one place to another.
The main target is to have a consistent market entrance with all group members. This is not such a difficult task in a family-owned company with short decision routes.
TW: How have your employees and customers reacted to the acquisitions?
Burger
: Very, very positively. Our employees see a strategy of growth and a secure future. Don't forget, the acquisition was made by a technology company, and not by a financial investor. Here is somebody with a long-term investment that has a lot of confidence in the people.
For our customers, our group gives the signal of being a reliable partner with a solid technological background. As we can offer complete lines, it's getting better all the time, and one can build up trust with the customers. For example, we've sold complete man-made fiber lines to Indonesia, Pakistan and China. Trützschler Nonwovens is working well, and the winding department has a full order book for one year ahead.
TW: What are Trützschler's top sellers and most important export markets?
Burger
: In spinning, our top seller is undoubtedly the TC 11 card, the most economical card in the market. In the blow room, the Foreign Fiber Separator SP-FPU with its complete, modular system for detection and safe separation of foreign parts without high fiber losses is well-accepted worldwide. In the draw frame sector, we continuously increase our market share. In card clothing, the trend is to new products with less maintenance and increased product quality. For nonwovens, our core competence is in the know-how of complete lines. We're the only company that can master four nonwovens bonding technologies. A focal point is certainly spunlaced lines. In man-made fiber, we are quite successful in lines with a daily production capacity between 100 and 600 metric tons.
For spinning machinery, our most important export markets are Southeast Asia including Pakistan and Bangladesh, and, of course, Turkey. Big markets like China and India are mainly served by our local production plants. Nonwovens machinery exports are only shipped from Germany.
TW: How do you see the current market situation, and what do you expect in 2013?
Burger
: We see a slight improvement compared to 2012, particularly for China and India. Due to political instability, there are some problems in Egypt and Syria. The poor supply of energy in the south of India is also a handicap for development of the local textile industry.
For 2013, we expect stable business development without any big growth, but also considerable market breakdown.
We expect our export share will increase further in the sectors of nonwovens and man-made fibers.
Countries with a growing consumption of textile products are Trützschler's most important markets — and, of course, all countries with a high export share of textiles and apparel.
TW: Where will you go in the next few years?
Burger
: That is not an easy question: I think China is not a low-cost country anymore; it also has a huge domestic market and consumption. Many Chinese textile producers have stopped exporting; the local markets are in a better shape. On the other hand, this will give other countries a chance to increase their own exports.
TW: What do you expect from this group of companies for the future?
Burger
: We want to be the partner around the whole fiber and fiber preparation business. We want to be the technology leader in these fields of applications.
TW: In certain areas of your product portfolio, you are considered to be a market leader. Why is this, and what do you plan to do to keep your market position?
Burger
: We have strong quality and service commitments to our customers. We want to be close to our customers and their markets, and deliver technology and products that are in demand in the various markets.
R&D is of great importance for our business. Development will be even more international and specific to the different markets. Our service around the globe will be very present for our customers and will surely be even more expanded.
TW: Are more acquisitions possible?
Burger
: We don't have concrete plans in that direction. We think we are in pretty good shape today. However, one should never say "Never."
March/April 2013
Advertisement