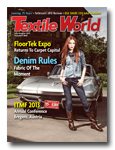 July/August 2013
On the Cover:
Denim North America's Fall 2014 product line, Cabin In The Woods, is inspired by the current hipster fashion trend and features custom washes that tie into the seasons concept. Photograph courtesy of Sammie Saxon
Features
ITMF Annual Conference: Bregenz: A Fine Place For Networking
Lenzing AG COO Friedrich Weninger discusses Lenzing's involvement in Austria's textile industry and the ITMF conference.
2013 ITMF Annual Conference Program
ITMF Annual Conference: Rebalancing The Power Between Manufacturing & Retail
This year's ITMF Annual Conference will explore the changing relationship between textile producers and retailers.
ITMF Annual Conference: Austrian Textile Industry: Small But Strong
VTI President Dionys Lehner, Ph.D., discusses Austria's textile industry and plans for the ITMF Annual Conference in Bregenz.
Carpet Capital Hosts Floortek
FloorTek Expo returns to Dalton, Ga., after a four-year break.
Techtextil 2013: Sector Summit
A record 1,322 exhibitors showed their products and services at this year's technical textiles/nonwovens trade show in Frankfurt.
Denim Rules
Changing lifestyles and fabric innovation make denim the fabric of the moment ... and onward.
Textile News
Oerlikon Retains Manmade Fibers, Saurer Reincarnated
Allen Gant Receives STA's Chapman Award
Mattex To Establish Operations In Eton, Ga., Add 200 Jobs
NatureWorks Teams With Calysta For Methane Conversion
From The Editor
TPP Effect Hinges On Yarn-Forward Rule
Business & Financial
Yarn Market
2013 To Date: Look Back, Look Ahead
Executive Forum
Lenzing: 75 Years & Growing Ever Stronger
Dieter Eichinger, Ph.D., vice president and general manager, Textile Fibers, discusses Lenzing's market position, success and challenges.
Quality Fabric Of The Month
FR + Stretch = Flexible Protection
With FlexTex, Mount Vernon Mills has added a stretch woven option to its line of flame-resistant fabrics for utility wear.
Nonwovens / Technical Textiles
Sun Protection Beyond Awnings
John S. Saunders, CEO, USA SHADE & Fabric Structures Inc., discusses his company's activities and outlook.
Propex Consolidates Nashville, Hazlehurst Production
Fiberweb To Expand Old Hickory Plant
DuPont To Increase Kevlar® Colored Yarn Capacity
Fiber World
Unifi's REPREVE® Meets SCS Responsible Source™ Standard
Dyeing Printing & Finishing
Fong's Introduces THEN AIRFLOW® Synergy 8
Clariant Unveils TexCare® SRA 300 F Soil-Release Agent
Knitting / Apparel
Cotton Trends
Cotton Incorporated presents Autumn/Winter 2014-15 colors and fabrics.
Grupo Karim's To Acquire Jockey De Honduras
Burlington Becomes Bluesign® System Partner
Supplier Notes
Marzoli Commits To Green Innovation
Al Abdullatif Orders Oerlikon Neumag S+ BCF Systems
New Products
[TC]2's 3-D Scanners Collect Data For BVI
X-Rite Debuts Ci4200 Spectrophotometer
People
Bulletin Board