Alpha Performance
Polartec® Alpha® insulation, developed for the military and soon to be adopted for consumer outdoor apparel, offers super-lightweight, breathable, versatile performance.
Janet Bealer Rodie, Managing Editor
When U.S. Special Operations Forces (SOF) equipment procurers started looking for a new puffy-style jacket for SOF operators to wear in the field, they turned to performance apparel fabric maker Polartec LLC, Lawrence, Mass., to collaborate on developing a new insulation material that would surpass traditional materials vis-à-vis breathability and also would be warm, quick-drying, wind-resistant and very durable. The result is Polartec® Alpha®, an innovative insulation technology that provides what Polartec calls "active warmth" along with all the other mandated performance properties.

Feedback from SOF evaluators regarding Alpha's performance has been the most positive Polartec has received for any of its products. The new insulation is going into jackets designed by Ventura, Calif.-based outdoor apparel maker Patagonia Inc. and will be distributed to all SOF operators. The jackets will take the place of two or three layers, lowering soldiers' weight loads and enhancing combat effectiveness, Polartec reports.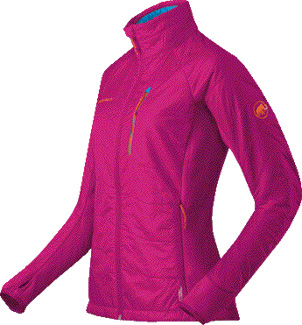 Mammut is among a number of outdoor apparel brands that will offer products containing Polartec® Alpha® insulation as of fall 2013.
The insulation also has applications for outdoor apparel markets, where puffy outerwear has been popular because it provides warmth while also being very lightweight. However, traditional batting or down insulation requires the use of tightly woven outer fabrics and linings to prevent the insulation from poking through, thus also restricting breathability and moisture vapor transport and creating a situation in which the wearer can become overheated as exertion levels increase. Produced in different thicknesses for different applications, Alpha is a super-lightweight, lofted and very open, stable raschel-knit fabric that will not migrate through the outer fabric — thus allowing use of more loosely woven, breathable fabrics that allow moisture vapor to pass through, so the wearer stays warm but also comfortable in changing conditions. Alpha also continues to insulate the wearer when wet, and dries quickly.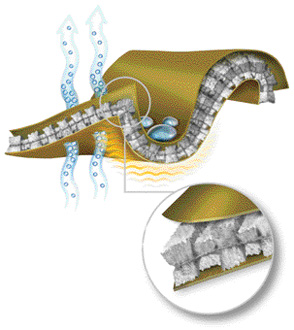 The Polartec® Alpha® insulation system comprises a durable, water-repellent protective outer layer; the durable lofted, low-density insulation itself; and a smooth inner lining. The system is breathable like fleece and offers "active warmth" for varying levels of activity.
"With Polartec Alpha, you can use virtually any type of woven," said David Costello, military business manager for Polartec. "We can fine-tune the wovens to take advantage of the characteristics of the insulation – it breathes like fleece — and deliver a package that has specific breathability characteristics. So now, when you start to exert yourself, you don't have to take off the jacket."
Costello said products containing Polartec Alpha will be available at retail in fall 2013. "All the good technical brands recognize its value and are picking it up," he said, noting that it is very packable and less bulky than traditional puffy insulation, and adding, "It doesn't move around inside the jacket, which allows for greater design flexibility for the garment."
---
For more information about Polartec® Alpha®, contact David Costello +617-875-2492; costellod@polartec.com; polartec.com. Go online to TextileWorld.com for archived Quality Fabric articles.
---
January/February 2013
Advertisement