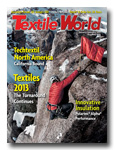 January/February 2013
On the Cover:
Polartec LLC's Polartec® Alpha® insulation for consumer outdoor apparel offers super-lightweight, breathable, versatile performance.
Features
The New Italian Rapier Job
itema has introduced a new rapier weaving machine - the R9500 - based on the successful A9500 air-jet machine.
Techtextil Is California Bound
The 2013 West Coast edition of Techtextil North America will mark the show's tenth anniversary with a move to Anaheim, Calif.
Executive Forum: Composites: A Growing Industry
Frédérique Mutel, president and CEO, JEC Group, discusses the Paris-based composites organization and the global composites industry.
Textiles 2013: The Turnaround Continues
The U.S. textile and apparel industry remains on the upswing, and the prognosis going forward is good.
Textile News
Gildan Completes CanAm Acquisition
Agru America Expands Operations, Adds 126 Jobs
Gulistan Carpet Files For Chapter 11 Bankruptcy Protection
Mount Vernon Mills And Riegel Division Mark 175 Years
Verdezyne, UFS Team For Nylon 6,6 Fiber Production Using Biobased Adipic Acid
From The Editor
$50 Billion - Walmart's 10-year Commitment
Business & Financial
Yarn Market
Spinners Anticipate A Solid First Half
Quality Fabric Of The Month
Alpha Performance
Polartec® Alpha® insulation, developed for the military and soon to be adopted for consumer outdoor apparel, offers super-lightweight, breathable, versatile performance.
Nonwovens / Technical Textiles
BMS Expands Facility, Taps Howe To Head R&D
PFG Debuts Two Integrity® Fabrics For Protective Apparel
Americhem Introduces NDuramax™ Combinations
Tenowo Lincolnton Expands, Adds 26 Jobs
Fiber World
Sunbrella® Renaissance Unity Features Recycled Content
Sarla To Establish U.S. Operations, Create 100 Jobs
3A Throwing Acquires Ames Textile's Synthetic Yarns Division
SK Capital, First Reserve Corp. Acquire TPC Group
Dyeing Printing & Finishing
Huntsman Debuts AEEA-free MEGASOFT® Softeners
Kornit Introduces Kornit Paradigm Add-on Solution
Clariant Divests Textile Chemicals, Other Businesses
Patagonia Base Layers Feature Polygiene® Antimicrobial
Knitting / Apparel
Happy Birthday Tencel® ... And Oeko-Tex
Major events were held to celebrate 20 years of successes ... and to look ahead.
ColdPruf Selects Repreve® For Base Layers
Cone Denim Launches Tencel® Denim Fabrics
Saluzzo Introduces Newlife™ For Corporate Workwear
Supplier Notes
Pinto Selects Navis TubeTex Finishing Line
Eastman Machine Celebrates 125 Years
Linz Textil Installs Second Autocoro 8
Uster Updates USTER® Statistics
New Products
Karl Mayer Reissues HKS 4-M EL Tricot Machine
Richard Hough Debuts RoberteX Squeezing Roll
People
Bulletin Board