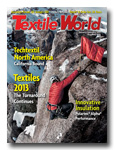 January/February 2013:

Polartec LLC's Polartec® Alpha® insulation for consumer outdoor apparel offers super-lightweight, breathable, versatile performance.
-view now-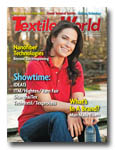 March/April 2013:

Post-consumer recycled polyethylene terephthalate packaging is the base polymer for Poole Company's EcoSure® fiber, featured in the shirt shown here.

Photograph courtesy of Century Place and Douglas Smith Photography
-view now-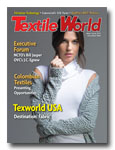 May/June 2013:

This cap sleeve turtleneck is made by three dots in partnership with Buhler Quality Yarns Corp.

Photograph courtesy of Geoff Moore, geoffmoorestudio.com.
-view now-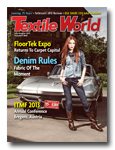 July/August 2013:

Denim North America's Fall 2014 product line, Cabin In The Woods, is inspired by the current hipster fashion trend and features custom washes that tie into the seasons concept.

Photograph courtesy of Sammie Saxon
-view now-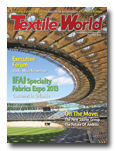 September/October 2013:

The radial cable system with fixed tensile roof at the Olympiysky National Sports Complex in Kiev, Ukraine, designed by Hightex GmbH, Germany, won an International Achievement Award at IFAI Expo Americas 2012.

Photograph ©Hightex GmbH +49 8051 6888-0
-view now-

November/December 2013:

Crypton Home's Veldt fabric is featured on Hancock & Moore's Theodore Sleeper Settee for the home furnishings market.

Photograph courtesy of Hancock & Moore
-view now-