Uniquelami Installs Web Processing Laminating Unit
Automotive interior textiles maker Uniquelami, South Korea, has installed a PUR reactive polyurethane laminating machine, a three-roll hot-melt lamination unit produced by Web Processing M/C Ltd., United Kingdom. The new system replaces a solvent-based laminating system, and is being used to laminate textiles to nonwovens for use in seat and headliner applications.

The PUR machine uses a discontinuous technique to apply fine lines of adhesive, resulting in a strongly bonded, soft and flexible finished material that is suitable for molded parts. The adhesive reacts with moisture in the air to become crosslinked, converting the material from a thermoplastic to a thermoset and giving it permanent strength without requiring high temperatures or drying time, according to Web Processing.

The company reports the machine provides a stronger bond than is created by solvent-based laminating systems; weighs 8 to 10 grams per square meter; features a compact design and 5-meter production line; uses less energy; produces virtually no emissions; and can run with short changeover times from roll to roll.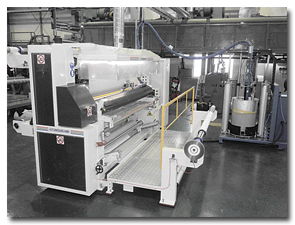 Web Processing's PUR laminating machine installed at Uniquelami
September/October 2012
Advertisement