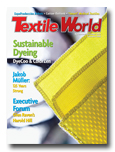 November/December 2012
On the Cover:
GlenGuard® Hi-Vis antistatic mesh fabric for protective workwear apparel is manufactured by Glen Raven Inc.'s Glen Raven Technical Fabrics LLC division, led by President and COO Harold Hill. Photograph courtesy of Glen Raven Technical Fabrics LLC.
Features
Cotton Market: Policy Versus Fundamentals
Tug-of-war hints at range-bound prices heading into 2013.
Jakob Müller's Not-So-Narrow 125 Years
Swiss manufacturer of machinery for the production of narrow fabrics and labels continues to grow.
ExpoProducción Debuts In Mexico
ExpoProducción will present the latest products, services and technologies to suppliers in the apparel, home textiles and technical textiles sectors in Mexico and Central America.
Technical Fabrics: Endless Possibilities
Glen Raven Technical Fabrics President and COO Harold Hill discusses the direction his company is taking, as well as issues impacting its potential success.
Saving Water A Swimming Poolful At A Time
DyeCoo's CO2 polyester dyeing technology and ColorZen's cotton pretreatment technology drastically reduce water and chemical usage in textile wet processing.
Textile News
Tandus Acquired By Tarkett Group
Oerlikon Sells Two Business Units To Jinsheng Group
Indorama To Expand U.S. PET Capacity
U.S.-Colombia FTC Concludes First Meeting
Invista To Expand Plant In Camden, S.C., Add 50 Jobs
Burlington Technologies Joins Forces With Bentex Mills
From The Editor
Bangladesh's Triangle Shirtwaist
Business & Financial
Yarn Market
Robust Business Continues; Spinners Wary Of Fiscal Cliff
Quality Fabric Of The Month
FR From Nature, Layer By Layer
Intumescent and nanobrick antiflammable layered nanocoatings made using chitosan and other renewable materials provide FR protection for cotton and other textiles and foam.
Nonwovens / Technical Textiles
Medical Textiles: How Smart Do They Have To Be?
Embedding new and novel technologies into textiles or engineered materials provides opportunities for more dynamically active and responsive products.
Mount Vernon Mills Debuts Mount Vernon FR Brand
Vita Nonwovens Management Team Completes Buyout
Rainier Industries Acquires Statesville, N.C., Facility
Graniteville Adds Technical Coating Line
Fiber World
Teijin Eco Circle Selected For Nissan Leaf Interiors
Poole Co. Launches EcoSure® Full-Circle, ComFortrel By Poole
Crailar Set To Start Up Pamplico Processing Facility
Kelheim Develops Umberto Specialty Viscose Fiber
Dyeing Printing & Finishing
Aunde Group Selects Goller Sintensa Washing Ranges
UFC Apparel Line Features Sciessent's Agion Active™
Schoeller Spinning Wins Vorarlberg Innovation Award
Kornit Digital Opens Demo Center In Hong Kong
Saffron Invests In Fong's TEC Series Dyeing Machines
Knitting / Apparel
Yarn, Surface Design And Small Orders
Exhibitors at four New York City trade shows presented their offerings for Fall/Winter 2013-14.
Levi's® Debuts WasteLess™ Denim Collection
Polartec Introduces Polartec® Alpha® Insulation
Haggar Eco-Line Marks 14 Million Bottles Recycled
M&S Announces Chemical Commitments
Brooks Brothers Debuts New Tartan, Opens Highland Dress Store
Supplier Notes
James Heal Earns Trade Award, Marks 140th Anniversary
Trützschler Acquires SwissTex Winterthur
Navis TubeTex Reports Sales Of TM-100 In Turkey
New Products
GERBERcutter® GTxL Wide Now Available
Oerlikon Schlafhorst Offers Fancynation For Autocoro 8
SDL Atlas, Tinius Olsen Introduce Horizon Software
People
Bulletin Board