U.S. Textiles: Improving Scenario
In 2011, the U.S. textile industry began to reverse the decline seen in previous years, and NCTO's support role included a focus on international trade.
By William L. "Bill" Jasper
The year 2011 was an incredibly active and productive year for the U.S. textile industry. For most sectors, business remained strong for most of the year. After years of decline, the yarn and fabric segments added 2,000 jobs, an increase of 1.7 percent. New textile plants have been built for the first time in decades. U.S. textile exports, valued at $17.2 billion, set a new record as sourcing for many products has begun to shift from Asia to the Western Hemisphere. Imports of qualifying regional apparel from Western Hemisphere trade partners grew in 2011 while full-duty imports declined as a percentage of total imports. In addition, U.S. textile companies continued to invest heavily in new technologies and product development.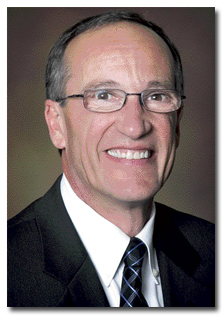 Bill Jasper was reelected NCTO chairman at the organization's 2012 annual meeting.
NCTO At Work
The National Council of Textile Organizations (NCTO) was extremely busy as well, particularly regarding international trade. The first half of 2011 focused strongly on a new grassroots strategy with regard to the Korea-United States Free Trade Agreement (KORUS). In a few short months, NCTO gathered 27,000 names in its petition drive to demonstrate to members of Congress the serious concerns that the industry has with KORUS. Entire communities became involved in the drive. Even though KORUS eventually passed, the industry gained new credibility as a political force. NCTO is now institutionalizing its grassroots efforts so that when new opportunities or dangerous legislation come up, it can have a new tool to amplify its message on Capitol Hill.
NCTO's work has also focused on other areas, including an initiative to expand U.S. exports. On export finance, NCTO was responsible for the Export-Import Bank reauthorization legislation language related to offering more competitive financing options to the industry. NCTO worked with the U.S. Department of Commerce and a leading importing group to create a major Western Hemisphere sourcing focus at the Sourcing at MAGIC show in August. This effort included a USA pavilion, a Sourcing Summit with key retail executives, an America's Sourcing seminar, and a Western Hemisphere Issues forum. This was the largest Western Hemisphere sourcing event in the United States in more than a decade.
NCTO also continued its work on advancing the Textile Enforcement and Security Act of 2011, which was introduced in the U.S. House and Senate last year. Effective enforcement and proper facilitation of imported textiles and apparel remains a key issue, and this legislation seeks to address many concerns raised by NCTO and companies in the textile sector.
Looming TPP Issues
Looking forward to 2012 and beyond, the Trans-Pacific Partnership (TPP) negotiations are by far the biggest issue facing the industry. NCTO has worked diligently to ensure that a few key measures are included in the agreement. These include a yarn-forward rule of origin, strong and effective customs provisions, and long duty phaseouts for sensitive products. These have been the basic building blocks of every free trade agreement (FTA) since the North American FTA (NAFTA), and they have created a two-way Western Hemisphere trade platform worth nearly $25 billion. They are so important that 76 members of Congress, led by Reps. Trey Gowdy, R-S.C., and Larry Kissell, D-N.C., sent a letter to the U.S. Trade Representative on May 1 to underscore the importance of a strong textile and apparel chapter in a final TPP agreement.
Despite TPP's advanced stage of negotiations, there are still many unknowns, including the rules of origin, treatment of state-owned enterprises, and the possible addition of other countries to the negotiations. While the U.S. government is insisting on a yarn-forward rule of origin, Vietnam opposes the rule and wants to allow Chinese yarns and fabrics to qualify as part of TPP. Giving Chinese producers duty-free access to the U.S. market would be a disaster for many U.S. textile companies — and for their trade partners in the Western Hemisphere. Fortunately, the U.S. government is pushing back hard against Vietnam on this vital issue.
NCTO is also concerned with the treatment of state-owned and -directed enterprises under TPP rules. Vietnam is a non-market economy that uses extensive subsidies and state-owned companies to meet its export goals. These anti-competitive measures have helped make Vietnam the second-largest apparel exporter to the United States. VINATEX, the government-owned conglomerate, exports more apparel than any Central American country. While U.S. textile companies typically invest more than a billion dollars per year to upgrade equipment and processes, no company can or should be expected to compete with a foreign government. NCTO will be looking carefully at the measures in the final agreement to ensure that the industry is not vulnerable to this anti-competitive activity.
In a related issue, one of the biggest complaints the U.S. textile industry had with KORUS was the lack of long duty phaseouts for some of the most sensitive products. The Central America-Dominican Republic FTA (CAFTA-DR) and NAFTA regions are the largest export markets for most U.S. textile products. Any new imports from Vietnam that displace imports of apparel made with U.S. textile inputs in the region will be damaging to the U.S. textile industry. Because subsidies and state ownership pose a special threat, and because Vietnam is a large producer of many of the major apparel products made in the Western Hemisphere, NCTO is asking for long duty phaseouts on those products under TPP.
NCTO and the industry attended the TPP trade rounds in Chicago in September and Lima in October, providing stakeholder presentations about the importance of industry positions and why they benefit the industry and the overall supply chain. NCTO developed a multi-organization white paper for the Peruvian negotiators to demonstrate with hard data how the yarn-forward rule continues to provide benefits in FTAs. NCTO has met with industry representatives and government negotiators from all of the TPP countries. Most recently, a NCTO/U.S. industry delegation traveled to Vietnam in April to meet with their industry counterparts to talk about these issues. They also attended the negotiating round in Dallas in May.
NCTO has also led in the creation of the Textile and Apparel Alliance for TPP (TAAT). TAAT will urge the U.S. government to fully consider TPP's impact on trade flows and employment among other trade partners. This multinational group represents 25 countries, including the United States; Mexico; and numerous countries in Central and South America, Africa, and the Middle East. The group includes all of the largest export markets for U.S. textiles. TAAT is actively engaging with textile and apparel negotiators, and industry representatives from the group are attending TPP trade rounds. Based on years of practical trade experience, TAAT members are able to offer sound advice on rules of origin, customs, and other issues of concern.
Other Activities
In Washington, NCTO raised more than $92,000 for TextilePAC — the industry-wide political action committee — and contributed more than $88,000 to 59 House and Senate campaigns. NCTO members also hosted 13 Hill to the Mill tours wherein members of Congress toured textile plants in their districts. These visits resulted in overwhelming support among these members for NCTO's opposition to KORUS.
NCTO remains optimistic about the U.S. textile industry's future as it continues to lead in research and development and innovation. With prices rapidly rising in China and attention shifting back to opportunities in the Western Hemisphere and the United States, new opportunities lie ahead. It is an honor to be part of this industry, and an honor to serve as chairman of NCTO in this exciting time.
May/June 2012
Advertisement