Renewed Energy At Atlanta Textile Exhibitions
Optimism reigned at the 2012 editions of Techtextil North America and Texprocess Americas, as exhibitors reported strong traffic and genuine interest in their products.
TW Special Report
Techtextil North America 2012 and the inaugural Texprocess Americas colocated at the Georgia World Congress Center in Atlanta April 24-26 to present the products and services of 479 exhibitors to some 6,800 visitors. Enthusiasm abounded, and exhibitors remarked about a resurgence of the textile industry in the United States and the Western Hemisphere.

Techtextil North America — produced by Atlanta-based Messe Frankfurt USA — focused on machinery, fibers, yarns, fabrics, technologies and services targeted to the technical textiles and nonwovens sectors; and through the incorporation of the American Textile Machinery Exhibition-International (ATME-I®), sponsored by the American Textile Machinery Association, Falls Church, Va., also presented machinery and services for the overall textile and apparel industries. In addition to individual exhibitors, there were several country pavilions grouping companies from Canada, Germany, Italy, Belgium, Portugal and China.

Texprocess Americas — co-produced by Messe Frankfurt USA and Raleigh, N.C.-based Sewn Products Equipment & Suppliers of the Americas (SPESA) — featured machinery, information technology, fabrics and yarns, and other products and services for the textile and textile making-up sectors.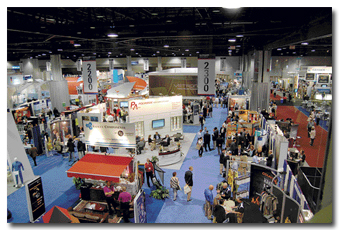 Techtextil North America exhibitors displayed machinery, fibers, yarns, fabrics, technologies and services targeted to the nonwovens and technical textiles sector.
The colocated events got off to an energetic start with the keynote address by Colombian entrepreneur Miguel Caballero, who produces ballistic and protective apparel — including fashionable apparel such as shirts, jackets and coats for political leaders and other public figures who might need an extra measure of protection; in addition to motorcycle and hunting apparel, and protective vests for first responders and military personnel. Caballero discussed the development of his business from its beginnings in 1992 during the heyday of the Colombian drug cartels and narcoterrorists to the present, as Colombia has become a more secure country and the need for personal protection has moved to other, more dangerous locations. His speech was accompanied by a video presentation punctuated by music with a high-energy, driving beat.
Each show also offered a comprehensive symposium featuring discussions of new technological developments and other topics of interest. The Techtextil North America Symposium focused mostly on technology and various technical textile sector developments, while the Texprocess Americas Symposium included some sessions on technology and others on sourcing, trade and other market-related areas. Some presenters also were show exhibitors.
Techtextil Exhibitors Upbeat
There was a lot of activity on the show floor, and exhibitors were quite positive in their assessments of the two shows' success.
Glen Raven Technical Fabrics LLC, Glen Raven, N.C., had a large booth at Techtextil North America and showed its range of woven and knitted fabrics for various technical applications. Marketing Director Richard E. Lippert reported the company had very strong traffic during the show.
Germany-based dyeing and finishing machinery manufacturer A. Monforts Textilmaschinen GmbH & Co. KG was part of the ATME-I contingent at Techtextil. Billy Norris, sales engineer with the company's U.S. subsidiary, American Monforts LLC, Charlotte, said Monforts has had a good start this year in the standard textiles segment, and that it also is moving toward providing more solutions for the nonwovens, plastics and film markets.
Morrison Textile Machinery Co., Fort Lawn, S.C., a manufacturer of dyeing and finishing wet processing machinery and also part of the ATME-I contingent, had a smaller booth than at previous shows, but, said Preston Aldridge of Burnsville, N.C.-based FTA Equipment & Systems Inc., which represents Morrison, "having a smaller booth without machinery made it more conducive for people to stop." Aldridge said this year's show marked a big improvement over the 2010 show.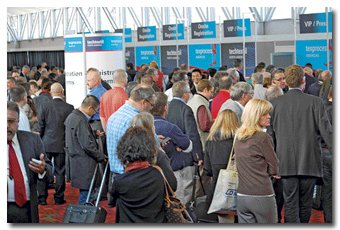 Some 6,800 visitors registered to attend Techtextil North America/Texprocess Americas
David W. Monteith, vice president, Americas, for Conitex Sonoco USA, Gastonia, N.C., said Techtextil North America 2012 was the best show in 10 years for his company. "All the decision makers are here," he said. "We are very happy with the amount of traffic we've had." Products of interest at the company's both included a recyclable corrugated pallet system for sales yarn and package solutions for textured yarn.
Kusters Zima Corp., Spartanburg, designs and manufactures custom machinery and equipment for the carpet, textile, nonwoven, wastewater and torrefaction industries. Bill McAndrew, product manager and technical sales, said the company had received a lot of good leads and that the energy at Techtextil was tremendously improved over the previous two shows. "On the first day, we had more leads than at the last two shows combined," he said. "Of course, time will tell if they turn into orders." He pointed out that the company's niche products for the nonwovens sector are doing well.
John A. Blasman, president of Canada-based enterprise and mobile software solutions provider Jomar Softcorp International, reported making many contacts with potential customers from both the United States and Central America. "There has been a genuine interest in looking at and purchasing new products, especially our mobile apps," he said.
Spartanburg-based Zimmer America Corp. presented machinery and equipment for nonwovens, textiles and carpet, and narrow fabrics applications. "Techtextil North America was a very good show for Zimmer America," said Roland J.P. Zimmer, president. "Interest in new machinery investments proved to be at a high level, and we expect direct business in 2012 as a result of the show. We have already reserved for the next Techtextil North America in Atlanta with an increased booth size," he added.
Likewise, For Texprocess
Texprocess Americas exhibitors were equally upbeat. "For us, the show has been extremely strong," said Ron Roach, vice president of sales, Lumberton, N.C.-based circular knitter Contempora Fabrics. "It's so exciting to see a U.S. textile show this busy in today's world. Every area — from machinery to fabrics — is busy, and that signals some kind of resurgence in this hemisphere, which is very exciting to us."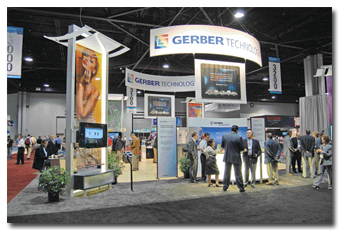 Texprocess Americas exhibitor Gerber Technology had one of the largest booths on the show floor
Brian Ashby, vice president of Carolina Cotton Works Inc., Gaffney, S.C. — a dyeing and finishing operation that specializes in knit products for an array of markets — mentioned the benefits of the show's format and said he'd like to see the event become annual. "This is a central place where we can see a lot of current customers and vendors, and we've had a surprising number of new prospects who are interested in our products and services," he said.
"There is a lot of interest in finding ways to produce in the United States," said Brian Meck, vice president of sales and marketing for FesslerUSA, Orwigsburg, Pa., which knits, finishes, and cuts and sews garments for private label and brands. "And larger companies are trying to find ways to do U.S. production," he added.
Next North American Events
Techtextil North America 2013 will take place March 19-21, 2013, at the Hilton Anaheim in Anaheim, Calif. The next Texprocess Americas will be colocated with Techtextil North America in Atlanta in 2014, with dates to be determined.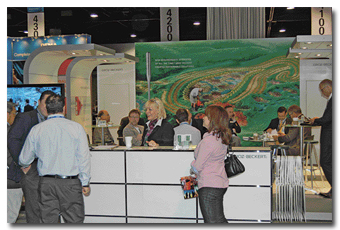 A company representative welcomes visitors to Groz-Beckert's booth at Texprocess Americas.
May/June 2012
Advertisement