Long-term Outlook
Robert S. Reichard, Economics Editor
New government projections confirm that the U.S. textile industry's prognosis is far from bleak. The numbers come from Uncle Sam's just-released 2012 Occupational Handbook — a study providing projections going out into 2020. Inflation-adjusted mill output over the current decade, for example, is expected to slip only about 1 percent annually. Hardly a picture of a growth industry, but still a lot better than the 6.7-percent annual decline from 2000 to 2010. Moreover, these basically upbeat projections are pretty much in line with recent forecasts by Textile World and economic forecasting firm Global Insight. And they're based on a lot more than just wishful thinking, for there are valid reasons behind this cautious optimism. They include innovations and quality improvements hitting the market each year; a narrowing of the U.S.-overseas price differential; productivity gains; and increased Washington efforts to level the international playing field. Still another factor helping to slow down imports is the fact that overseas suppliers have pretty much captured all of the U.S. market that is vulnerable to foreign competition. However, domestic downstream apparel makers continue to face losses to overseas competitors. The new numbers suggest about a 7-percent annual shrinkage in production through the current decade. But even this marks improvement over the 12.7-percent annual decline of the previous 10 years.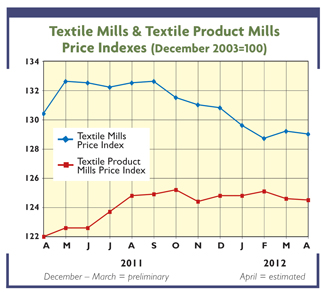 Impact On Labor
The report also provides long-term estimates for textile and apparel employment. But these numbers, calling for further significant declines, aren't nearly as reassuring as those projected for output. And the reason isn't too hard to find: It's rising productivity. While making the United States more competitive, improved efficiency also cuts the number of workers needed to turn out a given amount of goods. This is especially important for basic textiles, where output-per-worker gains — more than 50 percent over the last decade — are clearly continuing. But even with this drag on jobs, employment in the overall mill sector, which includes fabricated as well as basic mill products, should still top the 200,000 mark in 2020. Moreover, add in apparel, and combined textile and apparel employment will be topping the quarter-of-a-million mark by the end of the current decade. And the job total rises even further when the contribution of other domestic industries that supply materials and services to these industries is added. There are also some other positive labor signs: The anticipated 2010-20 overall job loss is put at less than 3 percent annually — considerably under the 4-percent-plus rate projected two years ago, when a similar 10-year forecast was released. Some of the job loss will be softened as the United States' increasingly sophisticated industries beef up demand for better, higher-paying jobs. And labor efficiency gains will continue to make U.S. products more competitive vis- à-vis the rest of the world.
Changing Trade Pattern
These domestic productivity increases, when combined with a narrowing of the U.S.-overseas price gap, also suggest some rethinking of the United States' overall sourcing strategies. For sure, foreign bargains are becoming harder to come by. This is particularly true when it comes to goods from China, where continuing double-digit annual pay boosts have forced that nation's textile and apparel industries to post significant price increases. These other Far Eastern producers are still pretty much the world's lowest-cost sources for these products. But, given new upward pressures, it's questionable whether they will be able to hold onto this distinction — especially when currently high transportation charges are added onto the overall tab. Indeed, there is already some evidence that a number of U.S. buyers that recently switched to countries like Sri Lanka and Malaysia are now actively exploring Western Hemisphere sources. Meantime, another hint of possible trade shifts comes from Uncle Sam's latest textile and apparel import numbers. Thus, even with a moderately growing economy, incoming U.S. shipments of these products on a volume or square-meters-equivalent basis slipped some 3 percent so far this year. Look at the latest Chinese numbers, and imports of these products are off by an even bigger 4 percent.
May/June 2012
Related Files:
Click here to view Textile Barometers
Advertisement