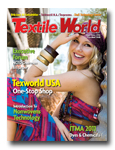 May/June 2012
On the Cover:
New textile dye and auxiliary formulations provide improved dyeing and finishing results in addition to reducing energy, water and processing time requirements. Photograph courtesy of Huntsman Textile Effects.
Features
Renewed Energy At Atlanta Textile Exhibitions
Optimism reigned at the 2012 editions of Techtextil North America and Texprocess Americas, as exhibitors reported strong traffic and genuine interest in their products.
Texworld USA: One-Stop Sourcing Shop
Biannual expo offers textile suppliers and buyers a single sourcing destination for the North American marketplace.
Dyes And Chemicals At ITMA 2011
Reduced energy and water usage, time savings, and use of renewable raw materials were recurrent themes for ITMA textile dyes and chemicals offerings.
U.S. Textiles: Improving Scenario
In 2011, the U.S. textile industry began to reverse the decline seen in previous years, and NCTO's support role included a focus on international trade.
Textile News
Lear To Acquire Guilford Performance Textiles
National Spinning Acquires Carolina Nonwovens
The Fiber Year 2012 Textiles/Nonwovens Survey Now Available
U.S.-Colombia Trade Promotion Agreement Goes Into Force
Highland Industries Marks 50 Years At Cheraw, S.C., Facility
From The Editor
MFG Expansion 33 Months & Expanding
Business & Financial
Yarn Market
Orders Finally Begin To Materialize
Quality Fabric Of The Month
Comfortable FR Underneath It All
PBI BaseGuard™'s blend of PBI, Lenzing FR® and Tencel® fibers is featured in FusaFR® lightweight, comfortable baselayer and station garments that provide high-heat and flash-fire protection.
Nonwovens / Technical Textiles
Introduction To Nonwovens Technology
The Prologue to the first book in the Engineering with Fibers series provides some history leading up to modern nonwovens technology.
Dell'Orco & Villani Offers Twin Carding Opener
Kraig Labs To Open Research Lab, Expand Operations
PHPI To Open Plant In Scottsboro, Ala., Add 25 Jobs
Fiber World
NAT, Lenzing Sign Joint Development Agreement
Sappi Minnesota Pulp Mill To Produce Chemical Cellulose
Dyeing Printing & Finishing
"Impossible" Doesn't Exist For Geissbühler
Switzerland-based finisher of technical textiles has invested heavily in R&D as well as in new production and peripheral equipment.
Sanitized Upgrades TH 22-27 Antimicrobial Treatment
Americhem Debuts NBALANCE™ Product Line
Knitting / Apparel
Learn And Locate
How and where to make knitted apparel ... Stoll will show you.
Under Armour Collection Features Coldblack® Finishes
Gildan Acquires Anvil Holdings
Supplier Notes
Stork To Distribute Klüber Lubrication's Products
Trützschler Nonwovens Acquires Bastian
Reyes Acquires Swisstex France
New Products
Jomar Softcorp Reports Interest In Mobile Apps
Amacoil Upgrades Large Uhing RG Traverse Drives
Zepol Unveils ComplianceIQ™ Trade Tool
People
Bulletin Board