Edelweiss: Eco Improvement For Modal Fiber
Buhler Quality Yarns has introduced yarns made with Lenzing MicroModal Edelweiss fiber, which is bleached using an eco-friendly oxygen-based technology.
James M. Borneman, Editor In Chief
Regenerated cellulose fibers — rayon, viscose — are not new to the world of textile fibers. And for many, the thought that a fiber with such a chemically intense history could now have a strong sustainability story is incredible. But such a story is the result of Austria-based fiber producer Lenzing AG's almost 75 years of cellulose fiber production. According to the company, "everything started with Viscose." In the 1960s, the search for improved tenacity led to the development of Lenzing's Modal® fiber based on high wet modulus regenerated cellulose fiber. In the mid-1980s, Modal was registered as a generic trademark, and Lenzing worked hard to position Modal in the textile industry. Lenzing reports that the production of Modal fibers has more than tripled in the last 10 years, from 30,000 tons in 2002 to more than 100,000 tons projected in 2012.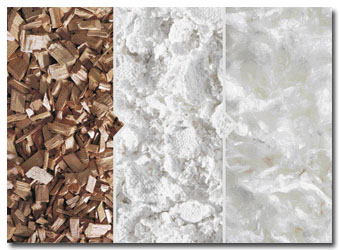 Lenzing controls the entire Modal® process, from producing pulp from beech wood harvested in Austria and neighboring countries, through processing the pulp into fiber.
Sustainability
Lenzing points to several areas of innovation and improvement that have led its products down an environmentally friendly pathway. The base cellulose for Modal comes from the beech tree. Reduced chemical load on the environment is achieved using advanced chemical recovery technology. Extracting various recyclables throughout the pulp and fiber production process — acetic acid, xylose sweetener and sodium sulphate used in glass production — prevent waste and add value. And now, with the introduction of Edelweiss technology, an oxygen-based chemistry is used for bleaching.
Advertisement
Using beech trees as the base cellulose is important for several reasons. More than 50 percent of the trees come from Austria, and the balance, from neighboring nations. As Lenzing notes: "The beech tree puts down very deep roots and is thought to be unbeatable when it comes to improving the soil. Thus since early times it has been known as the Mother of the forest. It is extremely resistant to pests and environmental damages. The special characteristic about the growth of the beech tree is that they multiply via what is known as 'rejuvenation' which means that the tree population practically grows itself. No planting or artificial irrigation are required. Beech groves are a completely sustainable source." Lenzing also states that the yield per acre of Modal is six times higher than cotton yield, and its cultivation requires considerably less water.
Both pulp production and fiber production occur at the same site, so Lenzing can control the entire production process. The company reports that as early as 1963, the first improvements were made in chemical recovery from the pulp-making process. Later improvements in chemical recovery were made on the fiber production line. Lenzing claims a recovery rate of greater than 95 percent — a tremendous improvement over early rayon and viscose production.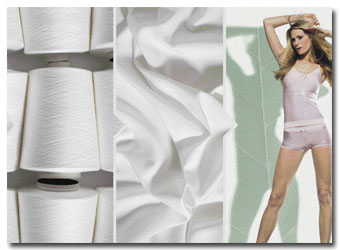 From yarn to end product, Lenzing MicroModal® Edelweiss offers the same hand and drape as the conventional MicroModal products.
Enter Edelweiss
Edelweiss, which translates literally to "noble white" in German, is a process technology that uses oxygen-based chemistry, which is considered to be more eco-friendly than the conventional alternative. "Thus Lenzing Modal Edelweiss is the only Modal fiber which satisfies the highest environmental standards and is even CO2-neutral," the company states. Lenzing MicroModal® Edelweiss was presented to the market in February 2012 at the Paris fabric trade shows, and further Modal innovations are anticipated for Autumn 2012.
Lenzing MicroModal® Edelweiss At Work
Jefferson, Ga.-based Buhler Quality Yarns Corp. is no stranger to Lenzing MicroModal. The company has been spinning high-quality yarns, including MicroModal, at its U.S. location since 1996. So what does this eco-improvement mean to the rest of the supply chain?
"We are very excited to be a part of the new Lenzing MicroModal Edelweiss program," said David Sasso, vice president, sales, Buhler Quality Yarns. "Moving from MicroModal to MicroModal Edelweiss is really an improvement for our environmentally conscious designers, brands and retailers. It is one more step. Lenzing is continuing to improve the product, and there are no negative effects or compromises in performance. MicroModal Edelweiss performs the same in the spinning process. It has the same great properties in dyeing and finishing. The final garments have the same luxurious hand and drape," he added.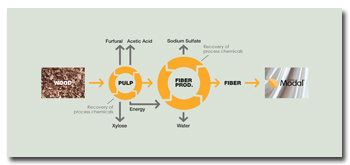 During the Modal® fiber production process, Lenzing uses advanced chemical recovery technology to recover more than 95 percent of the process chemicals, which then can be used in the production of other materials.

"We really haven't had to change anything on the technical service side," added Victor Almeida, sales and technical support. "It blends well with Supima® and performs well in production, and Lenzing has just improved the process."
"Buhler began spinning Lenzing MicroModal in 1996," Sasso said. "We fully expect that they will continue to innovate, and we will do our best to continue, as we say, 'Spinning Better Brands,'and bringing the best products forward to designers who really know how to make them shine."
Switzerland-based Hermann Bühler AG, parent company of Buhler Quality Yarns Corp., recently celebrated 200 years in operation.
March/April 2012