Insider Advantage (?)
New free trade agreements should help to open markets and enhance competitiveness for U.S. textiles and apparel - but will they?
Janet Bealer Rodie, Managing Editor
The last year has been busy with regard to free trade agreement (FTA) approvals and other efforts to widen trade avenues for U.S. goods and services. In October 2011, President Barack Obama signed legislation to authorize agreements with Korea, Colombia and Panama; and the Korean and Colombian pacts now are in force. U.S. trade officials are engaged in ongoing negotiations to establish a Trans-Pacific Partnership (TPP) Agreement with a growing group of countries around the Pacific Rim in order to facilitate trade relations in that region.

Since 1994, the United States has implemented FTAs with 18 countries, not including Panama. The TPP Agreement would bring four more countries into its circle of FTA trading partners. In addition, 46 other countries are trading with the United States under trade preference programs.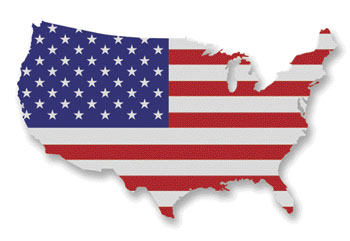 New FTAs
Of the three newest FTAs, the most controversial for the U.S. textile and apparel industry has been the United States-Korea FTA (KORUS), which went into force March 15, 2012. While apparel companies and retailers have maintained that KORUS will support U.S. jobs by facilitating increased exports of U.S. goods to South Korea, textile manufacturers generally have opposed it, charging that tariff schedules favoring Korean textiles, insufficient customs enforcement provisions to prevent illegal transshipments of inexpensive goods from China, and the exclusion of certain textile components from rules-of-origin provisions will jeopardize U.S. textile jobs.
The U.S. Department of Commerce International Trade Administration's Office of Textiles and Apparel (OTEXA) points out that South Korea is the United States' 11th-largest textile/apparel export market, growing from $241 million to $418 million between 2005 and 2011, with increases particularly in tailored men's and women's apparel, knit shirts, sweaters, dresses, filament yarn and nonwoven fabrics. U.S. imports of South Korean textiles and apparel declined from $1.9 billion to $928 million during that period. It could be argued that this decline in imports stems at least in part from changes in sourcing strategies by U.S. brands, as more textile/apparel imports are sourced from other, lower-cost Asian countries.
The United States-Colombia Trade Promotion Agreement (CTPA) went into force May 15, 2012 with strong support from both the textile and the apparel sectors. The country ranks 19th among U.S. textile/apparel export markets and received goods worth $165.2 million in 2011, while U.S. textile/apparel imports from Colombia totaled $263.6 million.
Advertisement
Colombia had been supplying product to U.S. apparel brands under the terms of the Andean Trade Promotion and Drug Eradication Act (ATPDEA), which provided Colombia with duty-free access to the U.S. market, but not vice versa. Under CTPA, U.S. textile/apparel products that meet CTPA's rules-of-origin provisions, including yarn-forward and elastomeric yarn requirements, can be shipped to Colombia duty-free; and there are also customs enforcement and streamlined commercial availability provisions. There is much potential for two-way trade. Now, U.S. textile makers feel they will be able to compete for Colombian business on a level playing field with manufacturers from other countries with which Colombia already had FTAs; and Colombia-made fabrics and apparel are more likely to contain U.S.-made yarn and other components. In addition, spinners are hopeful that U.S. yarn will be used more and more in apparel for the Colombian market, which in 2011 was worth $7.68 billion
(See " Colombia: Ready For Business," Textile World, March/April 2012)
.
The United States-Panama Trade Promotion Agreement (PTPA) is expected to go into force later this year. Until then, Panama will continue be a party to the Caribbean Basin Trade Partnership Act (CBTPA), which also benefits seven other Caribbean nations and provides duty- and quota-free treatment for certain apparel items made in member countries and shipped to the United States.
Panama ranks 37th as a market for U.S. textiles/apparel, importing goods worth $63.4 million in 2011. Its economy grew 6.2 percent in 2010, and similar growth is projected through 2015. PTPA textile/apparel provisions are similar to those of CTPA, but its rules of origin also include pocketing, thread and visible lining requirements.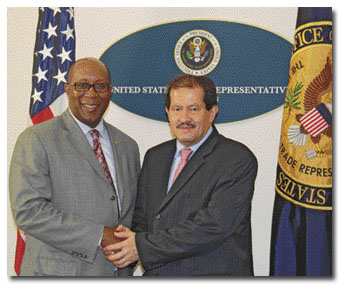 USTR Ambassador Ron Kirk meets with Colombian Vice President Angelino Garzon in Washington on June 1, 2011. Official USTR photograph
NAFTA And CAFTA-DR: Top U.S. Export Markets
The North American FTA (NAFTA) among the United States, Canada and Mexico, implemented in 1994, represents the largest export market for U.S. textiles and apparel. The Central America-Dominican Republic FTA (CAFTA-DR) among the United States, Costa Rica, Dominican Republic, El Salvador, Guatemala, Honduras and Nicaragua was implemented between 2006 and 2009 and represents the United States' second-largest textile/apparel export market.
According to OTEXA, in 2011, U.S. textile/apparel exports to NAFTA partners were worth $9.9 billion and accounted for 44.1 percent of all U.S. textile/apparel exports, which totaled $22.4 billion. Exports to the CAFTA-DR region, worth $3.8 billion, accounted for 17 percent of that total.
In terms of U.S. textile/apparel imports, Mexico and Canada shipped goods worth $6.2 billion, together accounting for 6.1 percent of the total $101.3 billion U.S. textile/apparel import market and ranking fourth globally in that market after China, the CAFTA-DR region and Vietnam. CAFTA-DR shipments totaled $7.9 billion, or 7.9 percent of that market.
The CAFTA-DR market is growing as a destination for U.S. textile products and as a source for certain apparel products. OTEXA reports U.S. yarn and fabric exports to the region grew 33 percent from 2010 to 2011 to total $3.3 billion. Exports of felts and nonwovens grew 38 percent from 2009 to 2011; and of specialty and industrial fabrics, 24 percent over the same period. U.S. imports of hosiery, knit shirts, trousers and underwear from the region increased 36 percent, 31 percent, 25 percent and 15 percent, respectively, from 2009 to 2011.
CAFTA-DR technical corrections will further define areas such as the definition of "sewing thread" and the use of non-originating elastomeric thread in short-supply yarn and fabric, among other areas. The corrections have been approved by all CAFTA-DR partners except the United States, where it awaits Congressional passage. The Senate Finance Committee has passed the legislation to implement the corrections, and it now goes to the Senate floor for discussion and a vote.
TPP: Expanding Partnership, For Better Or For Worse
The 13th round of TPP negotiations closed in San Diego in July 2012, and a 14th round will take place in Leesburg, Va., in September 2012. Shortly before the 13th round began, USTR announced that Mexico and Canada had been invited to join the partnership, which also comprises the United States, Australia, Brunei Darussalam, Chile, Malaysia, New Zealand, Peru, Singapore and Vietnam (See "Mexico, Canada Invited To Join TPP," TW News, this issue).
Vietnam's inclusion in TPP has been controversial because the country's government is highly involved in its textile/apparel industry, owns its largest apparel manufacturer and has set ambitious goals for industry growth. It also depends on China for a significant share of its inputs. The country is the third-largest exporter of textiles and apparel to the United States, and it has been pressing for more flexible rules of origin than are included in existing FTAs and preference agreements to which the United States is a party. U.S. negotiators, supporting U.S. textile manufacturers, advocate strong rules of origin, while the apparel sector supports more flexible rules. To date, no agreement has been reached on this issue.
Another concern stems from Mexico's inclusion in the partnership. The National Council of Textile Organizations (NCTO) has sent comments to USTR warning that the integrated Western Hemisphere textile/apparel supply chain that has prospered particularly as a result of NAFTA and CAFTA-DR trade could be disrupted by the ability to source subsidized inputs from Vietnam. This state of affairs not only could hurt U.S. suppliers of yarn and fabric, but also has raised concerns within the Mexican textile/apparel industry, which could be negatively impacted by the use of Vietnamese inputs as well. NCTO also notes that CAFTA-DR apparel makers might lose business to Mexican apparel makers using Vietnamese inputs.
Opportunities/Challenges
Both opportunities and challenges have arisen with the approval of KORUS, CTPA and PTPA; and TPP, whenever it should be approved, would present additional opportunities and challenges for U.S. textiles and apparel. Some industry leaders believe that the provisions in forthcoming FTAs need to be consistent with those in existing agreements such as NAFTA and CAFTA-DR, lest their investments vis-à-vis those pacts are wasted.
Opportunities will center around proximity, speed to market, production flexibility, product quality and service. Depending on what cards are finally dealt and how the U.S. industry and its regional partners play those cards, the players should be able to survive the challenges of sourcing from lower-cost Asian trading partners.
---
Wrapped Up In Red Tape: Trade Barriers In Mexico
Within the NAFTA region, one textile trade issue that owes its impact to actions vis-à-vis NAFTA's strict rule of origin provisions involves extensive audits by the Servicio de Administración Tributaria (SAT), Mexico's equivalent of the Internal Revenue Service. SAT has required a number of U.S. textile companies doing business with Mexican textile companies to provide detailed records of transactions with their Mexican partners in order to verify sources of all U.S. inputs shipped to Mexico. The process has been very time-consuming and expensive for some companies, and has even required them to obtain records from their upstream suppliers. Failure to comply within a set time subjects a company to large penalties.
U.S. and Mexican officials have been meeting to discuss the issue, and while it is not fully resolved, Mexico has agreed to allow submission of a sample of shipments for audit. Companies that find themselves subject to SAT audits should contact OTEXA, which can provide information and assistance.
---

July/August 2012