Apparel Market: Landscape Of Change
Executives from various links in the supply chain bring to light some of the main drivers changing today's apparel industry.
Sarah C. Thomasson, Associate Editor
While there's no consensus among scientists regarding the origins of apparel, one thing is certain: Apparel has come a long way over the centuries, from materials used and production methods to added functionality and styles. As it continues to evolve, so does the global apparel retail industry, which in 2011 was valued at $1.175 trillion and is forecast to reach an estimated value of $1.348 trillion in 2016, according to the report "Apparel Retail: Global Industry Almanac, MarketLine," published by Reportlinker.com. Textile World surveyed textile executives in the apparel sector from brands and retailers through the entire supply chain to find out what changes are driving the apparel industry.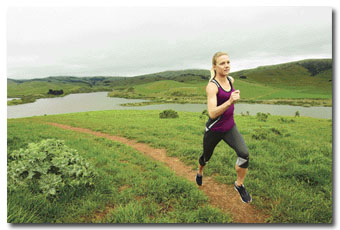 VF Corp.'s lucy® brand offers a range of activewear for women.
Photograph courtesy of lucy Activewear
The Dialed-In Consumer
"It's no news that consumers want everything at the touch of a screen, 24/7, their way or the highway," said Juan Zighelboim, president of Textiles Opico S.A. de CV (TexOps), a complete full-package factory in El Salvador.
Michelle Landgrebe, vice president of Americas, VF Sourcing Latin America, part of Greensboro, N.C.-based apparel company VF Corp., agreed: "Technology is changing things because you really can get anything anytime you want at the push of the button," she said.
With constant Internet access, consumers have access to so much information today. They not only use the Internet to perform research before making purchases — with the ability to scan items in a store on their smart phones and compare prices right there in the aisle, which Landgrebe said puts a lot of pressure on brands to stay competitive with pricing — but after making purchases, they also provide product feedback online, "so if they love something, they can tell the world; but equally, if they hate something, they can tell the world that, too," she said. "That puts a much different pressure on us than we ever had before, because the consumer has a lot of power right now and has a very big voice, and the question is, how do you manage that? How do you use it to your advantage, even when it's something that's maybe not so positive?"
Advertisement
Pamela Hunter, vice president of sourcing for Plano, Texas-based department store chain JCPenney, remarked: "Staying relevant in the marketplace is directly tied to consumer-facing technology, as customers today use the Internet to perform research before making purchases. It's important to proactively manage consumer expectations."
With video-sharing websites such as YouTube and social networking platforms such as Twitter, Facebook and Pinterest invading the Internet, products can quickly go viral — which companies can use to their advantage. However, Landgrebe noted, "with any marketing or promotion that you do, it has to be a consistent story online and in the store — you must make sure you carry out the theme of your brand or your line."
Today's consumer is informed and price-conscious, has well-defined expectations, and "demands a great 'everything and now' product," Zighelboim said.
Furthermore, "consumers, at least in the United States, have so many options today that there is limited store or brand loyalty, except at the luxury brand level," observed Walter T. Wilhelm, chairman and CEO of Walter Wilhelm Associates LLC, a Salt Lake City-based management consulting firm focused on the apparel, footwear and softgoods industries. The unlimited selection is just one example of why it's so important for brands and retailers to truly understand their consumer and what their consumer wants, according to Jeff Streader, who as an operating partner with Hermosa Beach, Calif.-based private investment firm Marlin Equity Partners, focuses on opportunities in the retail, branded apparel and direct-to-consumer sectors. "It comes down to listening. Those that succeed have a personal relationship with their consumer. They understand and respond to what the consumer is saying, and then offer that personal experience," he said. "I believe stores are going to continue to evolve as they more clearly understand who their demographic is and what their consumer is looking for, and then create that experience."
Carlos Arias, president of American Denimatrix — comprising Lubbock, Texas-based Plains Cotton Cooperative Association's American Cotton Growers denim manufacturing mill in Littlefield, Texas, and its Denimatrix denim apparel manufacturing facility in Guatemala — said that "for apparel manufacturers, the key will be keeping an eye on the consumer. We are too accustomed to only watching our customers — our brands and retailers. If we are to be successful in the future, we need to understand the consumer and their trends, which will inevitably affect our customers' business."
"The Internet, smartphone, and social networking are driving our industry to a greater extent than ever before," Streader said, "and the impact, although understood by some, is not truly understood by all. The companies and brands that push to understand the impact of these things and build or model their strategies around this will succeed."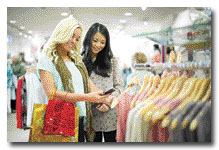 Today's consumer utilizes mobile devices to do research when purchasing apparel.
Changing Value Perception
"Consumers today are more selective, more hesitant in spending their money," said David Sasso, vice president of sales, Buhler Quality Yarns Corp., a Jefferson, Ga.-based yarn manufacturer. "I think the value perception is shifting somewhat. They are becoming more quality-conscious, more finicky in their purchasing. They want newness — they're tired of seeing the same old stuff, from one store to the next."
While the definition of "value" varies from person to person, sustainbility and Made in USA are two themes attracting a growing legion of consumers.
"Sustainability is one of the most talked about topics today," said Kurt Cavano, founder, chairman and chief strategy partner of New York City-based supply chain collaboration platform developer TradeCard Inc. "And it has real implications on business. Companies are rewarded for their sustainability programs in ways that just don't appear on paper: They're embraced by consumers, admired by peers and appreciated by suppliers."
"Consumers are better educated and watch groups are growing ever more vigilant in exposing harmful practices and rewarding companies that have sustainable and green processes and products," said Bill Jasper, president and CEO of Greensboro, N.C.-based textured yarns manufacturer Unifi Inc. He added that Unifi has "witnessed increased demand for its recycled and value-added yarns as consumers look for value to be accompanied by a high level of product transparency and environmental accountability."
Zighelboim added that "sustainable design serves up a plethora of chances to differentiate, to pull from the pack and at the same time make a difference."
Time will tell how the sustainability factor plays out. "The concept is very real, but I believe that the jury is still out on the importance consumers will place on it," Arias said. "Supply chains are taking it seriously, but some customers are not assigning any additional value to it."
Landgrebe agreed: "VF Corp. as a whole has placed more emphasis on sustainability from a supply chain perspective, but I don't know how much that story resonates with all the consumers. Unless you're a specific consumer in a very specific segment, I think product is going to be the decision that drives someone to make a purchase." She added that consumers don't want to pay extra for it, so if the price is passed down, it will be a deterrent.
Regardless, "the rules of the game will keep evolving and the sustainability theme will be a part of the conversation for certain," Arias said.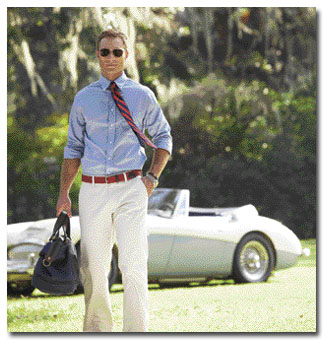 Unifi Inc. has seen increased demand for its Repreve® recycled polyester fiber for various apparel applications, such as Haggar Clothing Co.'s Life Khaki™ slim trousers.


Many consumers seek out Made in USA apparel in an effort to support U.S. jobs and the return of apparel production to this country. Jim Hopkins, director of sales for Gaffney, S.C.-based weaver Hamrick Mills Inc., said his company has seen an increase in inquiries with reference to Made in USA. Landgrebe said there absolutely is a demand for it. "A lot of our suppliers are being asked by their customers, or brands, to have more Made in USA options." She added, "Of course, it's not going to be half your line — but I think there's a percentage of everyone's line where the consumer wants to see Made in USA."
Wilhelm noted, "Some of the performance sportswear companies are looking for Made in USA products, but it is a struggle finding qualified manufacturers that are doing full-package in the States."
Supply Chain Significance
It's a common view in the apparel industry that building inventory is a killer. "I've never seen the pressure like I see it today to keep inventory low," Landgrebe said.
"We see our customers being extra careful when committing to orders, as they are looking to keep inventory levels under control," Arias said. "The days of the long-term order protections are gone. We will all have to become more flexible and in tune with consumer trends and sentiment around the world."
"We just don't see the big orders anymore, which means retailers are not willing to flood their inventories with particular items — they're going to be very careful, making sure they're sellable," Sasso said. "Of course, because consumers seem to be more selective, more hesitant in spending their money, you've got to execute — that's where the speed factor comes in."
Jasper agreed that retail demand for tight inventory control and speed to market is changing the industry. "Those succeeding today have developed strong supply chain networks that can provide quicker reaction times to the changing dynamics in the market," he said.
"Speed to market is enjoying a rebirth again, driving companies to re-examine their supply chain dynamics," said Wilhelm, who noted that retailers today looking to place smaller orders with quicker responses from their suppliers are putting an additional challenge on the factories and making collaboration throughout the supply chain even more important.
Streader echoed this view: "Because the consumer is being more selective and you need more speed, then you truly need supply chain collaboration. You've got to be entrenched in the supply chain to see how you can affect and improve its responsiveness."
Mike Todaro, managing director of the American Apparel Producers Network (AAPN), Atlanta — an international nonprofit trade association representing the textile/apparel supply chain — said that until recently, he's seen very little collaboration, but that there is a growing realization that "you compete as a chain and you profit as a chain."
"Smart brands and retailers have long figured out the benefit of partnering, or, in some cases, owning their supply chains," said Zighelboim, whose company, TexOps, has several key upstream partners within very close proximity. "Transparency, collaboration and real-time information build speed," he added.
Ram Sareen, CEO of Tukatech Inc., Los Angeles, a provider of product development solutions for the apparel and sewn goods industry, believes those who are well-informed as to the needs of all the participants in the supply chain have a competitive advantage over those who are not, and added that "localized sourcing, better logistics and sourcing partners in the supply chain help streamline the process and improve the bottom line."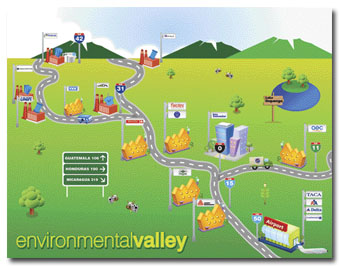 TexOps is surrounded by key supply chain partners within a seven-mile radius in El Salvador and is located just a few hours' drive from partners in Honduras and Guatemala.
Rise In Near Sourcing
Sourcing of product has become more important than ever before. And, with rising labor and transportation costs in Asia and other sourcing challenges, more companies are sourcing closer to home. "Almost all of our clients are sourcing internationally with a heavy dominance in Asia," Wilhelm said. "However, in 2011 and 2012, we saw most readdressing a balanced sourcing strategy, so many are shifting some production back to this hemisphere."
"We have seen some apparel programs come back to the Western Hemisphere over the past few years to address these global sourcing challenges," Jasper said. "Investment in the regional industry continues to be strong, with new plants opening, existing plants expanding, and investments in machinery and technology upgrades."
"The global economic conditions indicate that right now, the opportunity is very good to source product from this part of the world," said Landgrebe, who noted the Western Hemisphere is becoming increasingly competitive. "I see speed becoming even more important and I think that's partly why more product is moving to this hemisphere — economically, the numbers are working right now, and the in-transit time is so much shorter," she said. "The faster you are, the less inventory you own for less time."
Todaro said that one of AAPN's major retail members that brought sourcing back to the Western Hemisphere for a private-label program reported that, compared to sourcing from China, "it is easier, faster, better, cheaper and safer."
Zighelboim said that near sourcing also plays a key role in sustainable manufacturing."The logistics alone reduce carbon footprints significantly. And, the proximity to the U.S. also allows for better collaboration and transparency than sourcing from more remote regions."
However, many believe that while near sourcing needs to be an ingredient for retailers, not everything can be sourced in the Western Hemisphere. "I believe in near sourcing, but the challenge is that you need all of the components to respond to it," Streader said. "You can't limit it and say, 'well, I can't get you that, but I can get you this.' Near sourcing is great — if everything is here to put it together."
"The Western Hemisphere is just not set up to replenish all the items," Sasso said. "Of course, this is something that has to be built. It doesn't happen overnight." He added: "Asia will always have a big part of apparel production, as will Latin America, the United States, and other regions. We need to focus on this hemisphere, with our neighbors, and on looking at how we can be more of a trade bloc than a segmented region. But I can see that near sourcing, if it's going to be successful, requires more flexibility in sourcing in this region, and not so much constraint that keeps you from sourcing one particular product."
Global Economic Environment
The World Bank recently revised its projected outlook for global trade growth to 2.5 percent for 2012. Global economic problems are certainly impacting the apparel industry. "From the perspective of an apparel manufacturing company, we see that in a connected world economy, problems in one part of the world will inevitably affect the rest of the system," Arias said.
"The United States is the largest economy in the world, followed by China and Japan," Streader explained. "We are the domino, and as good goes in the United States, it impacts a lot of the world." Streader contends that the slowdown in China isn't caused by the slowdown in the United States, which has been constant in its demand; but rather, it's because of the European debt crisis. "The reduction in the Europeans' demand is impacting China, India and other Asian economies. Until the Europeans come out of this — and I think it may take another 12 to 24 months before we see a leveling-off in Europe — that will temper the growth in Asia, because the United States, although we are the largest economy, cannot drive it on our own."
U.S. politics are affecting the industry as well. "In an election year, especially one that is as hotly contested as this one, the uncertainty of the outcome creates a negative effect on consumer confidence, which affects our overall business," Hopkins said.
"I think the United States is in a holding pattern right now, and we'll be in a holding pattern for the next six months because we're going into an election and everyone's waiting to see what will happen," Streader said. "Business and investment decisions will be made based upon who wins."
Change Or Be Changed
Almost everyone in the apparel industry would agree with Greek philosopher Heraclitus' statement: The only constant is change.
"Adapting to change is critical to moving business forward," JCPenney's Hunter said.
"The winners are the ones who embrace change," Cavano said. "They recognize that just because things have always been done a certain way, it doesn't mean it's the best way. They find new ways to communicate with suppliers, new ways to lower costs in the supply chain, new ways to deliver goods to the store shelf in less time."
"The survivors in today's industry are those who have been able to recreate themselves into viable and significant players ... not just once, but numerous times," Hopkins said. "They have diversified and modified on a near-daily basis in an effort to produce product that is wanted and needed and has a perceived value to the consumer. They both create and adapt to change and understand that stagnation will lead to failure. These are the keys to continued viability."
"Proactive persons who analyze the trends and forecast the future and take risks are the innovators and winners," Sareen said. "The 'reactive group' — those who play it safe, who make moves after the leaders have already led the way — generally do not do as well. My mantra, 'Change is constant, growth is optional,' is more true now than ever." Sareen emphasized that the age of the Internet allows decisions to be made speedily based on accurate and comprehensive data and information that can be shared instantly. "But, despite the availability of innovative technology," he said, "we see too many established brands not taking advantage of savings and improved outcome of this technology. Instead of being mired in trying to find out what the competition is doing, or being comfortable in their space, they need to get creative and invest in technology and operational improvements that will help them stay in business. Winners are emerging every day in our business, and they are winners because they are doing unconventional things."
Overall, the apparel industry seems to have a positive, upbeat outlook for the future. Wilhelm said he has seen a significant increase in optimism and activity with clients in 2012. Landgrebe said that, more and more, she's seeing that business is good. And Todaro said he's convinced the conditions for the supply chain have never been better than right now.
"We strongly believe that with major shifts come opportunities, and it's just a matter of will, creativity and lots of hard work," Zighelboim said. "The apparel industry is right smack in the middle of challenging but also very exciting times."
July/August 2012