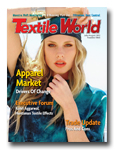 July/August 2012
On the Cover:
This half-sleeve keyhole dress is made by Three Dots in partnership with Buhler Quality Yarns Corp. Photograph courtesy of Vinh Nguyen
Features
Huntsman: Committed To Environmental Performance
Rohit Aggarwal, Huntsman Textile Effects' global vice president of strategic marketing and planning, discusses his company's sustainability focus and the market situation.
An Introduction To 3-D Weaving
Part one of a two-part series about 3-D weaving and its current and potential applications
Maestro: A New Weft Monitoring Approach
Itema Weaving's Maestro Weft Monitoring System uses a special software-controlled weft detector that interacts with the loom's electronics for efficient handling of weft selection malfunctions.
Apparel Market: Landscape Of Change
Executives from various links in the supply chain bring to light some of the main drivers changing today's apparel industry.
Insider Advantage (?)
New free trade agreements should help to open markets and enhance competitiveness for U.S. textiles and apparel - but will they?
Textile News
Mexico, Canada Invited To Join TPP
VDS Denim Plant Certified To LEED® Platinum Level
Kimbrell Receives BSA's Distinguished Eagle Scout Award
Canton Fair Organizers Report Results From 111th Event
Meridian Purchases Kennetex Assets
From The Editor
Made In USA: Be Careful In California
Business & Financial
Yarn Market
Spinners Note Improving Business Conditions
Quality Fabric Of The Month
Infection Reduction
PurThread is developing antimicrobial technology that may help lower infection rates in hospitals by reducing the bioburden on privacy curtains and other textiles used in such environments.
Nonwovens / Technical Textiles
Filter Media For Dust Control
Filter bags made with spunlaced microfiber nonwovens are used to recover dust from production of foodstuffs and other materials and prevent contamination of the recovered products.
Dow Launches RHOPLEX™ ECONEXT™ Acrylic Binders
Carhartt, TenCate Team To Offer FR Garments
Heytex Bramsche Opens U.S. Subsidiary
Kraig Labs Increases Transgenic Silkworm Yields
Fiber World
Teijin Launches Three-layer Anti-sweat Polyester Fabric
Nilit Introduces NILIT® Breeze
US Fibers To Expand Trenton Plant, Add 48 Jobs
EuroFibers Seeks Partners To Commercialize Dyneema®-reinforced Cotton Solutions
FilSpec Spins Thermo°Cool® Yarns For American Market
Dyeing Printing & Finishing
Bio-enzyme Trials Point To Processing Cost Savings
Jeanologia Introduces EIM Software, Eco-Clock
Material ConneXion Names DyeCoo Winner Of 2012 MEDIUM Award
Knitting / Apparel
Fibers Focus At Fabric Shows
Textile World looks at new fiber developments and where to find them through the supply chain.
Wickers FR T-Shirts Receive USDA Biobased Label
Hanesbrands Restructures Global Imagewear Business
Schoeller Textil Acquires Eschler Group
Supplier Notes
UL Acquires Testing Labs In Germany, Bangladesh
Genetec Global Technologies To Expand Simpsonville, S.C., Operations
Brooks Brothers Implements TEXbase Software Solutions
AC Carpi, Autumn Cashmere Select Datatex NOW ERP
OptiTex Partners With McNeel To Expand Offering
New Products
Lectra Unveils Kaledo® V3 Software
Alvanon Launches AlvaForm Studio Mannequin
Toyota, Trützschler Develop Prototype TCO 12 Comber
Web Processing Debuts Hot-Melt Backing Machine
People
Bulletin Board