Textiles 2012: The Prognosis Is Good
The U.S. industry's rebound from the lows of the last decade is expected to continue into another year.
Robert S. Reichard, Economics Editor
The $70 billion U.S. textile and apparel sector is alive and, in fact, doing quite well. Too upbeat an appraisal? Not really — given the fact that even in today's relatively lackluster business climate, these industries have managed to rack up gains for two consecutive years.

To be sure, the increases have been rather modest. Nevertheless, they mark a major change from the steady tattoo of declines and retrenchments that marked most of the past decade.

And the good news is almost sure to spill over into the new year. Again, any improvements will be far from spectacular. But, by and large, overall production, shipments and profit numbers should end up at or above 2011 levels when all the results are in.

Nor is Textile World 's optimism based just on wishful thinking. A slowly improving economy will almost certainly be a positive. All indications now point to an approximately 2- to 2.5-percent increase in real growth. Traditionally, each percentage-point increase usually translates into an equal percentage advance in domestic textile and apparel demand.

Two other macro factors are also likely to add to industry buoyancy. For one, the family debt overhang of recent years has been easing, thus allowing for more purchases of clothing, home furnishings, and other consumer goods. Secondly, there has been a shift in spending priorities, with more going for goods and less for services. In the first nine quarters since the 2008-09 recession, sales of goods in inflation-adjusted terms have jumped 9.1 percent — more than three times the 2.8-percent advance in spending on discretionary services over the same period.

Also pointing to a brighter industry future is the slight narrowing of the U.S./foreign price gap. This is especially significant when it comes to the U.S. textile and apparel industries' major threat — China. Evidence of that nation's narrowing price advantage comes from both its relatively high inflation rate and the slowly rising value of its currency, the yuan. Much more about this below when imports are examined in greater detail.

Meantime, still another sign of progress is the spate of ongoing moves by domestic industry leaders — moves aimed at not only the development of new and improved products but also the enhancement of the U.S. industries' competitive position vis-à-vis the rest of the world. One clear-cut indication that textile and apparel executives are following through on these goals: the continuing relatively high level of new plant and equipment spending.

Finally, some further upward impetus could come from stepped-up government moves to level the international playing field. With an election less than a year away, there's likely to be a lot more pressure put on overseas competitors to end their currently unfair trade practices.

Advertisement
On the other hand, the coming election could have some negative as well as positive effects, as both Democrats and Republicans play politics, throwing roadblocks into any meaningful attempts to correct the huge budget imbalance. Clearly, without action here, there could be further stock market volatility with its negative impact on both consumer confidence and spending. Nor do Washington question marks exhaust the list of potential uncertainties. The ongoing European financial crisis, for one, will almost certainly affect the U.S. economic climate if there's no relatively quick resolution. Then, there are some China imponderables — namely, what Beijing does vis-à-vis further upward revaluation of its currency and ending both illegal subsidies and transshipments.
But even with all these unanswered questions,
TW
sees the domestic textile/apparel picture remaining basically positive — with detailed projections over the next few years shaping up somewhat along the following lines:
Industry Demand Trends
Odds are that combined shipments of textiles and apparel this year will inch up another 1 percent or so, reaching a total of nearly $71 billion. Textile mills will account for the lion's share of the gain, though apparel should also manage to edge a bit higher.
Also worth noting: The textile mill increase will be uneven, with most of the advance centered in basic mill products like fabrics and yarns. On the other hand, more highly fabricated mill products such as carpets and home furnishings aren't likely to do anything more than maintain their 2011 levels.
Blame the latter projection on the still-sagging domestic construction market. With housing and office rental demand still in the doldrums, it would be unrealistic to expect any meaningful turnaround in this subsector.
This negative construction scenario can best be appreciated by zeroing in on
TW
's new carpet forecast. The new year here should see little more than a relatively flat pattern, with shipments continuing to run 40 percent under those prevailing in 2006 when the housing bubble burst.
Some comment is also in order on the differences in
TW
's shipment and production numbers (
See Figure 1
). The 6-percent dollar increase in aggregate 2011 mill shipments may somewhat overstate any improvement as they were inflated by cost-propelled price hikes. As such, production numbers, which rose only 2 percent, are probably a better estimate of real or volume progress.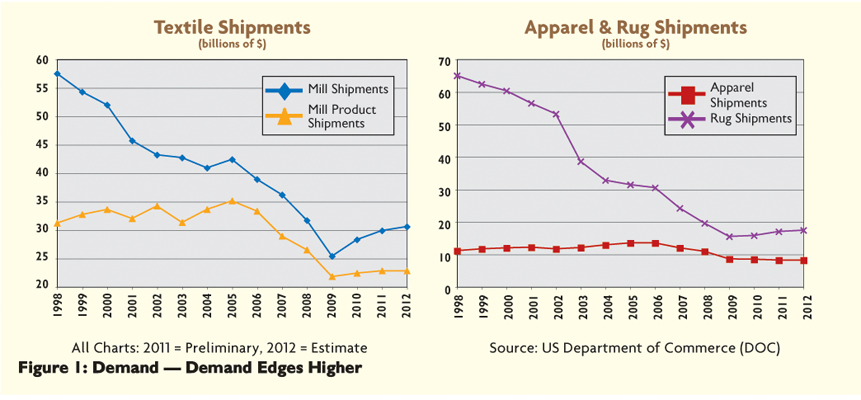 But the picture is changing for the new year. With mill prices not expected to move all that much, both dollar shipments and production should pretty much parallel each other — both providing some realistic measures of rising demand.
These same basic comments are also applicable for the downstream apparel sector. Last year's fairly impressive 7-percent increase in producer's clothing shipments was also inflated by higher prices, which were responsible for half of the advance. Eliminate the inflation factor, for example, and the 2011 real increase was only 3 to 4 percent.
Finally, there's also some reassuring news regarding the outlook beyond the new year. Analysts at prestigious economic consulting firm Global Insight remain cautiously optimistic on the industry's longer-term future, from 2013 to 2016.
For more highly fabricated mill products, these analysts see the slight weakness noted over the past year or two giving way to a virtually flat pattern over this extended period. On the other hand, basic mill products and apparel could edge fractionally lower, but with absolutely no sign of the big declines of the past decade.
To sum up, these new numbers suggest that domestic mills' and apparel manufacturers' drive to remain competitive is paying off — with little indication of any further significant shrinkage in U.S. share of these markets.
The Import Impact
Much of the upbeat industry appraisal just described is predicated on the likelihood of a somewhat better import outlook. To be sure, incoming shipments from China and elsewhere are not going to drop dramatically — and most of the losses of the past decade or so are certainly not going to be recouped.
On the other hand, things are starting to change. This is probably best illustrated in Figure 2, which shows incoming textile and apparel shipments on a square-meters-equivalent basis slipping by some 2 percent over the past year.
And if you go back to the three years prior to the 2008-09 recession, the increases that did occur were surprisingly restrained — averaging out at only slightly more than 1 percent annually. Bottom line: Compare these new numbers to the 8-percent average annual gains for the years 2001-07, and the slowdown in foreign penetration of the U.S. market becomes quite apparent.
One key factor behind this could be the rising wage and other costs in China, a country that accounts for some 46.5 percent of the United States' entire textile and apparel import total as well as close to 40 percent of the entire domestic market.
In any event, latest numbers would seem to back up this jump in Chinese costs. Over the past year, Beijing has raised minimum wages by 14 to 21 percent in key manufacturing sectors. And another estimate puts the jump in average annual Chinese manufacturing pay at nearly 12 percent over the past few years.
This doesn't mean, of course, that Chinese labor costs are anywhere near as high as those prevailing in the United States. It does indicate, however, that the Beijing pay advantage when adjusted for productivity differentials is beginning to shrink.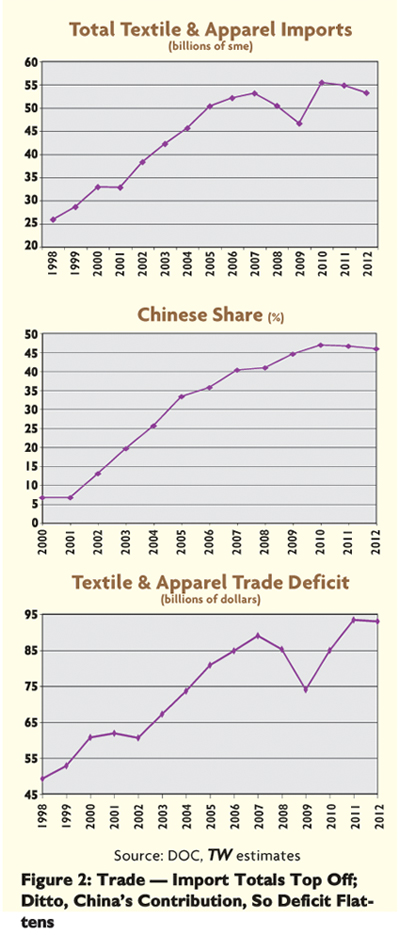 Backing this up, a recent Boston Consulting Group study finds that the average productivity-adjusted Chinese pay rate, which came to only 36 percent of its U.S. counterpart in the year 2000, jumped to 48 percent in 2010 — with estimates bringing it up to nearly 69 percent by 2015.
This projection looks increasingly realistic, as Beijing is already on record calling for minimum wage increases of 13 to 15 percent annually over the next five years. Other things being equal, this is bound to make Chinese bargains a lot harder to come by.
Other Thoughts On China
But labor isn't the only factor driving up Chinese costs. Another contributor, as noted earlier, is the rising value of China's currency, the yuan. And even though there has been some recent levelling off, the yuan is up 8 percent relative to the dollar over the past 18 months — with the yuan's value rising from just under 14.65 cents in mid-June 2010 to just over 15.85 cents by the end of 2011.
Moreover, global pressure for further upward adjustments isn't going to disappear, as some economists still feel the yuan is close to 25 percent undervalued. The point to keep in mind here: the higher the value of the yuan, the higher the landing costs for U.S. buyers.
Remember, too, that there are still other reasons for contemplating a sourcing shift away from a distant China. These include the promise of shorter lead times, today's sky-high shipping costs, and the red tape and other obstacles of doing business with the Chinese.
But overall, the huge pay rises in China are probably the most important factor in any decision to change sourcing. That's because textile and apparel production are labor intensive, thus playing a major role in determining the sales price.
For further confirmation of the upward price pressure engendered by higher pay rates, take a look at Chinese quotes, which have moved up significantly over the past year or so. Moreover, these hikes have already begun to affect sourcing — with more and more buyers thinking about shifts both to other Far East nations and to Western Hemisphere suppliers, where an added plus comes from their reliance on U.S.-made yarns and fabrics. And in a few cases, there has even been some return to domestic suppliers.
What does all this add up to in terms of 2012 imports? Given Beijing uncertainties, it's hard to come up with a 100-percent confident projection. But at this stage of the game,
TW
anticipates a continuing of this past year's decline in overall textile and apparel imports — with the Chinese share of the market dropping for the second consecutive year.
Also on the encouraging side: Growing exports are beginning to show some progress in blunting the sky-high U.S. textile and apparel trade deficit. This past year, total outgoing shipments in dollar terms jumped some 15 percent. And that's on top of the previous year's 18-percent advance.
TW
would expect a similar export increase for 2012, with most Western Hemisphere countries including those in the Caribbean Basin, and Central and South America likely to opt for more American-made mill products.
As for the impact on the U.S. textile and apparel trade deficit,
TW
now sees the likelihood of only a fractional decline. Progress? Yes, but not nearly enough to make a meaningful dent in the huge $93 billion red-ink figure — a number that's 50-percent above levels prevailing just one decade ago.
Capital Spending And Productivity
The confidence engendered by the brightening outlook is also being shared by the majority of industry executives. They're continuing to earmark large sums of money for new plant and equipment - with the ultimate goal of building stronger, more competitive world-class firms. New government statistics show domestic textile mills still shelling out close to $1 billion a year to improve and add onto their facilities. That's down considerably from decade-ago levels, mainly because U.S. mill demand dropped so precipitously over this period. A more meaningful measure of a mill's willingness to invest is the portion of each sales dollar being used for new capital spending.
And the news here is quite encouraging.
TW
calculates that some 2 cents of every dollar of industry revenue now goes for this purpose. That's not much different from decade-earlier readings.
Equally significant, this continuing capital spending, especially over the past three years has helped slow the sharp earlier decline in mill capacity. Over the 2009-11 period, slippage in mill production potential came to only 2 percent annually. That's nowhere near the 8-percent capacity declines of the previous eight years.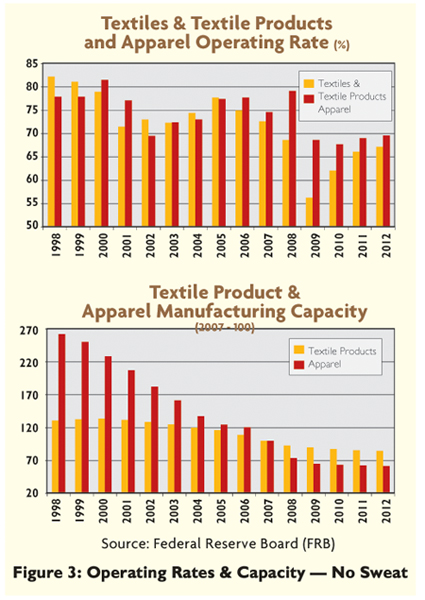 Moreover, talks with industry leaders indicate this willingness to spend will continue into 2012. If nothing else, it helps explain why mill efficiency gains continue to equal or even outpace those of other industries.
TW
has estimated these efficiency gains by comparing industry output to the number of workers needed to produce that output. Do the calculation, and you end up with output per worker - another name for efficiency or productivity.
The resulting figures for U.S. textile mills point to solid 2- to 3-percent annual gains - enough to offset the average annual mill pay increase of the past few years. Or put another way, there has been no increase in labor cost per unit of output. This is something that can't be underestimated, as labor accounts for 16 to 17 percent of every sales dollar.
Labor's role in apparel manufacturing is even more important. More than one-third of every apparel shipment dollar - 37 percent, to be exact - is earmarked for worker pay.
Other Cost Factors
Despite this positive labor picture, overall costs have been a problem, primarily because of the past year's hikes in another major production input — fibers. At one point early last year, cotton was going for upwards of $2.00 per pound. These prices have subsequently come down, but mills and clothing manufacturers are still working off inventories purchased at earlier peak levels.
On a more encouraging note, the latest U.S. Department of Agriculture cotton crop estimates suggest these quotes, which are once again under $1.00 per pound, will stay manageable. Reason: Global production of nearly 124 million bales for the 2011-12 marketing year. That's a sizable 8-plus-percent excess over estimated consumption.
As a result, world inventories are expected to rise by close to 10 million bales - enough to push the bellwether global stock/use ratio up into the 48-percent range. That's an impressive jump over the 39.5-percent ratio of the last year.
The outlook is similar when the U.S. cotton situation is viewed separately. Here, too, supply is expected to exceed demand, with the stock/use ratio rising to more than 25 percent as compared to the 14.2-percent reading for the past marketing year.
Cotton Incorporated, Cary, N.C., sums it up, noting that the cumulative result of global weakness in demand, when paired with a production surplus, should keep prices from trending above the current level.
The situation for man-mades, however, is somewhat different. Recent increases in these fibers' feedstocks — petroleum-based products — have resulted in higher man-made fiber production costs. These increases, in turn, have led to a substantial 12-percent jump in man-made fiber prices over the past year.
Moreover, few constructions have managed to escape the upward pressure. The latest prices collected by
TW
show significant year-to-year increases for many types of polyester, acrylics and rayons.
On a rosier note,
TW
does not see any further meaningful run-up in this area as petroleum prices begin to level off. Upshot: While some hikes are still likely for 2012, they should be minimal — with the overall man-made fiber price average up about 1 to 2 percent.
To sum up: Thanks to the recent declines in cotton and only small further increases in man-mades, 2012 fiber cost increases will be a lot less of a problem than they were last year.
The Impact On Prices
These reassuring cost predictions also point to changes in the overall price climate. One thing for sure, there should be no repeat of last year, when mill and apparel producer price averages jumped by a lot more than their usual fractional amounts (
See Table 1
).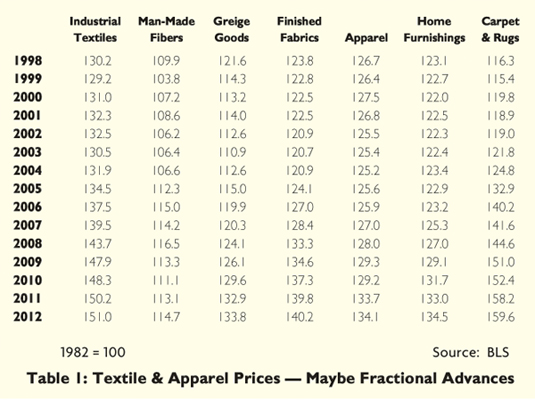 Another factor pointing to moderating price boosts: Excess capacity in the face of only slowly rising demand. At last report, domestic textile and apparel makers were both operating at less than 70 percent of their rated capacity. That's far lower than their preferred levels and could well intensify pressure to give a bit on prices where big orders are concerned.
Not surprisingly, there are already indications that the recent cost-propelled price run-up is running out of steam. One sign of change: the scattered reports of discounting during the just-ended holiday season.
And this basically non-inflationary price picture is expected to continue through the new year — with mill advances, where they do occur, being rather small and scattered. In short, the return to the relatively stable price pattern prevailing until last year seems virtually certain. Go further downstream to apparel, and again, odds are prices will stay pretty much where they are now.
Nor are things likely to change over the subsequent four years — 2013-16 — when again, little more than fractional price advances are anticipated. They should be considerably under the 2- to 3-percent general inflation rate — actually enough below that level to provide consumers with continuing incentives to buy new clothing and other textile-related products.
An Improving Profit Trend
Throw all the bottom-line determinants discussed above — demand, imports, productivity, costs and prices — into the computer hopper, and industry earnings should begin to pick up after 2011's sizeable declines (
See Figure 4
).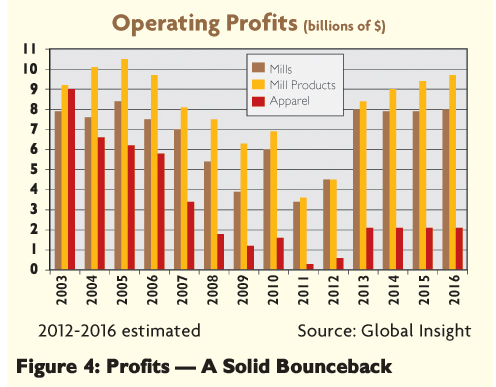 In any event, major factors likely to shore up earnings reports over the next few years would have to include a return to more normal fiber costs, more domestic industry efficiencies and somewhat less intensive foreign competition as overseas vendor prices continue to creep up.
Using Global Insight's rough and dirty measure of profits — sales less labor and material costs — after-tax earnings over the new year are expected to post rebounds of 31 percent and 26 percent, respectively, for basic mill products and more highly fabricated ones. Zero in on U.S. apparel companies, and an even more upbeat 80-plus-percent profit gain is anticipated for 2012.
Equally encouraging, this uptrend is expected to continue into the following year. By 2013, earnings in both textile mill sectors could be back up around pre-recession levels.
Other evidence of improving bottom lines comes from
TW
's talks with industry executives. Abandoning their earlier gloom-and-doom fears, they're now almost unanimous in projecting better days ahead.
Employment Could Shrink
One exception to all the positive news: more shrinkage in the industry workforce. This past year, for example,
TW
estimates that only about 393,000 Americans held jobs in the U.S. textile and apparel industries. That's only a little more than half the number reported as recently as 2003 (
See Figure 5
).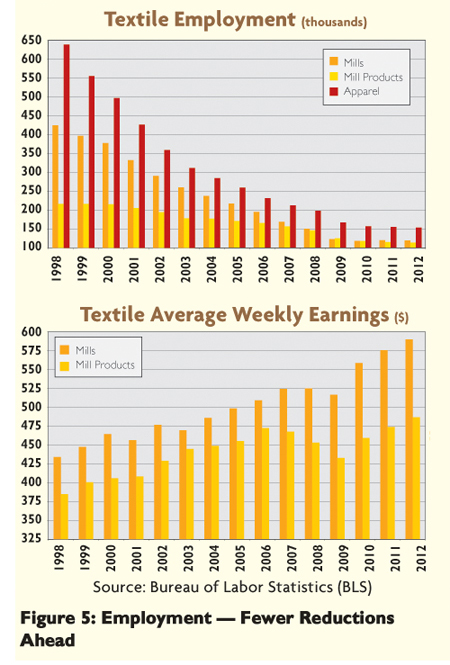 The reasons for this sharp decline aren't hard to find. First has been the huge falloff in industry activity in recent years as imports flooded the market. Equally important, as noted earlier, have been the steady increases in output per worker. One estimate suggests that well over 200,000 industry jobs have been lost over the past decade due to efficiency gains.
The only really positive sign on the labor front is that layoffs attributable to reduced industry activity won't be as much a factor over the next few years. Indeed, given
TW
's new production and shipment forecasts, the textile and apparel workforce decline over the next few years should only be 2 to 2.5 percent annually — far under the 5- to 6-percent yearly declines of the past decade.
Moreover, workforce quality should continue to improve as more sophisticated techniques and equipment gradually come on-stream. As one recent government report puts it: "Despite declines in employment, job prospects for skilled workers, engineers and merchandisers should be tolerably good as the industry evolves into one that primarily requires people with good communication skills, creativity, and who are skilled enough to operate today's high-technology, computer-operated machines."
Still another plus for future workers: Many of the skills used in textiles and apparel are comparable to those of other manufacturing industries. This, in turn, should provide the opportunity for workers to move between industries, depending on the opportunities available in their areas of specialty.
Accent On Innovation
Meantime, industry leaders are leaving no stone unturned in their efforts to develop and market a vast array of new and improved products designed to whet buyer appetites. And the products cover the entire gamut from basic fibers to finished garments and industrial products.
Starting with cotton, Cotton Incorporated is busy promoting innovative colors, fabrics and silhouettes in both knitted and woven varieties. Included are spongy outerwear, knits, stretch French terry, and single-knit fabrics that are bleached and dyed using fiber-reactive dyes.
The industry association has also worked with activewear companies to develop Charged Cotton™, which not only offers traditional cotton attributes but also wicks away moisture and dries five times faster than traditional cotton.
Even some of the minor fibers are getting more attention. Alpaca, for one, is being promoted as a luxury fiber on par with cashmere, mohair and vicuña. It blends well with wool, cotton, silk and cashmere — and is even being pushed in home textiles for use in blankets and throws.
Then there's flax: HanesBrands Inc., Winston-Salem, N.C., is working with Naturally Advanced Technologies Inc., Vancouver, Canada, to develop blends for both undergarments and activewear. Denim manufacturers are also said to be interested in the fiber.
As for apparel, there's a flood of new offerings, all accenting attributes other than price. Included are such innovative products as polyester polo shirts that wick away perspiration, gut-reducing undergarments and even parkas with drawstrings that double as earphones.
Also running on-stream are such space-age offerings as uniforms embedded with light-emitting diodes that produce glowing promotional images; and uniforms made of smart fabrics woven with sensors to monitor the condition of soldiers, firefighters or other workers assigned to dangerous environments.
Even the traditional bedding and mattress market is getting the attention of innovators. Included here are sheets made of high-tech performance fabrics that draw body heat and moisture away from the sleeper, chemical-treated bedding fibers that break down odor-causing molecules, and air channels and gel inserts between mattress layers to keep a sleeper cool and comfortable.
Nonwovens, too, are getting more attention these days. Big applications here are in the fields of hygiene, medicine, filtration and packaging. In any event, it's an area of far-better-than-average growth, with the nonwoven roll goods market now estimated to be expanding at an impressive 8-percent annual rate.
Finally, there is increased research aimed at introducing fibers and fabrics for entirely new industrial applications. A good example here is in architecture, where roofing membranes are being used as a replacement for gravel, bitumen and concrete. Their advantages: more tensile strength and ease of handling.
Spotlighting Environmental Concerns
The new developments described above comprise only one U.S. textile and apparel industry strategies for survival and growth. Indeed, there are a lot of other approaches.
Playing the green card is one that can have a big payoff. Some 44 percent of surveyed consumers now say they would be drawn toward clothing that was identified as being environmentally friendly. Equally important, nearly one out of every four buyers add they would put effort into finding this kind of apparel.
Not surprising, a big company like San Francisco-based Levi Strauss & Co. has found that its jeans advertised as less water-intensive sold significantly faster that regular Levi types that were similarly priced.
Nor is Levi Strauss the only firm taking this tack. Many others are finding that, in addition to establishing an environmentally friendly reputation, going green can command a substantial price premium.
Another bit of evidence that green is catching on: One group of retailers, manufacturers, environmental groups and academics has formed the Sustainable Apparel Coalition — geared toward developing a comprehensive database of the environmental impact of every manufacturer, component and process in apparel production. The aim is to use this information to eventually give every garment a sustainable score.
Other Strategies For Survival
Nor does promoting environmental pluses exhaust the list of ideas being used to keep the U.S. textile and apparel industries afloat. As alluded to above, more and more emphasis is also being directed toward enhancing product performance.
And with good reason: Buyers are increasingly on the lookout for clothing that fits into their lifestyles. Backing this up, another recent survey finds that more than two out of every five consumers now say performance is a major purchasing determinant — with an even larger 50 percent adding that they're likely to pay more for popular items such as wrinkle-resistant pants or shirts.
Clearly, the appeal to patriotism — particularly the use of the "Buy American" slogan — can also provide a sales fillip. As one executive recently put it: "The typical consumer will almost always opt for an American-made product when he or she has the choice."
All this is confirmed by still another survey showing that nearly three out of every five buyers say purchasing a domestically-made garment is an important or somewhat important part of their buying decision. Their reasons: American products support the economy; are often of better quality; and are probably more environmentally friendly than imported products.
There's still another factor bolstering the Buy American approach: Lead times and inventory levels can generally be reduced when the sourcing comes from sites closer to home. A possible added plus here: Any subsequent falloff in a company's required inventory levels can reduce the need for distressed sales should some styles or product lines fail to meet their projected targets.
Finally, a few words are in order on two other encouraging textile and apparel trends. First, there's the increasing determination on the part of U.S. industries to press for the elimination of unfair trade practices. A prime example here is the National Council of Textile Organizations' stepped-up pressure to level the international playing field. Then there's Washington, where lawmakers also seem to be toughening their stance — especially where the unfair trade practices of China are concerned.
One apparel executive probably best sums up the industry's overall strategy, noting that "we constantly review our options, putting major emphasis on basics like infrastructure, production processes, flexibility, cost containment, and consumer requirements." He goes on to say that it's a formula that has payed off during the past few difficult years — adding that he sees no reason why it won't continue to do so in the years immediately ahead.
January/February 2012