IFAI Expo Heads To The Harbor
Specialty fabrics industry professionals will convene in Baltimore for programs, exhibits and networking opportunities at IFAI Expo Americas 2011.
TW Special Report
It has been 43 years since the Roseville, Minn.-based Industrial Fabrics Association International's (IFAI's) annual exposition was last held in Baltimore. This year, the expo, said to be the largest specialty fabrics trade show in the Americas, will return to that city for IFAI Expo Americas 2011, to be held at the Baltimore Convention Center Tuesday through Thursday, October 25-27."Baltimore was chosen for the beautiful Inner Harbor waterfront district and its proximity to Washington, D.C.," said IFAI President and CEO Stephen M. Warner. "We expect strong government participation as well as international buyers. It has been a long time since we have held IFAI Expo Americas in the mid-Atlantic region and people are excited."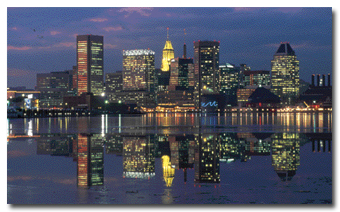 Photo courtesy of Visit Baltimore.
IFAI Expo 2010, held in Orlando, Fla., hosted more than 5,100 participants from 55 countries, with 354 suppliers from 21 countries exhibiting their products and services to expo visitors. As of Textile World's press time, IFAI had 321 exhibitors from 17 countries signed up for the 2011 edition, and projected 6,500 registered participants.
"This is the main event, the key gathering of critical industry decision-makers," Warner said. "You don't send someone else — you have to come yourself. We've planned an exciting, constantly-moving show."
AT Americas '11 Education
Following its successful debut last year, the 2011 edition of IFAI's Advanced Textiles Americas (AT Americas '11) technical conference will be held Monday through Wednesday, October 24-26, in conjunction with IFAI Americas 2011. Entitled "Blending Technology and Materials," the three-day conference — co-organized by the Synthetic Yarn and Fiber Association (SYFA), Clover, S.C., and the the American Association of Textile Chemists and Colorists (AATCC), Research Triangle Park, N.C. — will include a series of technical presentations offering business insights into new cutting-edge research and developments and their application-based uses. On the opening day, AT Americas '11 will include a networking reception and a luncheon featuring keynote speaker Battalion Chief Henry J. Costco, Philadelphia Fire Department, who will discuss the future needs for personal protective equipment.
Technical sessions on Monday will include "Transportation — Moving Forward"; "The Science of Visibility"; and "From Concept to Action: Evolution of Sustainability in Textiles." Sessions on Tuesday will include "Interactive Textile Systems" and "Body and Technology Interactions."
On Wednesday, two bonus sessions will be offered complimentary to full AT Americas '11 registrants: "Global Marketplace Perspective for Specialty Fabrics," presented by the U.S. Industrial Fabrics Institute (USIFI), Roseville, Minn.; and "Performance Textiles: Assuring Product Quality," organized by AATCC. These bonus sessions also will be offered to full IFAI Expo Americas 2011 registrants.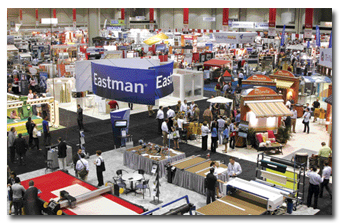 The show floor at IFAI Expo 2010, held in Orlando, Fla., had 354 suppliers from 21 countries exhibiting their products and services to more than 5,100 visitors from 55 countries.
IFAI Expo Education
This year's expo will offer a range of symposiums, sessions and demonstrations including: "The Ins and Outs of Patterning" marine symposium; "Fabric Graphics Applications: Diversifying Your Products" fabric graphics symposium; "Is Your Cover Too Small? Expand and Diversify Your Awning Business" awning symposium; "Essential Tools for Maximizing Your Business through Technology" business symposium; "The Bigger the Better: Sewing and Sealing Techniques for Large Scale Fabrication Projects" industry demonstrations; and "The Future of Temporary Fabric Structures" tent symposium and industry demonstrations.
Three continuing education programs will be offered free of charge to architects, landscape architects and students in those fields: "A Practical Approach to LEED® and CSI Fabric Structure Certification" fabric structures symposium; and "Fabric Architecture: Taking the Mystery Out of Fabric Structures" and "Green Roofs For Designers" architect sessions.
On Tuesday, a bonus session entitled "Exporting For Profit — If Not Now, When?" will be offered to all IFAI Expo Americas attendees.
Expo Highlights
Winners of the IFAI International Achievement Awards (IAA) competition will be presented during the IFAI Chairman's Gala, which this year will be held on the first night of the expo instead of the last, following the welcome reception. IFAI received more than 350 entries from more than 125 companies in 16 countries for the IAA competition, which recognizes design excellence within the speciality fabrics market.
The Industrial Fabrics Foundation (IFF), a nonprofit organization devoted to specialty fabrics education and research, also will present the 2011 IFF Innovation Award at the IFAI Chairman's Gala. Initiated last year, the award recognizes specialty fabric manufacturers' innovations and best practices in three categories — fabric, hardware or machinery; end product; and process — under the theme "Today's Imagination, Tomorrow's Inspiration."
Other special events will include the 6th Annual IFF Golf Tournament, benefitting annual scholarships; the 9th Annual IFF Silent Auction; and the IFAI Annual Meeting, during which Charlie Cook Jr. — editor and publisher of the Cook Political Report and a political analyst for NBC News and National Journal — will give this year's keynote address. Cook will offer a political outlook for the 2012 U.S. elections.
This year, IFAI will debut Demo Thursday, offering participants of Thursday morning's education sessions the opportunity to see various demonstrations on the show floor before it opens. The expo also will feature a Fabric Sourcing Center located on the show floor, where material samples from participating exhibitors will be on display. Samples will be organized according to application type, and exhibitor booths will be listed.
Global Initiatives And Future Events
The U.S. Department of Commerce has designated IFAI Expo Americas 2011 as a participant in the International Buyer Program (IBP) for the fourth time in the last five years. The expo is one of only 39 trade shows this year invited to participate in the program, which promotes U.S. exhibitions worldwide via U.S. Commercial Services offices and U.S. diplomatic missions.
IFAI Canada Expo 2012 will be held March 29-30, 2012, at the Delta Meadowvale Resort & Conference Centre in Mississauga, Ontario. After a highly successful inaugural edition in 2011, IFAI Expo Asia 2012 will return to Singapore June 26-28 to the Suntec Singapore International Convention & Exhibition Centre. The upcoming expo has been awarded International Trade Fair Certification by the U.S. Department of Commerce, which provides business support to U.S. companies interested in exhibiting and exporting.
IFAI also has announced that IFAI Expo Americas 2012 — the 100th anniversary of the show — will colocate with JEC Americas 2012 at the Boston Convention Center Nov. 7-9, 2012. JEC Americas is organized by France-based JEC Group, which provides global or local networking and information services for composite markets and is said to be the largest composites industry organization worldwide.
September/October 2011
Advertisement