November/December 2011
Italy-based RadiciGroup has published its 2010 Sustainability Report, which may be downloaded at radicigroup.com/En/Corporate/reports.aspx.

Germany-based BASF SE is using new ethylene vinyl alcohol plastics (EVOH) packaging for its Luvitec® high-molecular weight-polyvinylpyrrolidone powders, used in manufacturing specialty membranes and adhesives. The EVOH film provides protection from oxidation.

Sweden-based Atlas Copco AG has been named to Thomson Reuters' Top 100 Global Innovators list.

The Hohenstein Institute, Germany, will open a new test laboratory on December 9 in Hong Kong, located at 1/F Biotech Centre 1No. 9, Science Park West Ave., Hong Kong Science Park, Shatin, N.T. Hong Kong.

The United Kingdom-based International Cotton Association Ltd. has catalogued its records archive and moved it to the Liverpool Record Office. The collection, containing records dating from 1798 to 2004, is available online at liverpool.gov.uk/libraries-and-archives/archives-local-and-family-history.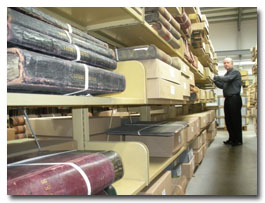 ICA's archive at the Liverpool Record Office


Nilit Ltd.
, Israel, has added its Fall/Winter 2013-14 bodywear and active-sportswear trend concepts to the Nilit® Bodyfashion Trendbook.
Aurora Specialty Textiles Group Inc.
, Aurora, Ill., has added ACT II SP and Twill SP to The Northern Lights™ Printable Textiles collection.
Lancaster, Pa.-based
DEStech Publications Inc.
has published "Introduction To Nonwovens Technology," by Behnam Pourdeyhimi, Ph.D., and Subhash K. Batra, Ph.D.
Raynham, Mass.-based
Metalgrommets.com
has introduced the GROMMETsizer™, a template for sizing grommets that is created to accelerate production and repair of products using grommet attaching machines. The template is available free of charge at
metalgrommets.com/catalog
.
Designer and author Lauren Conrad has partnered with Austin, Texas-based
BlueAvocado
to design an eco collection of prints and products for home storage, travel and cosmetics. The collection, made with Greensboro, N.C.-based Unifi Inc.'s Repreve® recycled fiber, will debut in Summer 2012.
Clark, N.J.-based
QuestaWeb Inc.
has relocated its corporate headquarters to 60 Walnut Ave., Suite 300, Clark, N.J., 07066; phone +908-233-2300; fax +732-943-7197.

November/December 2011
Advertisement