Flax Unshackled
CRAiLAR® Flax, processed using a proprietary enzyme treatment, feels like cotton and can be blended with cotton for various apparel uses.
Janet Bealer Rodie, Managing Editor
T
he recent runup in cotton prices has opened up opportunities to promote other natural fibers for various textile and apparel uses. Naturally Advanced Technologies Inc. (NAT), Vancouver, Canada, provider of CRAiLAR® enzymatic technology for processing bast fibers, is cultivating fiber flax on 300-plus acres in Kingstree, S.C. — with 15,000 additional acres to be planted in Maine or Michigan by year end as well as 5,000 test acres this summer as part of a six-month crop rotational trial — and is processing it and supplying Crailar Flax to apparel brands to blend with cotton for various apparel items.
NAT subsidiary Crailar Fiber Technologies Inc. developed the technology in collaboration with the National Research Council Canada and Alberta Innovates — Technology Futures. The proprietary enzyme treatment softens the fiber stock, removing the lignin and creating fibers comparable to cotton in feel but more durable and eco-friendly than cotton — and, these days, less costly. The Crailar process uses only Global Organic Textile Standard (GOTS)-approved chemical inputs and has received GOTS Textile Auxiliary Agents certification.NAT first applied the technology to hemp and has conducted Crailar Hemp commercialization trials with several companies. Last year, it turned its attention to flax. While flax has been used as a textile fiber for millennia, Crailar technology has provided opportunities to unleash its potential, said NAT CEO Ken Barker, who sees Crailar Flax as a branded ingredient to be blended with cotton or other fibers.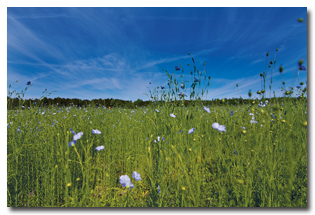 Naturally Advanced Technologies has planted more than 300 acres of fiber flax near its CRAiLAR® processing facility in Kingstree, S.C., with more acreage planned elsewhere.
"We were running trials in Germany on equipment we'll be using for bulk hemp production and tried some flax for comparison. We were able to process flax twice as efficiently as hemp, which reduced our input costs significantly," he said. Barker then had NAT's spinning partner, Patrick Yarns, Kings Mountain, N.C., spin some flax yarn. "The results were outstanding," he added.
With flax at $0.90 to $1.25 per pound compared with cotton's much higher, more volatile price, substituting flax for part of the cotton in a garment can help stabilize costs. Flax also grows very quickly, is high-yielding, and requires no irrigation and virtually no chemical pesticides or fertilizers. It can be grown in rotation as a winter crop in the South.
"We're making a very long-staple fiber, and we've made advances in the initial decortication and enzyme process for preserving the fiber and getting it to its ultimate fiber state for usage," Barker said. For blending with cotton, NAT generally cuts the fiber to 1.25-inch staple lengths. The length can be shorter or as long as 2 to 2.5 inches if specified.
Under a 10-year purchasing agreement with Hanesbrands Inc., Winston-Salem, N.C., NAT is supplying Crailar Flax for an 80/20 cotton/flax blend to be used in knitted basic apparel such as T-shirts, socks and other articles. The blend has a substantial, comfortable feel, and Barker said the flax contributes to reduced shrinkage, improved dye uptake and wicking, and shortened drying times for the fabric.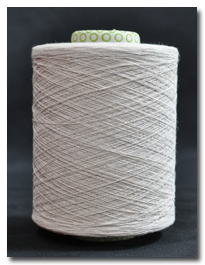 CRAiLAR® Flax fiber is cut to staple lengths that can be blended with cotton and spun on traditional cotton spinning systems.
NAT has signed a short-term development agreement with Levi Strauss & Co., San Francisco, to evaluate the use of Crailar Flax in woven denim and non-denim fabrics. It also is working with other major brands to uncover further opportunities, and is supplying the fiber to Georgia-Pacific LLC, Atlanta, for evaluation in formed materials.
NAT currently is processing 20,000 pounds of Crailar Flax per week, and by year end, it expects to process 350,000 pounds per week at its Kingstree facility, thanks to the installation of new equipment that will ramp up production from pilot-scale to industrial-scale.
"Processing is not capital-intensive in terms of turning around viable feedstock," Barker said. "The equipment exists, except for what we've put together in terms of the decortication process, which is somewhat unique to our needs."
Barker said the Crailar technology also can be used to process residual fiber waste from flax cultivated on 2 million acres in parts of Canada and North Dakota for seed and oil, and NAT anticipates that in three years, it will be processing 4 million pounds per week in six strategically located facilities.
---
For more information about CRAiLAR® Flax, contact +866-436-7869; info@naturallyadvanced.com; www.naturallyadvanced.com.
---
May/June 2011
Advertisement