U.S. Apparel: On Target, On Budget
The U.S. apparel supply chain offers shortened delivery times and ensured quality in addition to the flexibility to handle smaller, customized product volumes.
Janet Bealer Rodie, Managing Editor
C
ontrary to a common misperception that virtually all U.S. apparel manufacturing has migrated offshore — largely to Asia — in search of lower costs, some branded and private-label apparel is still being made in the United States, and, indeed, a bit of a turnaround is taking place, with brands and retailers reassessing the value of manufacturing domestically, or at least closer to home.
The U.S. apparel supply chain — as part of a larger Western Hemisphere supply chain — lives, especially for higher-end and specialty brands, but also for moderately priced apparel. From raw material producers to yarn spinners to knitting and weaving mills to fabric finishers to cut-and-sew operations, it is possible for brands and apparel makers to work with a supply chain based substantially in the United States and deliver high-quality goods in a timely manner. The speed-to-market gained by sourcing closer to home is becoming extremely important because consumers have become more cautious and particular about spending their money, and the more quickly a brand or retailer can respond to the current demand, the more likely it is to realize a profit.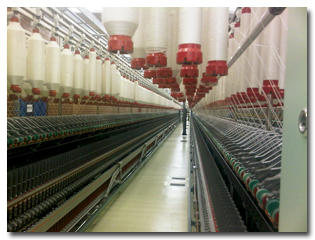 Buhler Quality Yarns Corp. spins 170,000 pounds of yarn weekly on 32,000 ring spindles.
But other factors are also at play: In these times of rising labor costs in Asia and increased raw material and transportation costs, brands and retailers using a U.S./Western Hemisphere supply chain can offer their goods at a price that is competitive with that of goods whose components are sourced farther afield. In addition, many domestic manufacturers operate on a smaller scale than is typical of most of the offshore mills — a factor that also allows the flexibility to tailor a smaller volume of product to customer specifications.
A more localized supply chain enables a quicker reaction to market conditions, and retailers and brands are beginning to rethink the cost equation related to the supply chain: Smaller quantities that may cost a bit more per piece to produce but are delivered quickly to satisfy a newly identified trend can in the long run be as cost-effective as or more so than larger quantities costing less per piece that had to be ordered months ahead of time and shipped a greater distance — and may no longer be in style by the time they reach store shelves, and then must be marked down, thereby cutting into profits.
From Fiber To Yarn
The U.S./Western Hemisphere supply chain offers not only quick response, but also advantages in terms of trust, reliability and transparency, according to David Sasso, vice president, sales, of Jefferson, Ga.-based Buhler Quality Yarns Corp., a subsidiary of Switzerland-based Hermann Bühler AG. With 150 employees and 32,000 ring spindles, Buhler spins 170,000 pounds of yarn weekly from domestically produced Supima® cotton; MicroTencel® and MicroModal® from Austria-based Lenzing AG; and blends of Supima and Lenzing's fibers.
"It's a closed-loop type of supply chain in which everything is transparent from the raw material forward, and there's a good flow of information for deliveries and pricing," Sasso said.
Buhler's Supima supplier is J.G. Boswell Co., located in California's San Joaquin Valley and the largest Supima farmer in the state, Sasso said. Rather than buying cotton through a broker, Buhler works directly with Boswell to ensure it receives the high quality of cotton it needs to meet customer demand.
"Because of the type of market we're in, we have to reduce variation as much as possible," Sasso said. "With natural fiber, if you buy fiber from one region meeting certain specs instead of across various regions, you'll find it's more consistent in quality, and that's really key to starting a quality product."
Buhler's direct relationship with its Supima supplier also pays off in that Boswell officials visit the spinning mill, and are able to observe how the cotton is running on Buhler's equipment and see if any improvements need to be made. "If you're going through a broker, you miss that and have no say-so in the quality," Sasso said. "It's important to us as a quality spinner to align ourselves with a quality farmer. That's the first step in the whole supply chain."
Advertisement
From Yarn To Fabric
Sasso also said a very tight coordination between the fiber supplier and the yarn spinner is necessary in order to provide timely delivery of yarn to the next link in the supply chain — the fabric manufacturer. Buhler sells its yarns to a number of U.S.-based knitters that supply fabric to apparel brands, which manufacture finished product in the United States and in other Western Hemisphere countries that are parties to free trade agreements (FTAs) with the United States. Through the FTAs, these countries are bound by country-of-origin rules that favor the use of materials produced within the FTA member countries.
Among Buhler's customers is Antex Knitting Mills, a Los Angeles-based producer of knitted fabrics for fashion, lifestyle and swim apparel. Established in 1973, Antex is a division of Matchmaster Dyeing & Finishing Inc. and as such offers a vertical operation that includes knitting, dyeing, printing and finishing. The company has about 450 employees, and its knitting operation includes 300 state-of-the-art high-speed, multi-feed knitting machines that produce 1.5 million yards of fabric weekly for major U.S. apparel brands and retailers. In spite of the offshoring of most apparel manufacturing in recent years, Antex has managed to survive pretty much intact and even grow a bit, said Bill Tenenblatt, the company's owner.
"We've had to transform ourselves and innovate over the years, and we have been successful," Tenenblatt said. "We've gone into a lot of higher-end, specific fabrics for better brands. It is very important to have tremendous quality standards and consistency, and delivery time has to be quick — this is one of our big advantages."
Antex keeps a high inventory of yarn on hand, enabling it to respond quickly to its customers' needs, and it works closely with Buhler to ensure it has the yarn it needs to fill customer orders when demand changes.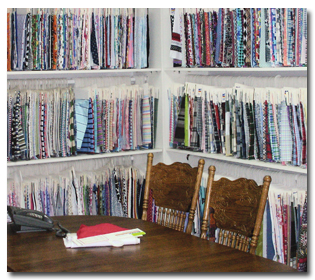 Antex Knitting Mills keeps a comprehensive sample collection showing the range of fabrications, styles and yarn combinations it can offer its customers.
"We work together as far as planning the yarn supply and orders. A lot of innovation goes into these fabrics — new fabrications, styles, yarns, yarn combinations — and Buhler has been an important part of the equation," Tenenblatt said. "If we're running a certain count and that program slows down, Buhler will work with us to get us what we need."
With all of Antex's customers doing their manufacturing in the Western Hemisphere — a lot of it in Central America and Mexico, but some also in Los Angeles — another advantage is the speed with which the company can respond to problems its customers might encounter. "If we need to send technical or quality control people to the cut-and-sew plant, it's easy to manage quickly, and our customers have understood that more and more in the last two years," Tenenblatt said.
Buhler and Antex both work with the brands to ensure the specified fabric can be delivered. For example, Buhler may show fabrics that feature its yarns, or a brand may show Buhler a fabric sample and ask which knitter might be able to provide it. Likewise, a brand may show Antex a fabric and ask which spinners might provide the yarn.
Back In The USA
Tenenblatt is hearing a lot of talk of bringing a certain amount of business back to the U.S./Western Hemisphere supply chain. "If there were a strong strategic commitment to make 10 to 20 percent of goods in this hemisphere, there would be a tremendous resurgence in the whole supply chain, and in the long run, it would be a much safer position. Now, retailers are at the mercy of Asian suppliers, and if there's not another supply chain here, very little can be done if those suppliers decide to raise prices," he said.
Buhler and Antex both work with their customers to ensure a certain amount of cost stability. Buhler contracts with Boswell to secure a certain price for the cotton to be spun and can provide long-term price guarantees for a set program based on that contract. Antex provides stability by keeping a high inventory of yarn.
---
Made In USA: Apparel Makers See Advantages


Companies making apparel in the United States have found that quick delivery, quality of materials and the reliability of a domestic supply chain provide numerous advantages.

Steve Liquori, founder of The Goodwear Corp., Essex, Mass., reports everything made under the Goodwear® USA brand is 100-percent made in the United States. The company, established in 1983, makes sturdy, upscale, classic casual and athletic knit shirts for its own brand as well as for private-label and export customers. About half of its business is export, and it has been shipping goods to Japan for 21 years. Close to half is private-label for companies such as small outdoor retailers; and a small but growing percentage of sales comes through its website.

Goodwear conducts its design, marketing and sales activities in Essex, and contracts for all production. "We're a Cotton USA licensee, and we buy our yarn from several different spinners in this country and contract with domestic knitters, finishing and cut-and-sew companies," Liquori said. "This little company in Essex, Mass., is a piece of thousands of American jobs because we made a conscious decision years ago to continue to manufacture domestically and not go offshore. And people want to find Made in USA labels. The goods may cost a little more than the imports, but they are local and of better quality."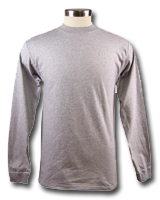 Goodwear® USA classic casual and athletic knit shirts are 100-percent U.S.-made.

Goodwear began to see a considerable surge in sales around 1999 to 2000, largely because of the popularity of U.S.-made goods in Japan, but also in response to offshoring by major brands. Over the years, Goodwear has built up a high degree of trust from its customers. "We stress that deliveries are on time and give our customers a two-week shipping window that we honor. Next, we stress quality, and price comes third," he said.

Boathouse Sports, Philadelphia, is a 20-year-old manufacturer of outerwear and uniforms for school athletic teams, and employs more than 200 people at its plant. Operations include design and pattern-making, cut-and-sew, embroidery, screen printing and sublimation. The company stocks a large inventory of fabrics, which are largely imported from Asia but also sourced domestically. The large inventory enables it to offer quick delivery, which is a significant advantage, said President and CEO Doug Tibbetts.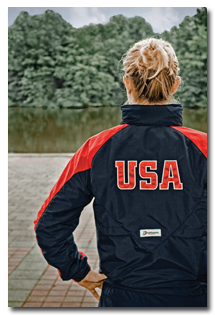 Boathouse Sports makes custom outerwear and athletic uniforms in its Philadelphia manufacturing facility.

"Our model is custom and quick response, with delivery in two to five weeks," Tibbetts said. "We do everything from large to small orders at comparable cost. That still may be 15-percent higher than comparable product from Asia, but the convenience and ability to have just-in-time inventory really is an advantage, and the ability to order closer to need is something folks really value."

Gerbing's Heated Clothing, Tumwater, Wash., is rejoining the ranks of Made in USA apparel makers after more than a decade of outsourcing production to China. The company was founded in 1976 and manufactures vests, jackets, gloves and other garments equipped with heating pads. Customers include military and police agencies, athletic teams, motorcyclists, hunters, and other such groups and individuals.

Frustrations with its Chinese suppliers — related to unreliable delivery schedules, rising prices and large minimum orders — have led Gerbing's to reconsider domestic manufacturing. "Last year, we lost $300,000 in sales because we didn't have product on time, and we decided we can do this in the United States," said Owner and CEO Jeff Gerbing.

Gerbing's is refitting an 88,000-square-foot building in Stoneville, N.C., where it plans to begin producing vests by September and add the other garments as quickly as possible. "We knew North Carolina is known for textiles, and having that workforce available was a big plus in helping us make the decision," Gerbing said.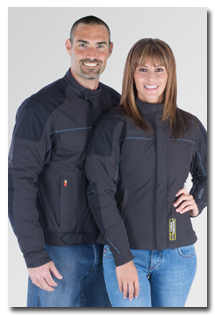 Gerbing's Heated Clothing is returning its manufacturing to the United States after more than a decade of outsourcing production to China.

The operation is slated to employ 158 people once it is in full production, and Gerbing thinks that number could well double. The company is buying fabrics, including Cordura® and other fabrics, from Precision Fabrics Group Inc., Greensboro, N.C., and will work with other local mills as well to get everything it needs. Gerbing expects the new supply chain will deliver several advantages.

"Some of the fabrics we buy are cheaper here, and you know what you're getting," he said. "We have found out that some of the fabrics we were getting in China weren't what we thought they were. Also, lower minimum orders will help us."
---
May/June 2011