U.S Textiles In Transition
The U.S. textile industry faces many new challenges, but the next decade should also present opportunities to the industry.
William L. "Bill" Jasper
I
t is an honor to have been elected chairman of the National Council of Textile Organizations (NCTO) by my peers in the industry. I am fortunate to begin my tenure at a time when business conditions are improving and the industry is experiencing growth. The U.S. textile industry began 2011 in a much stronger position than the previous year. Virtually every sector of the industry saw business conditions improve from late 2009 through 2010. Going forward, I remain optimistic about the future of the textile industry in this region.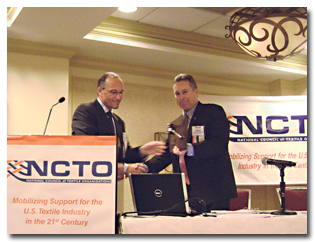 Incoming National Council of Textile Organizations (NCTO) Chairman William L. "Bill" Jasper, chairman and CEO of Unifi Inc. (left), accepts the gavel from outgoing NCTO Chairman David Hastings, CEO of Mount Vernon Mills Inc. (right), at NCTO's annual meeting, held in Washington in April 2011.
Rapidly rising prices and domestic demand in China are leading apparel importers to take a fresh look at the Western Hemisphere. The U.S. industry is benefiting as sourcing is rebalanced to include more U.S. and regional production. To build on this opportunity, NCTO is helping to organize a special pavilion at the summer Sourcing at MAGIC show in Las Vegas August 21-24. The Americas Pavilion will showcase the U.S. textile industry and the broad and ever-changing product offerings available from our domestic manufacturing. Working with textile supply chains, we will promote the growing infrastructure, capabilities and value of sourcing from this region. This initiative will include special seminars and events, and a sourcing summit for retailers and brands demonstrating the broad capabilities of Western Hemisphere supply chains.
The U.S. textile industry faces many new challenges, some political and some business-related. The political challenges involve a raft of new regulations that could drive up its costs, and those of every U.S. business. NCTO is working with a large coalition of industry and manufacturing associations to make sure that new proposed regulations concerning energy, labor and other areas do not cut into our ability to compete in a global textile market.
The business-related challenges include rapidly rising raw-material costs. During the global economic recession, capacity was idled and some new planned capacity was delayed. Meanwhile, companies throughout the supply chain drained inventory. The uptick in business quickly consumed available capacity, and the industry throughout the world has been working hard to meet demand. We have also seen how interconnected the manufactured fiber industry is with natural fiber producers and consumers. The massive surge in the price of cotton fiber has strengthened demand for man-made fiber, particularly staple polyester.
Cotton prices began climbing in 2010, driven by increased demand and weather-related crop shortages. Additionally, India's actions to restrict cotton fiber and yarn exports helped accelerate the spike in prices that we are still dealing with today. We believe the Indian policy was a protectionist measure and a violation of World Trade Organization (WTO) rules. NCTO has been at the forefront of the effort to force a reversal of the Indian cotton restrictions, working with its counterparts all over the world, and providing legal analysis to the United States Trade Representative (USTR). As a result of NCTO's work, the United States is working to resolve the issue at the WTO in Geneva and in New Delhi, where it is participating in direct talks with the Indian government. Resolution of this issue will end some of the volatility in the market for natural and man-made fiber.
The trade front continues to engage much of NCTO's time and efforts. NCTO is strongly opposing the United States-Korea Free Trade Agreement (KORUS FTA) because of its inequitable terms for textiles. If the agreement is passed, up to 40,000 textile and related jobs could be lost in the United States. The government's own analysis identifies textiles as one of the sectors that will be hit the hardest if this agreement passes. KORUS is a first in a number of ways. It is the first FTA with a major textile competitor in Asia that has a history allegedly of allowing illegal transshipments from China. Unfortunately, it is also the first FTA under which customs enforcement rules are weakened significantly. In addition, this is the first FTA under which sensitive products, including products supplied to the U.S. military, will see their duties fall significantly on day one of the agreement. The U.S. textile industry cannot support agreements that open new doors for illegal duty-free transshipments from China or do not give U.S. mills time to adapt to phaseouts of tariffs.
The KORUS effort developed by NCTO is an important and expansive one that includes the first major grassroots effort by the industry in more than 20 years. U.S. mills have gone to their workers and into their communities to demonstrate opposition, and the results have been amazing. More than 26,000 textile workers and concerned citizens have signed a petition at
www.ncto.org
opposing the agreement.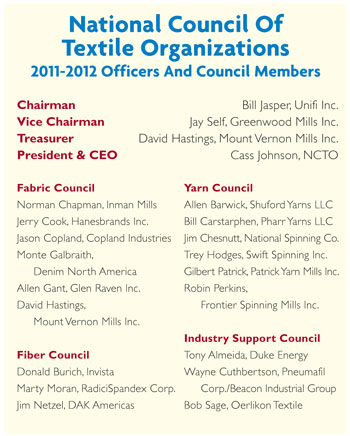 The U.S. government is currently negotiating a much bigger FTA - the Trans-Pacific Partnership (TPP). These negotiations open up an entirely new set of challenges, particularly because Vietnam is part of a group of eight countries that are participating. U.S. textile companies can compete globally in an open market; they cannot compete with governments. The government of Vietnam retains significant ownership and operational control over much of its industry. Vietnam is already the second-largest exporter of apparel after China to the United States, and it is growing rapidly. NCTO is focusing its efforts in three areas: the rule of origin, tariff phaseouts and customs enforcement. We are determined that the flawed template used in KORUS will not be repeated in the TPP. The negotiations among the governments have been moving slowly, and NCTO will remain engaged with U.S. negotiators throughout the process to fight for a fair deal.
Non-NAFTA- and -CAFTA-compliant goods entering the United States illegally and duty-free remain a major concern for the industry. NCTO will continue to engage in efforts to improve customs enforcement and the seamless movement of goods through the supply chain. NCTO is leading the effort to improve the customs process, working closely with the importing community and members of Congress. Legislation will be introduced in the coming weeks to eliminate some of the fraudulent activities that have cost the U.S. industry so much while offering U.S. apparel and retail customers a more streamlined and certain entry process for legal duty-free goods. NCTO remains a strong supporter of the Berry Amendment, which requires the use of U.S. fibers, yarns and fabrics in products manufactured for the U.S. military. Additionally, NCTO strongly supports legislation, such as the Kissell Amendment, that extends the Berry Amendment to agencies within the Department of Homeland Security.
NCTO's members are active and engaged in all policy discussions affecting the industry. Individuals from member companies have made record donations to NCTO's TextilePAC over the last year, which has helped to open doors for engagement in Washington.The U.S. textile industry has been through some rough times over the last decade. The removal of quotas on Chinese and other goods was damaging to U.S. producers. Many textile mills closed their doors and good people lost their jobs. Those who survived have learned to be tough, resilient and innovative.
The U.S. industry will benefit from those qualities as sourcing begins to shift back to this region. I believe the next decade will be one of opportunity for the U.S. textile industry, and I look forward to working with NCTO over the next year to make sure that happens.
May/June 2011
Advertisement