ACIMIT Reports 2010 Growth
Italy's textile machinery sector experiences significant recovery.
TW Special Report
T
he Milan-based Association of Italian Textile Machinery Manufacturers (ACIMIT) reports that in 2010, Italy's textile machinery sector experienced a strong recovery over 2009, a year in which the sector experienced a dramatic drop in production value. According to preliminary data the organization has collected, Italy's textile machinery production increased in value from 1.9 billion euros in 2009 to 2.3 billion euros in 2010, representing an 18-percent increase. The country's 2010 exports of machinery were valued at nearly 1.8 billion euros, representing a 19-percent increase over 2009 exports valued at 1.5 billion euros.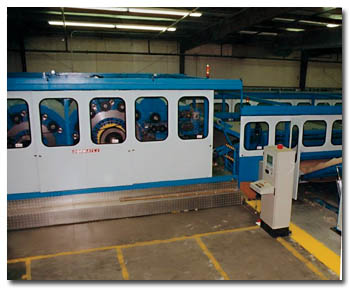 Cormatex S.r.l.'s CFS high-performance carding machine is part of a Cormatex needlepunching line installed at a geotextiles manufacturing facility in the United States.
ACIMIT reported that although the rise in machinery sales and orders is significant in comparison to the low levels of the previous two years — during which the entire textile industry was affected by the global economic crisis — it should be noted that during the first part of 2010, there was a general resurgence in global demand for textile machinery.
Italy's textile machinery sector, which comprises some 300 companies, accounts for 12.2 percent of global textile machinery exports, according to ACIMIT. The country's exports to the world's main textile manufacturing markets generally recorded positive growth in 2010, with Asia and South America driving global demand. Asia accounted for 51 percent of Italy's total machinery exports, and Europe accounted for 30 percent. Italy's sales to China, India and Turkey grew by double-digit percentages in 2010. ACIMIT reports there also were notable increases in demand in its domestic market, where sales climbed 27 percent over 2009 to almost 1 billion euros.
However, the organization is expressing caution regarding its order forecasts for 2011, with sales in both domestic and foreign markets predicted to stabilize, according to a study ACIMIT conducted over the first quarter of 2011.
"These preliminary closing data are no doubt encouraging, but a deep sense of uncertainty remains regarding the global scenario," said ACIMIT President Sandro Salmoiraghi.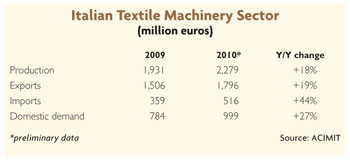 Nonwovens: Growing Sector
ACIMIT notes that nonwovens production is growing, with approximately 50 member companies manufacturing machinery for that sector. Nonwovens machinery accounts for around 10 percent of the Italian textile machinery industry's total turnover.
The organization's website has a special section focused on nonwovens and technical textiles and also has put together a brochure promoting Italy's new machinery manufacturers. The brochure, compiled with support from the Ministry for Economic Development and the Italian Trade Commission, will be distributed at major trade shows.
March/April 2011
Advertisement