Denimatrix Wins State Department ACE Award
Denimatrix LP, the Guatemala-based denim apparel manufacturing subsidiary of Plains Cotton Cooperative Association (PCCA), Lubbock, Texas, has received the U.S. Department of State's 2010 Award for Corporate Excellence (ACE) in the small-to-medium enterprise category. Denimatrix was nominated for the award by U.S. Ambassador to Guatemala Stephen McFarland, and was recognized in particular for its contributions to local economic development, assistance provided to disadvantaged youth and the homeless in Guatemala City, and environmental stewardship.

Denimatrix, whose 6,000 workers produce up to 150,000 pairs of high-fashion denim jeans per week, is part of the Western Hemisphere's first fully integrated vertical supply chain from raw cotton to finished jeans, according to PCCA. That supply chain also includes Texas, Oklahoma and Kansas cotton farmers, and the American Cotton Growers denim spinning and weaving mill in Littlefield, Texas.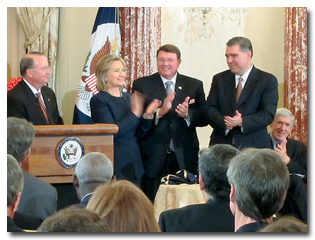 Left to right: Plains Cotton Cooperative Association (PCCA) President and CEO Wally Darneille, U.S. Secretary of State Hillary Clinton, PCCA Chairman of the Board Eddie Smith and Denimatrix President Carlos Arias at the presentation of the State Department's 2010 Awards for Corporate Excellence

"By providing a stable and attractive workplace, we can attract employees who want to work there, who want to stay and take pride in what they do. We do offer a broad variety of benefits for our employees and their families, including medical care, dental care, educational opportunities, and access to basic necessities," said PCCA President and CEO Wally Darneille in remarks made during the awards ceremony, held recently in Washington. "We do it because it creates a work environment where they will stay and do a good job. Their productivity allows us to be competitive in a global environment. We also stress the importance of personal responsibility, of recycling, of wastewater issues, reuse of everything possible, and the importance of hygiene to health."
January/February 2011
Advertisement