Techtextil North America Returns To Vegas
Techtextil North America's West Coast Edition in Las Vegas will present the latest in technical textiles and nonwovens.
TW Special Report
T
echtextil North America 2011 — the eighth edition of the North American trade show for the technical textiles and nonwovens industries, and its second West Coast edition — will provide a forum for discovering new materials and innovative concepts at the Mandalay Bay Convention Center in Las Vegas March 15-17. This will be the second time the show has been held in Las Vegas, which hosted the sixth edition when Techtextil North America became an annual event with venues alternating between Atlanta in even-numbered years and a western U.S. location in odd-numbered years.
"This year's Techtextil North America is received with the same enthusiasm and excitement that our exhibitors and attendees shared with us in 2009 after a successful first edition of Techtextil North America on the West Coast," said David Audrain, president of Atlanta-based show organizer Messe Frankfurt Inc. "We are seeing companies such as TenCate, Lenzing and MoistTech exhibiting for the first time with us on the West Coast, as well as previous exhibitors from 2009, like American Polyfilm, Brookwood, Apex Mills, King Tech Industry, and Stein Fibers. In 2009, we received positive feedback from exhibitors and attendees and were told by 75 percent of the attendees that they will only attend a West Coast event. Messe Frankfurt Inc. is invested in the textile industry and committed to connecting the Techtextil brand with the West Coast region."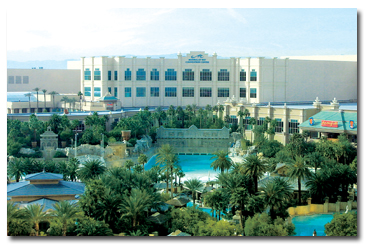 The Mandalay Bay Convention Center in Las Vegas will host more than 2,000 attendees at Techtextil North America 2011.
Techtextil North America 2010, which colocated with ATME-I® Megatex and SPESA Expo in Atlanta for Textile and Sewn Products Industry Week in May 2010, had 233 companies from 22 countries exhibiting their products and services to 8,000 visitors, and featured country pavilions from Belgium/France, Canada, China, Italy, Germany, Portugal and Taiwan. At the 2011 show, more than 150 exhibitors are expected to show their products and services to more than 2,000 attendees.
Techtextil North America is dedicated to the technical textile/nonwovens sector of the textile industry, and is touted as the only trade show in the Americas that covers the full vertical spectrum of that sector — including research and development, raw materials, production processes, conversion, further treatment and recycling.
Advertisement
This year's industry partners include the National Textile Association, Boston; the Synthetic Yarn and Fiber Association, Clover, S.C.; the American Flock Association, Boston; the Fiber Economics Bureau, Arlington, Va.; North Carolina State University's The Nonwovens Institute, Raleigh, N.C.; Worldwide Responsibility Accredited Production, Arlington, Va.; and various textile-related publications, including
Textile World
,
Textile World Asia
and
Textiles Panamericanos
.
Organization
To aid attendees in finding providers of the products, services and technologies relevant to their needs and interests, Techtextil North America exhibitors will be classified according to 12 application areas:
Agrotech, including agriculture and forestry, horticulture and landscape gardening, animal husbandry, fences and more;
Buildtech, including membranes; lightweight and solid construction; engineering and industrial building; temporary construction; interior construction; earth, water and traffic route construction; agricultural construction; and more;
Clothtech, including specialized high-tech materials for apparel, footwear, bags and more;
Geotech, including underground, civil engineering, earth and road construction, dam engineering, dump construction, ground isolation, drainage systems, erosion control and containment, and more;
Hometech, including specialized high-tech materials for furniture, upholstery and interior furnishings, rugs, floor coverings, and more;
Indutech, including filtration, cleaning, mechanical engineering, chemical industry, electrical industry, seals, sound absorption products and more;
Medtech, including hygiene, medicine, rescue organization equipment and more;
Mobiltech, including automotive, shipbuilding, aircraft, aerospace, rail vehicles, motorcycle and bicycle construction, and more;
Oekotech, including environmental protection, recycling and waste disposal applications, and more;
Packtech, including packaging, protective cover systems, sacks, big bags, storage systems and more;
Protech, including personal and object protection, and more; and
Sporttech, including sports, leisure, activewear, outdoor, equipment and outfits, sports shoe applications, and more.
Product groups and services offered include: fibers and yarns; woven fabrics, laid webs, scrims, braids and knitted fabrics; nonwovens; coated textiles; composites; bondtec; research, development, planning and consultation; technology, machinery and accessories; associations; and publishers.

Keynote Address And Symposium
Techtextil North America 2011 will kick off Tuesday morning, March 15, at 8:30 a.m. with a keynote address by Jeremy Litchfield, founder and chief pacesetter of Brunswick, Maine-based Atayne LLC. Litchfield will discuss how innovative ideas relating to environmental consciousness may change the basic structure of the current textile industry. This year, for the first time, the keynote address will be open and free of charge to all exhibition attendees and exhibitors.
The 2011 Techtextil North America Symposium — a three-day educational forum held concurrently with the exhibition — will present recent developments in the technical textiles/nonwovens sector. In order to maintain the high level and popularity of its symposium, Messe Frankfurt Inc. recently created a Symposium Advisory Council to make suggestions for relevant programming, topics and speakers; and to provide feedback on papers submitted for consideration.
The symposium lineup includes 10 sessions and more than 40 presentations by leading industry experts covering market developments, technological information, new technical processes and products and international industry trends. This year's symposium will feature a more structured program than previously to allow attendees more question-and-answer time with presenters during and after each session.
In response to requests for an introductory program to be held at the beginning of the symposium, this year's first session will be an educational forum featuring a panel of academic and industry experts who will provide a refresher on technical textiles. Concurrently, Symposium Director William C. "Bill" Smith, principal, Industrial Textile Associates, will chair an executive forum that will feature high-level executives discussing the current state of the industry, their responses to the recession and upcoming trends.
Subsequent sessions will include a variety of topics such as textiles for outdoor and sports applications; materials testing; new fiber, product and military developments; sustainability; technical textiles research; medical textiles; nonwovens; smart fabrics; and protective textiles.
---
For more information about Techtextil North America 2011, contact Stephanie Everett +770-984-8016, Ext. 424; fax +770-984-8023; stephanie.everett@usa.messefrankfurt.com; or Lorie Gross +770-984-8016, Ext. 433; fax +770-984-8023; lorie.gross@usa.messefrankfurt.com; ttnainfo@usa.messefrankfurt.com; www.techtextilna.com.
---
January/February 2011