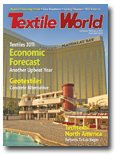 January/February 2011
On the Cover:
The second West Coast edition of Techtextil North America will take place March 15-17, 2011, at the Mandalay Bay Convention Center in Las Vegas. Photograph courtesy of MGM Resorts International
Features
Apparel Sourcing Show 2011: Recovery In Sight
Guatemala-based trade show presenting the CAFTA-DR apparel supply chain will spotlight the regional recovery taking place in the textile and apparel industries.
Geo-Frontiers Meets In Dallas
Geotechnical conference's 2011 edition aims to repeat the success of its 2005 forerunner in Austin, Texas.
Textiles 2011: Another Upbeat Year
Signs point to continuing U.S. industry performance improvements despite questions related to a range of potential pitfalls.
Techtextil North America Returns To Vegas
Techtextil North America's West Coast Edition in Las Vegas will present the latest in technical textiles and nonwovens.
Textile News
Oeko-Tex Updates Test Criteria
American Textile To Open Tifton, Ga, Facility, Add 50 Jobs
Tuscarora To Expand Clover, S.C., Plant
From The Editor
Yes, Textiles Are Made In The USA, In 18,783 Locations
Business & Financial
Yarn Market
Demand Strong; Availability Uncertain
Quality Fabric Of The Month
Channeling Power
Burlington Worldwide's Cooltec™ quick-drying fabrics featuring engineered moisture management provide a high-performance option for apparel offered at mid-range price points.
Nonwovens / Technical Textiles
Geotextiles: The Concrete Alternative
Geotextiles offer flexible, cost-effective solutions for civil engineering applications requiring reinforcement, erosion control, barrier and other functions.
Owens Corning Expands Aiken, S.C., Facility
Sattler Acquires Outdura From Shuford Mills
Hohenstein Develops EM/IR Treatment, New Upholstery
Avgol To Acquire Cleaver Associates
Fiber World
Teijin Announces Fiber, Fabric Developments
Outlast Debuts Polyester Heat-Management Fiber
Americhem Expands In North Carolina
Lenzing Plans Further Expansions
Dyeing Printing & Finishing
PermaShrink To Open Plant In Clover, S.C.
Sanitized AG Unveils Sanitized® T20-19
Clariant To Build Innovation Center
Jain Chem Acquires Ulterion International
Knitting / Apparel
Spring/Summer 2012 Will Be Bright
The mood is upbeat at New York City trade shows.
NearSea Naturals, Daniel Sanders Form Partnership
Denimatrix Wins State Department ACE Award
Acme-McCrary Dyeing Operation Supported By New Solar Energy System
Supplier Notes
CEMATEX To Offer 60th Anniversary Grant At ITMA 2011
Heal Supplies TTi With Elmatear2 Tear Strength Tester
New Products
Rieter Adds Features To RSB-D 45 And SB-D 45 Draw Frames
Amacoil-Uhing RG3 Winding Drive Offers Extra Bearing Option
Richard Hough Enhances Resilio Technology
Karl Mayer Unveils New Transverse Draw-Off Creel
People
Bulletin Board