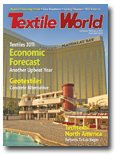 January/February 2011:
The second West Coast edition of Techtextil North America will take place March 15-17, 2011, at the Mandalay Bay Convention Center in Las Vegas.

Photograph courtesy of MGM Resorts International
-buy now-

March/April 2011:
Lenzing AG's Tencel® C with the added cosmetic benefits of chitosan has applications in next-to-skin apparel and home textiles such as bedsheets.

Photograph courtesy of Lenzing AG.
-buy now-

May/June 2011:
Performancewear is on the leading edge of apparel innovation. Patagonia's Capilene® 4 baselayer features Repreve® recycled polyester from Unifi Inc. and Polartec® Power Dry® High Efficiency™ technology.

Photograph courtesy of Gabe Rogel.
-buy now-

July/August 2011:
ON THE COVER: Barcelona, Spain, beckons the global textile industry to visit ITMA 2011 for a fiesta including exhibits, special programs and colocated events.

Photograph courtesy of www.istockphoto.com
-buy now-

September/October 2011:
"Autumn Tumble," a tension fabric sculpture designed by Transformit, Gorham, Maine, and installed in the lobby atrium of Husson University's Beardsley Meeting House in Bangor, Maine, won an International Achievement Award at IFAI Expo Americas 2010.

Photograph courtesy of Cynthia Thompson, MFA.
-buy now-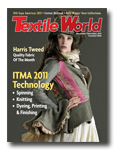 November/December 2011:
Scottish designer Judy R. Clark's Harris Tweed and lace Frockcoat with embroidered Kimono is paired with a hat, also in Harris Tweed, by Fabhatirx.

Photograph courtesy of Hand & Rae Photography
-buy now-