IFAI Expo Returns To Orlando
Some 7,000 specialty fabrics industry professionals will gather for educational programs, exhibits and networking opportunities at IFAI Expo Americas 2010.
TW Special Report
I
t's been 10 years since the Roseville, Minn.-based Industrial Fabrics Association International (IFAI)'s annual exposition was last held in Orlando, Fla. This year, the largest specialty fabrics trade show in the Americas will return to the city for IFAI Expo Americas 2010, to be held in the North Hall of the Orange County Convention Center from October 26 to 29.
IFAI Expo 2009, held in San Diego, hosted 6,190 participants from 62 countries, with 344 suppliers from 16 countries exhibiting their products and services to expo visitors. As of
Textile World
's press time, IFAI had exhibitors from 17 countries signed up for the 2010 edition, and projected 7,000 registered participants.
"Our industry's worldwide relevance is what makes IFAI Expo Americas 2010 an international marketplace for the entire spectrum of solutions specialty fabrics offer," said Stephen M. Warner, president and CEO, IFAI. Warner anticipates a very lively, well-attended event in Orlando.
"This year, the specialty fabrics industry's activities are virtually ripped from the headlines," he said. "Everywhere we look there are new opportunities for using specialty fabrics, such as temporary structures for disaster relief in Haiti and Chile; and, of course, fabrics used in the emergency oil spill cleanup response in the Gulf [of Mexico]. This summer, the world saw the soaring fabric designs of a World Cup Soccer stadium, which served as a focal point for the most-watched sport in the world. We're providing high-performing camouflage for soldiers' uniforms; sustainable designs for green building; and environmental advances using geomembranes in coal ash containment, for example, which is currently being reviewed by the Environmental Protection Agency. IFAI is at the forefront of the global demand for new fibers, fabrics and technologies, and these will all be on display at Expo."
With the global financial situation turning around, new opportunities have emerged, and new demand is driving new business. "Our industry is healthy, and the demand for high-performance fabrics is greater than ever before," Warner said. "Our industry is thriving, not just surviving."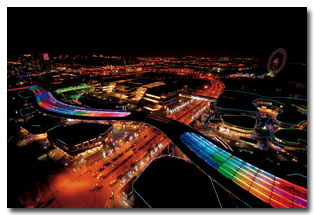 Covertex Membranes Co. Ltd. and Beijing N&L Fabric Tech. Co. Ltd. won a 2009 IAA Award of Excellence for their work on the canopy at Harmony Times Square in the Suzhou Industrial Park in China.
New Educational Format
IFAI will debut a new educational format at this year's expo. The Advanced Textiles Conference, which has had three editions in Europe, will be held in the United States for the first time at IFAI Expo Americas 2010 and will become a featured part of the event going forward.
Entitled "Blending Technology and Materials," the two-day Advanced Textiles Conference will open Tuesday, October 26, with the 7th International Conference on Safety and Protective Fabrics - Textiles for Extreme Applications, a biennial event comprising presentations covering materials research and applications related to engineered textile solutions. The Advanced Textiles Conference also will include six additional technical symposiums: "Advancements in Multi-Functional Nonwovens"; "Sustainability and Innovation"; "Composite Material Applications"; "The Future of Nanotechnology on Advanced Textiles"; and a two-part session titled "Advanced Applications in Battle and Military Medical Fields."
Educational symposiums and workshops presented throughout the expo will be organized into two tracks: the Business Track, which will cover topics including marketing tips, economic forecasts, best practices, new product development and social media; and the Fabrication Track, which will include how-to workshops, demonstrations and roundtable discussions on topics including sewing; cutting/patterning; frame design/bending; fabric finishing; and fabric welding.
On Wednesday morning, Dr. John Connaughton, professor of economics and director of the University of North Carolina Charlotte Economics Forecast, will give this year's keynote address, titled "The Recovery From the Great Recession of 2008-2009." Connaughton will discuss factors contributing to the recovery process and the role of consumer sentiment in the expansion and job growth process.
On Wednesday afternoon, Jeff Korhan of the National Speaker Association will discuss "A Practical Approach To Using Social Media For Growing Your Business."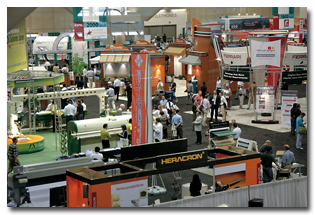 The show floor at IFAI Expo 2009 in San Diego buzzed with more than 6,000 participants.
Expo Highlights
The International Fabrics Foundation (IFF), a nonprofit organization devoted to specialty fabrics education and research, will present the first-ever IFF Innovation Award at the expo's closing banquet. Under the theme "Today's Imagination, Tomorrow's Inspiration," the award recognizes specialty fabric companies' innovations and highlights best practices in three categories - fabric; hardware or machinery; and end product and process.
Other special events will include the 5th Annual IFF Golf Tournament, benefitting annual scholarships and industry research; a welcome reception and 8th Annual IFF Silent Auction; the IFAI Annual Meeting; and the expo-closing Chairman's Gala, at which time the IFF Award and the IFAI International Achievement Awards (IAAs) will be presented. IFAI received entries from 14 countries for the 2010 IAA competition.
IFAI has teamed with The FabricLink Network, Reseda, Calif., to present the Design Center at this year's expo. The center, located on the show floor, will display fabric samples and swatches from participating exhibitors in four main categories: Outdoor Fabrics; Indoor Performance Fabrics; Industrial; and Safety and Protective. The Design Center is intended to facilitate the networking and buying process for exhibitors and attendees.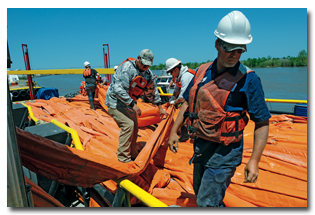 IFAI members supplied much of the fabric for boom containment systems used to soak up oil in the Gulf of Mexico.
Response To The Oil Spill
After the explosion and sinking of BP's Deepwater Horizon oil rig off the coast of Louisiana on April 20, the specialty fabrics industry became more relevant - and necessary - than ever. More than 60 IFAI members responded to the disaster, supplying their materials - from absorbent fabrics to fabric boom containment systems that prevented oil from reaching shorelines and ecosystems - in the efforts to soak up oil in the Gulf of Mexico. The cleanup efforts also created specialty fabric needs such as temporary structures for workers cleaning the marshes; shade protection for those laying the oil boom in the water; personal flotation devices; protective apparel for workers cleaning the beaches; geosynthetic landfill liners; and sandbag barriers to protect the shores.
As part of the Business Track, the expo will include a session titled, "The Gulf Disaster: How the Technical Textiles Industry Responded," and featuring a panel discussion of that response by key industry leaders.
Upcoming Global Events
IFAI Expo Asia 2011, the organization's inaugural event in the Asia Pacific region, will be held March 22-25, 2011, at the Marina Bay Sands Resort and Conference Centre in Singapore. According to Warner, current trade shows in India and China focus primarily on disposable nonwovens, and IFAI's expo will be the first major event in the region targeted to visitors such as end-product fabricators who use durable materials. IFAI recently announced that three nonwovens groups - Brussels-based EDANA, the International Association Serving the Nonwovens and Related Industries, the Beijing-based China Nonwovens and Industrial Textiles Association (CNITA), and the Japan-based Asia Nonwovens Fabrics Association (ANFA) - will support the event
(See " EDANA, CNITA, ANFA Support IFAI Expo Asia 2011," www. TextileWorld.com, July 27, 2010)
.
IFAI also announced that the Advanced Textiles '11 conference - the fourth edition of the conference in Europe -- will colocate with ITMA 2011, the quadrennial International Textile Machinery Exhibition owned by the European Committee of Textile Machinery Manufacturers, Sept. 22-29, 2011, in Barcelona, Spain.
---
For more information about IFAI Expo, visit www.ifaiexpo.com.
---
September/October 2010
Advertisement