Hot News At New York Fashion Shows
As the city sizzled, buyers warmed up to new technologies.
Virginia S. Borland, New York Correspondent
B
uyers braved near-record heat in New York City to shop global fabric resources for next year's hot sellers. Messe Frankfurt, Inc., Atlanta, launched two new events to run alongside Texworld USA: Home Textiles Fabric Sourcing Expo and International Apparel Sourcing Show. At Kingpins, the focus was on denim. The emphasis at Première Vision Preview was innovation and creativity.
Première Vision Preview
Philippe Pasquet, CEO of Paris-based Première Vision S.A., said that after several bad seasons, confidence is returning. "We are midway in recovery," he said. "And we are reshaping where we are sourcing." Freight costs, tight credit and risks associated with early purchases are some of the factors. And a developing domestic market in China is impacting global buying.
Pascaline Wilhelm, fashion director, noted a crossover between casual dressing and formalwear, with softness going into suiting fabrics and casualwear taking on subtle elegance.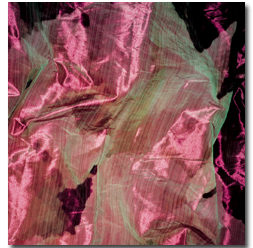 Top: Reynaud Rexo showed satin jacquards with a hand-painted look at Première Vision Preview.
Philea, France, noted for fancy jacquards and warp knits, has acquired corduroy producer SAIC Velcorex. It was often difficult to distinguish between the two lines. Some corduroys are lustered, drapey, silky and luxurious. Tonal printed and flocked taffeta, mini textured wool/viscose dress weights, and burn-out warp knits are highlights at Philea.
At Reynaud Rexo, France, satin jacquards have a hand-painted look or metallic spider-web designs. There are large-repeat blurred designs, soft romantic prints, stretch, shine and iridescent effects. Silk jacquard weaver Carlo Pozzi, Italy, showed sheer layers with dimensional and shimmering effects, crinkled checks, quilted looks and velvet dots on voile.
In the wool sector, Robert Noble, Scotland, has lightened and softened its tweeds. There are 310 grams-per-square-meter Shetlands, wool/cashmere Donegals and soft dry-hand wool/cotton blends. Picchi, Italy, has invisible polyurethane-coated wool outerwear fabrics, small bouclés, sophisticated patchworks and tribal ethnics. The Japan Wool Textile Co. Ltd. (Nikke) showed wool crepes, cavalry twills, meltons and school uniform tartans, along with wool gauze and wool/washi (paper) tricotine that has a very dry hand.
Waterproof fabrics at British Millerain Co. Ltd., United Kingdom, are offered in four finishes: aged, shiny, dry-hand or beeswax. Outerwear specialist Olmetex S.p.A., Italy, has super-light, breathable, water-repellent fabrics. Some are wax-treated; others are bonded and double-faced. There are metallic yarns to give sparkle, and crushed and printed fabrics for down jackets. Techno specialist Everest Textile Co. Ltd., Taiwan, has ultra-light and -soft water-repellent, breathable, windproof nylon sheers.
Knits at Mario Cucchetti S.p.A., Italy, can be light, silky, lacy and fancy. Some are antibacterial for underwear; others are super-soft cashmere. At Karma Kokteyl, Turkey, semi-luster and super-soft lightweight jersey and rib knits in viscose/spandex are selling.
Popular prints are large, blurred and tonal, or small and flowery. Digital prints are selling because they offer small runs, fast deliveries and unlimited color and design options. At Deveaux S.A., France, early indications point to large, blurred designs and roses. KBC, Germany, showed big soft-edged geometrics, antique vintage florals, animal skins, new paisleys and blurred engineered designs.
Miroglio Textile, Italy, noted a return of the Hermès look, Missoni styles, large landscapes and small florals. Confetti Tekstil, Turkey, sampled small Liberty-styled florals and floral/paisley combos.
Texworld USA
Messe Frankfurt Show Director Stephanie Everett said the Apparel Sourcing Show brought in about 100 exhibitors. There were 60 in the Home Textiles event. Both shows will colocate annually with Texworld USA's July show. There was crossover between Texworld and the apparel event because so many companies today are involved in full package, making both fabrics and garments.
Fiber marketers with a major presence at Texworld included Lenzing AG, Austria, and Supima, Phoenix. Lenzing is now marketing Germany-based Kelheim Fibres' Viloft® Viscose® fiber. With its thermal properties, Viloft, targeted to sportswear in which performance in the base layer is a factor, has generated interest for hosiery, knits, denim and shirting fabrics.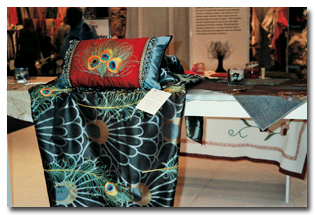 Messe Frankfurt's new Home Textiles Fabric Sourcing Expo, colocated with Texworld USA, showed offerings from 60 exhibitors.
Brian Meck, vice president of sales and marketing, FesslerUSA, Orwigsburg, Pa., a full-package producer of knitted fabrics and garments, said traffic at the show was phenomenal. "In the first three hours, we wrote 12 orders," he said. The company is using yarns containing Viloft, MicroTencel®, and Supima®.
FesslerUSA has opened a design consultancy that creates tees, tanks, dresses, cardigans, hoodies, leggings, scarves and fashion pieces. From concept to shelf takes eight weeks. The company's new 155,000-square-foot solar-powered plant, located on a brownfield site, is expected to be complete by late winter.
A lot of FesslerUSA's yarns come from Buhler Quality Yarns Corp., Jefferson, Ga., which exhibited in both the Lenzing and Supima sections of the show. Its popular luxury ring-spun yarns include Supima/MicroModal® and MicroTencel/Supima blends.
Full-package supplier SG Knits Inc., Los Angeles, does its product development in California and manufacturing in the Dominican Republic. Currently popular are French terry and ultra-soft polyester/Modal®/Pima cotton jersey. Many yarns come from Tuscarora Yarns Inc., Mt. Pleasant N.C., producer of open-end and ring-spun yarns. Along with cotton, Modal, ProModal®, Tencel® and wool, it is using recycled polyester and recycled denim that comes from mill waste.
Industrias Nettalco, Peru, in the Supima section, also produces fabrics and garments. Fabrics are knitted in blends of Supima, bamboo, viscose, linen, wool and cashmere. Of special interest are soft-hand heathers, oxfords and small mixed textures.
Full-package supplier Neotextile, Brazil, showed eco-friendly fabrics made with recycled materials. Techno fabrics are weather-resistant, wrinkleproof, antibacterial and moisture-transporting.
Circular knitter Tricots Liesse, Montreal, mentioned French terry and ultra-soft, lightweight, fine and glossy jersey. Most of its fabrics go into women's sportswear.
Mozartex Co. Ltd., China, showed twills, doublecloths and denim of 100-percent Tencel or blends with cotton and spandex. Popular denims are lightweight, soft-hand, antique-washed or slubbed.
Kingpins
Kingpins sponsor Invista, Wichita, Kan., presented four innovations. Super Stretch denim with Lycra® T400® offers stability. Super Recovery is offered in products made with a new textured yarn from Dúctel S.A., Spain. Super Comfort with Xfit Lycra provides stretch and recovery in all directions. Super Durability denim fabrics containing blends of cotton and Cordura® nylon are targeted to menswear.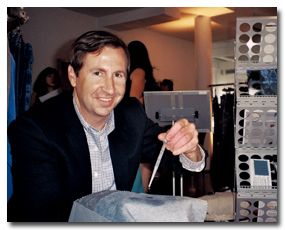 Bottom: Kingpins exhibitor Cotton Incorporated's David Earley, senior director, supply chain marketing, global product supply chain, demonstrates the performance of TransDRY™ moisture-management technology on denim.
Central Fabrics, China, is using Super Comfort. Ultra-soft, lightweight legging fabrics are knitted using ring-spun cotton/Lycra yarns.
Tavex, Spain, has denim with Super Stretch. Its largest program is black stretch in cotton/Lycra for men. Purists are looking for heavier weights and vintage looks. Lustered, slubbed and coated denims were pointed out.
New at Tavex is Denim Therapy. Bio-ceramic metallic prints attract infrared rays to improve balance, stimulate blood and release toxins. An antibacterial version under development was tested on the French Olympic ski team and shown to increase performance.
Cotton Incorporated, Cary, N.C., introduced TransDRY™ denim, using a patented process first introduced in knits to speed up drying time and moisture management. Central Fabrics is using a 100-percent TransDRY filling yarn and said performance improves with washing.
Kurabo Industries Ltd. Japan, showed 19-ounce denim, which is selling in Europe and Japan in men's five-pocket jeans. Other denims pointed out are woven with Supima for an extra-soft hand or dyed with pure indigo for a vintage look.
September/October 2010
Advertisement