ITMF Meets In Sao Paulo
Annual conference provided forum for discussing issues such as compliance, sustainability and profitability.
Jürg Rupp, Executive Editor
T
his year, the International Textile Manufacturers Federation (ITMF) Annual Conference took place in São Paulo, Brazil, October 17 to 19. Compliance, sustainability and profitability were the general issues of the event. Bashir H. Ali Mohammad is the new ITMF president, and the 2011 conference will be held in Barcelona, Spain, September 20 to 21, prior to ITMA 2011.
Some 300 participants attended the conference, which provided a showcase for a country that's the world's eighth-largest economy by nominal gross domestic product (GDP) and the ninth-largest by purchasing power, and one that is confident of its possibilities and future role in global markets. Years ago, the Brazilian currency lost considerable value almost every year. This is past, and the facts are impressive: The Brazilian Textile and Apparel Industry Association (ABIT) includes more than 30,000 companies in the textile and apparel sectors, with some 14 million to 15 million direct and indirect employees. The country ranks among the top 10 textile industry markets worldwide, and in 2009, the sector's turnover totaled $47 billion; with exports totaling more than $1.8 billion. The economic growth rate for 2010 is expected to be 6.5 percent.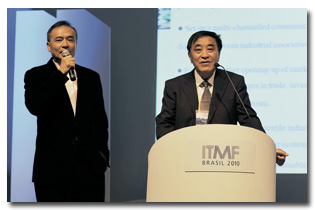 Wang Tiankai (right), vice president, CNTAC; and John Cheh, vice chairman and CEO, Esquel Group, ended up giving a joint presentation.
Intensely investing in the excellence of domestic production, the textile sector intends to expand its operations. The domestic Brazilian market is one of the largest in the world, having 190 million consumers. In addition, the textile sector aims to recover its 1-percent share of the world market, which is equivalent to increasing the volume of exports by $4 billion per year. For 2010, the Brazilian textile industry expects to grow beyond the GDP and predicts an increase in textile consumption in the order of 12 percent.
Cotton The Big Issue
In a nutshell, cotton was the big issue, in terms of both sustainability and price developments. Experts including Jeff Elder, vice president of marketing for U.S. Pima producer J.G. Boswell Co., and also experts from federal organizations expressed concerns about the further development of the cotton industry.
According to many sources, cotton is a leading crop. However, experts estimate that its global share as seed is only 2.3 percent. Wheat, with a 15.2-percent share; maize, 11.23 percent; rice, 11 percent; and fruit and vegetables, 7.6 percent, play much more important roles than cotton.
Today, world fiber demand is growing by 3 to 4 percent every year, putting a lot of pressure on cotton markets. Regarding sustainable production, the question remains: Is organic cotton an alternative? Elder noted that organic cotton has a 25- to 35-percent lower yield than conventional cotton. One option is genetically modified, so-called biotech cotton. However, Elder said, there should be more possibilities to buy the crop than from just one or two suppliers.
Sustainable Cotton
Haroldo Cunha, president of ABRAPA, the Brazilian Cotton Growers Association, reflected a Brazilian view in his presentation of sustainable cotton production. He said the United Nations' definition of sustainable production is clear: "Sustainability means that one is able to produce cotton today without diminishing the ability of future generations." For Brazil, there is no alternative to biotech cotton in the future. Cunha expects the market share of biotech cotton will increase, probably up to 25 percent by the end of 2010 or beginning of 2011.
Biotech cotton is mainly an issue in European countries. Various speakers said biotech cotton isn't as bad as many nongovernmental organizations (NGOs) declare. Thanks to this technology, with its higher harvest yield, a lot of irrigation water could be saved and all kinds of chemicals and fertilizers could be eliminated.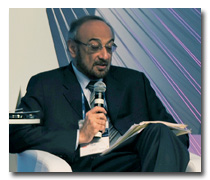 Incoming ITMF President Bashir H. Ali Mohammad moderated the session titled "Sustainability and Profitability: Do They Go Together?"
Clean Cotton
Dr. Terry Townsend, executive director of the International Cotton Advisory Committee, gave an impressive speech about the ongoing untrue stories about cotton, mainly from NGOs. He said that more than 70 Internet sites are publishing untrue stories about cotton. He called upon the audience to support all efforts from the cotton industry to put these stories to an end. He didn't say that the cotton world today is only beautiful sunshine. But today, thanks to new varieties, cotton's eco-balance is better than ever.
However, cotton's future has many uncertainties. Countries like Brazil are raising the question: How will the United States further subsidize its cotton in the same way as today? And the impact of speculators on soaring cotton prices should not be under- or overestimated. Townsend said in the question and answer session that to support producers, it would probably be better to insure cotton instead of make direct payments to the growers.
Man-made Fiber Production
An emerging textile country like Brazil can't depend only on cotton. The whole industry is aware that the situation regarding the different man-made fibers must change. There must be growing domestic man-made fiber production, especially of polyester. Richard Ward from Petrobras reported about a gigantic project to produce 690,000 metric tons of polyester in the near future to serve the domestic market with top-quality polyester. Ward pointed out that Petrobras wants to produce high-quality products and is therefore establishing a Brazilian polyester technology.
Don't Waste Your Waste
With all the discussions about sustainable cotton production, one should remember that 66 percent of total fiber consumption comprises man-made fibers, said Advansa Business Director David Bayliss. As an example of how the European Union is accelerating this development, Germany will not allow any more landfills after 2020. And some man-made fibers have a big advantage: they can be recycled after their useful life. Bayliss mentioned that if 50 percent of all polyethylene terephthalate bottles are collected for recycling, 50 percent of this valuable waste can become fibers.
Highlights
It is not easy to summarize all the significant moments of such an important event. However, two things were in the foreground: First, Wang Tiankai, vice president, China National Textile & Apparel Council (CNTAC), was on the agenda to speak about China's strategy for the future of its domestic textile industry. Unfortunately, the Chinese-to-English interpreter was not available. In an immediate move, the next speaker, John Cheh, vice chairman and CEO, Esquel Group, Hong Kong, interpreted for Wang. It was quite impressive to see the two gentlemen with different cultural backgrounds standing on stage and truly working together.
The other highlight was the election of the new ITMF president, Bashir H. Ali Mohammad, chairman, Gul Ahmed Textile Mills Ltd.; and director, Gul Ahmed Energy Ltd. and Habib Metropolitan Bank Ltd. After serving as ITMF vice president, he succeeded Halit Narin.
Conclusion
Compliance, sustainability and profitability were the event's topics. But another key issue in discussions among the participants was the volatility of the U.S. dollar, the euro and the Chinese yuan. Everybody denied tendencies toward national protectionism. It was somewhat strange to hear from various speakers the declarations and commitment to free trade. On the other hand, everyone knows many countries, especially the cotton-growing countries, are subsidizing their farmers with billions of dollars. It must be an aim of ITMF as the leading textile association to do its utmost to bring global textile trade back to a mutual understanding for the benefit of all involved people worldwide, by promoting compliance, sustainability and profitability.

November/December 2010
Advertisement