From Waste To Worth
Recycling programs divert post-industrial and post-consumer waste from landfills and turn them into valuable feedstock for new textile products.
Janet Bealer Rodie, Managing Editor
C
onsumer awareness of the importance of environmental stewardship has led to increased demand for products manufactured with minimal impact on the world's well-being. And the demand for textiles that have a "green" pedigree has grown even in the face of economic hardships endured recently by many consumers.
The environmental benefits gained from using recycled raw materials rather than virgin materials to make these products include conservation of natural resources as well as reduced energy consumption, carbon dioxide (CO
2
) and other emissions, and waste going to landfills. Some of these products may command higher prices than their traditional counterparts, partly because the practice of recycling has not been fully adopted by consumers, so supply of recycled materials is limited — for example, today, only about one-quarter of the plastic bottles consumed in the United States are recycled, but that percentage is increasing year by year. However, these products also tend to be made using cleaner, more efficient processes. So one may say that the higher cost is mitigated by the longer-term benefits gained by living in a cleaner, healthier world with abundant natural resources.
"There's been a fundamental change in our culture when it comes to recycling and sustainability," remarked William L. Jasper, president and CEO of Greensboro, N.C.-based
Unifi Inc.
, manufacturer of Repreve® recycled fibers and yarns. "The younger generation thinks about it differently than the older generation. It's really much more important now, and it's going to continue to be. People are starting to recognize there's only so much landfill space and only so much oil."
Post-industrial (PI) recycling has been practiced for years, and the first recycled-content textile products contained primarily or exclusively PI materials, which would include trimmings left on the cutting room floor in apparel and other textile product manufacturing facilities.
In recent years, post-consumer (PC) content has increased as more and more consumer recycling programs have been established in communities across the United States and in other countries worldwide. In the man-made fiber arena, polyethylene terephthalate (PET) packaging and discarded carpet are the major raw material sources for recycled-content fiber products, but there are also programs to take back clothing, such as Ventura, Calif.-based outdoor apparel retailer
Patagonia Inc.
's Common Threads Recycling Program. And cotton products, such as T-shirts and denim jeans, and other natural-fiber-based textiles also can be recycled into new generations of textiles.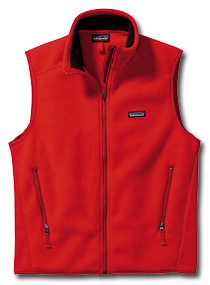 Patagonia's Synchilla fleece vest is made with Unifi's Repreve® recycled polyester. Through Patagonia's Common Threads Recycling Program, the vest itself can be recycled via Teijin's ECO CIRCLE® closed-loop polyester recycling system into new fiber that then can be reused in a new Patagonia garment.
Polyester
Unifi debuted Repreve in December 2000 at Expofil Paris as a textured polyester filament yarn made with PI content, but it wasn't until mid-2006 that the company began actively marketing the new product. By then, PC content from PET bottles was also part of Repreve's raw material content, and it began to appear in Polartec® and other fabrics. Subsequently, Unifi began to offer versions of the yarn with 100-percent PC content, and it also introduced Repreve polyester staple fiber and a nylon version of the yarn that has PI content. Today, Repreve has achieved considerable success and is featured in products ranging from performancewear, sportswear and professional apparel to upholstery and home furnishing textiles; and it also has applications in automotive fabrics. According to Jasper, it is the fastest-growing of Unifi's premium value-added products and promises to remain successful.
Through investment in its Repreve Recycling Center, Unifi is in the process of backward integrating the Repreve production chain. "Not only are we going to be taking our own waste and recycling it back into fiber in-house, but we're also going to put in the capability to turn PET bottle flake into chip that can be fed into our spinning facility to make yarn," Jasper said.
Unifi also plans to collect waste fabric from its customers to recycle back into yarn. "In cut-and-sew operations, about 15-percent of the fabric ends up on the cutting room floor," Jasper said, adding,"Ultimately, we'll be able to take garments and recycle them too."
Recycled polyester (RPET) textile products are offered by other manufacturers as well, including, among many others, Hampton, Mass.-based
Foss Manufacturing LLC
's eco-fi™; Greenville-based
Poole Co.
's EcoSure® and EcoSure Wellstrand; Japan-based
Teijin Group
's ECO CIRCLE® and ECOPET® fibers; Calhoun, Ga.-based
Mohawk Industries Inc.
's RPET carpet products; and RPET fibers generated by newly established
Clear Path Recycling LLC
, Fayetteville, N.C. — a joint venture between carpet manufacturer
Shaw Industries Group Inc.
, Dalton, Ga., and Charlotte-based polyester staple fiber (PSF) producer
DAK Americas LLC
.
Eco Circle, reportedly the world's first closed-loop recycling system for polyester products, is fed by worn-out polyester clothing from apparel and uniform manufacturers and retailers as well as government agencies, hospitals and clinics, schools, sports clubs, and other entities. The system can recycle 10,000 metric tons of polyester fiber annually, with 84-percent lower energy consumption and 77-percent less CO
2
emissions compared to equivalent production of virgin polyester.
Patagonia is both a supplier and an end-user in the Eco Circle program. It supplies discarded polyester apparel products collected through its Common Threads program — under which it accepts its Capilene
®
Performance Baselayers, Patagonia® fleece and Polartec fleece apparel from any manufacturer; as well as Patagonia cotton T-shirts, and certain polyester and nylon 6 articles that carry the Common Threads tag. And some of its product offerings contain RPET supplied by Teijin or Unifi.
Patagonia has recycled 27 tons of used clothing since it initiated the program in 2005. It expects to reach its goal of making all of its clothing recyclable by fall 2011.
Clear Path Recycling will supply RPET flake to Shaw for use in its ClearTouch residential carpet products, and to DAK for PSF and resins that it will supply to downstream customers. Future total recycling capacity is expected to amount to 280 million pounds, or some 5 billion bottles.
Nylon 6 and 6,6
With several billion pounds of carpet discarded annually in the United States alone, recycling and other carpet recovery efforts can divert an enormous volume of waste from a landfill grave. As reported by respondents to a survey conducted by Dalton, Ga.-based Carpet America Recovery Effort
SM
(CARE), total diverted carpet in 2009 amounted 311.3 million pounds, including 246 million pounds that were recycled; and these numbers represent increases of 6 percent and 1.2 percent, respectively, over 2008 diversion and recycling numbers. CARE has set ambitious goals of 27- to 34-percent total diversion and a 20- to 25-percent recycling rate by 2012. Most of the recycled carpet contains nylon 6 or nylon 6,6 face yarns, and
Textile World
here presents technologies available to recycle these two types of nylon back into new carpet fiber.
Shaw's Evergreen Nylon Recycling facility in Augusta, Ga., receives PC nylon 6 carpet collected through Shaw's nationwide collection network. The Evergreen process separates nylon 6 carpet fiber from the rest of the carpet and depolymerizes it back into its original, colorless monomer — caprolactam, which then is repolymerized into new nylon 6 that is indistinguishable from virgin nylon 6. The polymer can be recycled repeatedly in a closed-loop system with no degradation of performance or aesthetics. Shaw blends the recycled polymer with virgin nylon 6 to make new carpet fibers including Eco Solution Q® for its commercial carpet products and Anso® for its residential carpet. Both products have received Cradle to Cradle® Silver certification, and Anso has been certified by Scientific Certification Systems to have 25-percent PC content supplied by Evergreen.
"Evergreen consumes 80 to 100 million pounds of PC carpet including backing, adhesives and other components," said Russell DeLozier, Shaw's manager, materials reclamation — post-consumer carpet. "The caprolactam recovered is sent back to our fiber facilities in Dalton, where it is extruded into new nylon 6 fiber. The co-product that is separated out is sent to a partner company in Cartersville, Ga., which uses it in a waste-to-energy process. Calcium carbonate reclaimed from that process is recycled into Shaw's EcoWorx® polyolefin thermoplastic commercial carpet tile backing."
Nylon 6,6 has been difficult to recycle successfully into new high-quality carpet yarn, as no current commercial depolymerization or decoloring technologies are currently available. However, as part of its EarthSmart® platform,
Universal Fibers
— a Bristol, Va.-based solution-dyed carpet fiber manufacturer — has developed proprietary technology that cleans and reprocesses used nylon 6,6 carpet fiber, or fluff, into pellets and combines it with virgin nylon 6,6 polymer or chip. EarthSmart's refresh fiber® contains PC nylon 6,6 recycled from discarded carpet, and it is offered in a broad range of colors. The company has a proprietary collaborative relationship with Atlanta-based carpet manufacturer
Interface Inc.
, which collects used nylon 6,6 carpet, along with carpet containing other man-made fibers, through its ReEntry® 2.0 program. Interface shaves off the fluff, batches similar colors together and sends it to Universal Fibers for reprocessing, blending with virgin nylon 6,6 polymer or chip, solution-dyeing and extrusion into new fiber. Interface's modular carpet tile business,
InterfaceFLOR
, has introduced tiles with PC recycled nylon 6,6 content in a wide range of styles and colors under its Convert™ platform.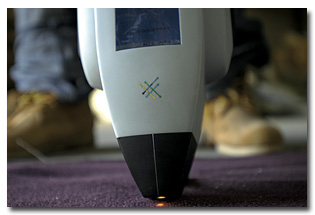 Interface uses the instrument shown here to identify nylon 6 and nylon 6,6 in carpet collected through its ReEntry® 2.0 recycling program.

"There are challenges associated with introducing reclaimed fluff with virgin nylon 6,6 polymer or chip," said Joe Parry, global marketing and brand manager, Universal Fibers. "There is a very complex dynamic that must be considered in successfully achieving the high standards of color consistency, stain resistance and wear performance. Our first challenge is cleaning the fluff of nearly all contaminants. This is a proprietary process developed at Universal Fibers, and it is critical in ensuring a successful recycling process. We've been able to achieve this in a way that's energy-efficient and green, and in a cost-effective way that the market will still support."
Interface, which offers various carpet products containing nylon 6,6, nylon 6 or other fibers, is steadily increasing the recycled content of its products. In 2009, by volume, 18 percent of its yarns, 33 percent of its substrates and 39 percent of its backings, as well as 46 percent of its packaging, were recycled material. According to Erin Meezan, vice president, sustainability, the company expects recycled content to increase to more than 40 percent overall in the next two years. The company is ramping up its ReEntry 2.0 process to increase its capacity to collect PC product and help it meet its PC needs.
Cotton
Recycled, or regenerated, cotton is finding its way into new yarns and nonwoven products.
Circle LLC
, Tulsa, Okla., has patented several PI waste-conversion technologies, among them twist™ for production of high-quality long-staple apparel yarn; altfab™ for medium-staple nonwoven applications such as baby wipe, cleaning, cosmetic, industrial, medical and personal care products; and flip™ for short-staple wetlaid products and paper production; as well as three other technologies. According to Matt Kelly, Circle's director of business development, the technologies enable higher-quality production than traditional fiber recycling processes.
"For cotton, you must protect the staple length when recycling. Traditional recycling is about chopping up, which reduces staple length, and recycled cotton hasn't really broken through in the consumer market because it's been considered too low-quality," Kelly said. "The Circle regeneration technology treats fabric waste very differently. Our patented technologies handle the fibers and take them through the processing route very gently, so at the end, the fibers have a staple length that can be equivalent to virgin cotton. Then you can put the staple fiber back into high-quality fabrics or nonwovens, in which it can be blended with any kind of fiber, and there's no difference in performance or feel. That is the true Holy Grail of getting regenerated cotton back into the market and back into quality products."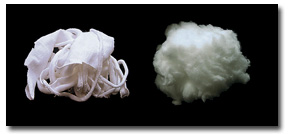 Circle's twist™ technology converts garment waste into long-staple fiber for reuse in high-quality apparel yarn.
Circle processes only PI materials that have traceable components. "Our outlets are consumer products, so we have to know the fiber composition and what chemicals and dyestuffs have been used," Kelly explained. He added that regenerated cotton comes at a lower cost than virgin cotton, offering an advantage — especially as raw cotton prices have soared in recent months — to Circle's customers, which include a number of top retailers.
While Circle developed the technologies to regenerate the fibers, manages the collection and distribution of the raw materials and for the most part directly handles the product contracts for the downstream customers, the regenerated fibers are further processed by other manufacturing entities within an umbrella group called the
Sustainable Solutions Network™
. One such entity is
Strateline Industries LLC
, Rogers, Ark., which uses the medium-staple fiber to manufacture nonwoven substrates.
Circle now is preparing to expand globally. "We've been working very intensely over the last two years to take our technologies to the global arena and focus them where the waste is generated. We still believe in U.S. manufacturing, but there's very little garment waste here — it's all gone offshore, and we've been spending a lot of time and effort in coordinating container shipments of waste from Asia," Kelly said. "We're now at the stage of expanding in the next year into Europe, India and China. Several manufacturers there are looking to become closed-loop and use waste as a quality raw material."
Another company making yarn and wiping products from PI recycled cotton and other fibers is Spartanburg-based
Martex Fiber Southern Corp.
Company facilities in the United States and Central America collect textile waste from manufacturers and cut-and-sew operations. In addition to providing shoddy for fill and nonwovens applications, Martex Fiber operates two specialty divisions.
The
Jimtex Yarns™
division spins economically priced cotton-rich open-end ECO2Cotton® knitting and weaving yarns in a range of more than 50 colors including solids, bleached and heathers. Color comes from the regenerated raw materials, so no dyeing is involved, which saves water and eliminates pollutants. The yarns are used in apparel, home textiles, upholstery fabrics, and trims and braids. Handknitting and chenille yarns also are available. According to Stefanie Zeldin, Martex Fibers' director of marketing and sustainability, end products made with the yarns are sold by major mass retailers as well as specialty stores.
The
Eco-wipers™
division makes knit and fleece wipers from cut-and-sew fabric waste. The wipers have consumer as well as industrial and institutional applications.
Denim apparel brands and retailers have joined the effort to recycle used clothing into products such as insulation.
Levi Strauss & Co.
, San Francisco, offers grants to community groups to encourage the use of insulation made from recycled denim in construction projects.
Gap Inc.
, also based in San Francisco, and
Cotton Incorporated
, Cary, N.C., have conducted promotions to collect used jeans that are recycled into UltraTouch denim insulation by
Bonded Logic Inc.
, Chandler, Ariz.
(See " Levi Strauss, Gap Encourage Denim Recycling For Insulation Applications," www. TextileWorld.com, October 12, 2010).

November/December 2010
Advertisement