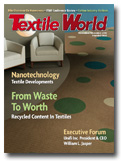 November/December 2010
On the Cover:
Shaw Contract Group's Shadows broadloom and carpet tile collection is made with Shaw's Eco Solution Q® recycled-content nylon 6 face fiber and EcoWorx® polyolefin thermoplastic backing. Photograph courtesy of Shaw Industries Group Inc.
Features
Unifi Returns To Profitability
Unifi Inc. President and CEO William L. Jasper talks about the company's turnaround and future plans.
SYFA Presents G3 Fall Conference
The Synthetic Yarn and Fiber Association gathered in Charlotte to discuss topics ranging from sourcing trends to an assessment of the global fiber business.
From Waste To Worth
Recycling programs divert post-industrial and post-consumer waste from landfills and turn them into valuable feedstock for new textile products.
ITMF Meets In Sao Paulo
Annual conference provided forum for discussing issues such as compliance, sustainability and profitability.
Sliding Supplies Lift Cotton Prices
Cotton prices have reached a record high and are likely to remain high over the coming months.
Energizer Fabrics
Schoeller Textil's energear™ fabric technology reflects the body's far infrared rays back to the body to enhance performance and wellbeing.
Textile News
Global Textile Groups Rap India's Cotton Export Policies
In Memoriam: James A. Morrissey Sr.
IFAI, SGIA Expos To Colocate In 2013
Eastman Sells PET, PTA Businesses To DAK Americas
From The Editor
Looking Forward: Textiles 2011
Business & Financial
Yarn Market
Nonwovens / Technical Textiles
Nonwovens Industry: Promising Future
DiloGroup's Johann-Philipp Dilo discusses his company, nonwoven product trends and ITMA 2011.
Nanotechnology In Textiles
Ongoing development of nanofiber fabrication, fiber and fabric surface modification, and nanoparticle composite fiber technologies promises to spur development of new commercial products.
Johnson Controls To Acquire Michel Thierry
Freudenberg Unveils PCR Fabric, Restarts Idled Line
Saertex USA To Expand Facility, Add 178 Jobs
Fiber World
The Carpet Recyclers Opens Two Facilities
RadiciGroup Launches CornLeaf Bacteriostatic Yarn
Dyeing Printing & Finishing
Kiri Holding Acquires North American DyStar Companies
G. Tosi, Tanatex Develop Low-Temp Bleaching Process
Huntsman Introduces New Dyes, Clearing Additive
Knitting / Apparel
Creativity Through The Supply Chain
From yarn to surface design, the emphasis is on innovation.
DOL Grants $2 Million For Better Work Nicaragua
Gildan Begins Relocation To Charleston, Adds 87 Jobs
Supplier Notes
Hirsch, Madeira Form Partnership
Aurora To Offer Stork Sublimation Inks In U.S./Canada
Bustamente Installs Brückner IR Dryer
New Products
Oerlikon Unveils Texparts® CS 21 12
Appleton Adds Three Models To Core Recycler Line
People
Bulletin Board