King Cotton: Here Today And Here Tomorrow
From fiber to fashion, cotton weaves its way through the supply chain.
Virginia S. Borland, New York Correspondent
F
rom T-shirts and dungarees to dress shirts and ball gowns, cotton apparel is a retail best-seller. Its demand is expected to continue, due in part to the comfort, performance, natural origins and versatility of this fiber. Another factor is product and fabric development. Corduroy and denim evening gowns? The Supima® collection is elegant and wearable. What are tomorrow's fashion trends? Cotton Incorporated researchers offer color and fabric trend information with the how-to answers, development samples showing yarns, and weaves and knit stitches to make it happen.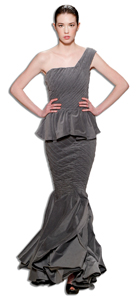 Gina DeSilva's one-shoulder gown in corduroy from Carlo Bonomi was the winning eveningwear design in Supima's design competition.
Supima Focuses On Quality And Versatility
Supima, an extra-long-staple cotton grown in California and the Southwestern United States and promoted by the Phoenix-based growers' organization of the same name, is making a strong showing in the retail marketplace. Brooks Brothers, Bloomingdale's and Lane Bryant have acclaimed its quality, performance and fashionability. A recent design competition pointed up the versatility of fabrics knitted and woven of 100-percent Supima.
Supima, an abbreviation for "Superior Pima," and Brooks Brothers have had a long relationship. According to Claudio Del Vecchio, Brooks Brothers' chairman and CEO, "Supima allows us to create product that is not only extraordinarily luxurious but that is also strong and long-wearing - something our customers have come to expect of our merchandise."
Recently, Brooks Brothers launched an in-store initiative at 100 stores to promote the wide range of merchandise made with Supima. Collections included sweaters; knitted T-shirts; denims and chinos for men, women and boys; men's underwear; and wear-to-work shirts of 100-percent Supima combined with Brooks Brothers' non-iron treatment.
"The cashmere of cotton" is what Lane Bryant calls Supima. Its most recent Supima promotion in more than 800 stores featured 17 knit tops in 29 colors as well as stripes and prints. Along with tees, tanks and polos, there are camis, three-quarter-sleeve henleys, and V- and scoop-neck styles. "These are all perfect pieces to complete a wardrobe," said Debbie Martin, senior vice president of Design and Development, Lane Bryant and Cacique.
At Bloomingdale's, Supima brand men's knit shirts are on sale at the Supima free-standing shop in the designer menwear department of their flagship store in New York. Knitted of 100-percent Supima cotton yarns from Buhler Quality Yarns Corp, Jefferson, Ga., basic tees, henleys and hoodies are among the styles available at 18 Bloomingdale's stores across the country.
A design competition recently took place to show the unique versatility of fabrics knitted and woven of 100-percent Supima cotton. Contestants were asked to create eveningwear using shirting fabrics, denim, corduroy and jersey - fabrics traditionally going into sportswear, dress shirts or lingerie. A T-shirt with a difference was another requirement. According to Buxton Midyette, vice president of marketing and promotions, Supima, about 70 designers entered.
Each designer was given fabrics from global resources. Cone Denim, Greensboro, N.C.; Arvind Ltd., India; Kaihara Co. Ltd., Japan; and Central Fabrics Group, China, are among the denim suppliers. Shirtings came from Cotonificio Albini S.p.A. and Carlo Bonomi S.p.A., Italy; Lameirinho Industria Textil S.A., Portugal; Lu Thai Textile Co. Ltd., China; and KTSM, India. Jersey suppliers include FesslerUSA, Orwigsburg, Pa.; Design Knit Inc. and Antex Knitting Mills, Los Angeles; Handseltex Industrial Corp., Taiwan; Karsu Textil, Sanko Textile & Trading Co., Majestic Textiles and Pagmat Group, Turkey; and Orient Craft Ltd., India.
A triple-layered T-shirt in jersey by Majestic and designed by Robin Tomas took top honors in the T-shirt category. It is now in production and will be sold at the Supima shop at Bloomingdale's. Gina DeSilva's one-shoulder gown in corduroy from Carlo Bonomi was the winning eveningwear design.
Cotton Incorporated's
Spring/Summer 2011 Forecast
Spring/Summer 2011 will be colorful, according to Lauren Deatherage, product trend analyst, Global Product Supply Chain, for Cary, N.C.-based Cotton Incorporated. The colors are flattering and wearable. It's how they are used that makes them interesting. Fabrics range from blotch-printed sheers, puffy seersucker shirtings and chambray to summer tweeds, matelassés and new ways with denim.
The Cotton Incorporated color card is divided into five stories. The first color Deatherage noted in the Daredevil group is chambray blue. "It is versatile - there are so many ways to use it," she said. With Crisp White, it looks cool and beachy; with a celadon shade or Cherry Red, it is sophisticated and goes to the office. Other colors in this group are sage, a pinky-gray shade and bright canary yellow.
Some of the fabrics in the Daredevil range have a reptile-skin texture; and others, a safari look, such as a basic calendered twill. There are double-faced jacket-weight matelassés, and reflective prints that glow in the night. Open-work patterns range from eyelet to pointelle sweater knits. One shown is an edgy double cloth in black and silver with an eyelet pattern on one side. Yarn-dyed stripes combine with oversize plaids, and colors graduate from faded to intense.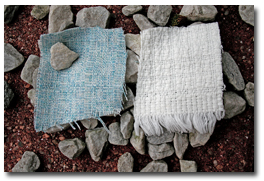 Cotton Incorporated's Spring/Summer 2011 trend forecast includes these fabrics in the Murmur story.
Colors in the Ventriloquist group are rich reds and browns. Camel, bronze-mustard, sable and taupe are shown with blush pink, coral and raspberry. Deatherage notes the warmth of the range. She suggests using camel with blush for a sultry look.
In the Ventriloquist range, there are chunky sweater knits, tonal jacquard knits, white-on-white subtle surface effects and iridescent bottomweights. Black-and-white patterns with optical effects and what Deatherage refers to as dissolving geometrics — tonal patterns that have a faded quality to them — are another look. Prints make a strong statement. In this group, there are tie-dyes and blurred, watery patterns.
In the Murmur range, pale neutrals and white are punched up with a deep browned cranberry shade, lime yellow and a grassy green that Deatherage refers to as a pop artificial shade. There is a lot of contrast. Updated classic fabrics start with denim. One way it is shown is pieced with differently shaded denims used together. Another has a small floral printed on the reverse side; the effect is young and naive. There are updated nautical stripes that change direction, nubby summer tweeds, dark indigo knit shirtings, and prints on puffy surfaces.
Blackened brown and navy are lightened and brightened with intense and pale shades in a story called Precision. Rich teal and soft aqua, pale peach and bright coral plus a whitened gray shade are the highlights. Lightweight fabrics include shirtings in whitened pastels, crepe knits with a dry hand and blotchy prints on sheers. Puffy matelassé, shiny pick-and-pick effects and jacquards are some of the bottomweights. Black overprinted and washed denim has what Deatherage refers to as an electric color effect.
There is a whimsical feeling to the Daydream range. Three dusty shades are combined with three lush counterparts and white. Emerald Green, Poppy Pink and a Bright Lilac are the spark shades to go with a grayed green, dusty mauve and shadowy pink-gray. Fabrics include a subtly patterned Bedford cord, out-of-focus plaid, and thick slubbed suiting weight. There are drop-stitch knits and delicate burn-outs. Prints are blurred and romantic.
May/June 2010
Advertisement