Nonwovens Focus: Human-centered Applications
A review of various nonwovens sectors shows many products enhance the well-being of people, whether as individuals or for humankind in general.
Jürg Rupp, Executive Editor
M
odern textiles have more than just fashion attributes. Today, they play an ever-increasing role in human and environmental protection. Such textiles are applied in many sectors of daily life, and nonwovens are extremely suitable for many of these end-uses. Protective apparel, medical textiles and hygiene products are just a few examples.
Humankind always is, whether intentionally or not, in the center of all human activities, especially in Western countries, but also more and more in developing countries. Thanks to modern means of communication, such as the Internet, these regions are gaining access to the same knowledge.
In general, nonwovens and technical textiles are key products with regard to human- and environment-centered textiles that enhance well-being. Or, to look at it another way, human- and environment-centered textiles have a direct, positive influence on each individual and one's environment.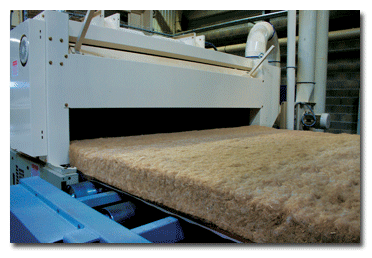 Bast fibers could play a very important role for needlepunched nonwovens, especially for bast-fiber growing countries in the Far East.

Big Market Opportunities
According to the Cary, N.C.-based Association of the Nonwoven Fabrics Industry (INDA), global sales of nonwovens total some $23 billion to $24 billion. In terms of durability, the market breakdown continues to be 65-percent disposable and 35-percent durable, depending on how filtration is categorized. Concerning growth rates, INDA reports disposables continue to grow at a rate of 3 to 4 percent. Durables, on the other hand, are not growing; and in automotive and construction, there is negative growth, although both of these segments are expected to rebound later this year. Automotive demand corresponds with car sales and therefore has not disappeared, but rather -- considering the recent economic crisis and expected recovery -- has been delayed.
INDA reports there is an oversupply of spunbonds in Europe, and the situation likely will continue through 2010. In the North America Free Trade Agreement (NAFTA) region, supply and demand are pretty much in balance, and business is growing in most sectors. In developed regions, INDA projects a 5- to 6-percent annual increase over the next five years.
In regions such as China and India, growth rates are expected to be 10 to 11 percent. India's production today compares to China's in 1990. INDA projects rapid growth in India and notes that both countries are developing a very large domestic market for nonwovens. China outpaces India and will continue to be a net importer of nonwovens; both countries import from the United States.
In emerging countries, nonwoven durables still dominate, representing roughly 80 percent of the market, versus 20 percent for disposables. However, along with increasing personal incomes, the consumption of disposables, such as medical and hygiene products, will definitely rise. And women will play an important role in this context, using more feminine hygiene products as well as baby diapers for their children. This also means a big change for traditional textile manufacturers, as they must know how to handle fibers such as waste from cotton spinning and other fiber waste.
For the textile industry in general, and nonwovens in particular, there are two particular fields of application possibilities, in which the entire nonwovens industry and peripheral areas are included: human-centered and environment-centered applications.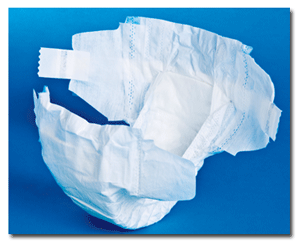 The environmental impact of disposable baby diapers has decreased significantly since 1987 in terms of reductions in solid waste, energy usage, global warming and air quality.
Human-centered Applications
In this area, all applications that directly or indirectly deal with the individual are included. Key areas are, among others:
• hygiene textiles;
• medical textiles and apparel;
• protective textiles and apparel; and
• wipes, both wet and dry.
The technology and the machinery for these kinds of products are available on the market or are in further development. And the improvements are considerable: For example, Brussels-based EDANA, the International Association Serving the Nonwovens and Related Industries provides the following information related to diaper consumption:
The average weight of a diaper has been reduced by more than 40 percent since 1987.
The weight of diaper packaging has been decreased by 41 percent.
The total energy impact of one child using diapers decreased by 32 percent between 1987 and 2005.
Global warming and summer smog impacts of diapers have been reduced by 37 and 43 percent, respectively, over the same period.
As ever, it is a difficult task to collect valuable data about nonwovens. However, INDA estimates that China's 2008 sales of disposable nonwovens to end-users were slightly more than $9.5 billion. The largest portion was the hygiene market, with baby diapers, pads, feminine napkins, pantiliners and incontinence products generating $7.4 billion in sales to end-users. This confirms again that products for everyday life are in the center of attention for at least the near future of nonwovens manufacturing. The remaining $2.1 billion in disposables sales was shared between medical and surgical applications and disposable wipes. INDA projects the following categories will have tremendous growth between 2008 and 2013: baby diapers, 18.1 percent; pantiliners, 11.2 percent; and disposable wipes, more than 25 percent.
EDANA reports the five largest European markets for disposable baby diapers -- representing more than 60 percent of the current market -- are the United Kingdom, France, Italy, Germany and Spain. These are mature markets that have grown only by 1.2 percent on average since 2001. The fastest-growing markets in Europe during the last decade were the Czech Republic, Iceland, Romania, Turkey and Ireland. These markets currently represent only 9.9 percent of the total European market, but they have grown altogether by an annual average of 6.5 percent over the past five years, and that growth is forecast to continue.
The overall market for feminine care products in the European Union has grown at a 1.3-percent annual average rate over the past 10 years, EDANA reports. The five fastest-growing markets -- Latvia, Romania, Lithuania, Hungary and Spain -- make up some 14 percent of the overall market and have been growing at a combined 8.5-percent average annual rate.
According to INDA, most of the Chinese nonwovens for medical and surgical products currently are exported. Surgical masks and caps are used in China, but drapes, gowns and other medical disposable nonwovens are not used inside Chinese hospitals and instead are exported to hospitals abroad. Here is the exception to the rule that disposables rarely have enough value to be exported. The main reasons for that circumstance are short delivery cycles, freight costs and the typically bulky and lightweight products. Therefore, China's medical and surgical nonwovens industry is expected to grow at a rather healthy level for the 2008-2013 period.
Coverstock
INDA projects that the North American hygiene market will consume an estimated 303,000 metric tons of coverstock in 2010. Coverstock is a lightweight nonwoven used to contain and conceal an underlying core material. Examples include facing materials that cover the absorbent cores of diapers, sanitary napkins and adult incontinence products. Most coverstock is used in baby diapers, but less so in 2010 than in 2005. The baby diaper market has contracted slightly over the last five years, dropping consumption rates to 134,000 metric tons in 2010. INDA forecasts the decline will continue, as birth rates have dropped noticeably with the advent of the current recession.
Medical, Protective Textiles
Nonwovens are used extensively in the medical field and for protection against liquid, biological and chemical agents in many sectors. Cotton and polypropylene play an important role in these uses. INDA estimates that the North American medical/surgical market will consume 2.05 billion square meters of nonwovens in 2010. Applied technologies are mainly drylaid, hydroentangled, spunbond and meltblown. Spunbonded fabric remains the major technology for this end-use, compromising almost half of the fabric consumed by the medical/surgical market. According to INDA, volume and sales of surgical gowns and drapes have been particularly sluggish, while other medical products have shown moderate growth.
Nonwovens can be tailor-made with every required feature -- such as excellent barrier properties, uniformity or breathability. They also are used in clean rooms and laboratories as well as in the electronics industry to protect materials, goods and components from contamination such as dust. They are used as protection against a variety of substances that could be harmful to humans, such as asbestos and dioxin; bodily fluids; hazardous gases; oils and lubricants; dyes, colors and inks; disinfectants; fine dust; and liquid aerosols.
Nonwovens made from microfilaments are especially suitable for these products and are used with success. However, the list of products is virtually endless. Some also are disposable -- used only once and incinerated after use, thus eliminating the need for handling and minimizing the spread of contamination.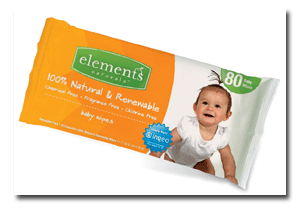 Wipes are a recent but successful nonwovens sector. Photo courtesy of Ingeo™ and NatureWorks LLC.
Wipes
Wet and dry wipes are a relatively new but very successful sector within the nonwovens industry. Today, wipes exist for a virtually unlimited number of end-uses. INDA estimates the 2008 North American disposable wipes market totaled $3.7 billion in terms of sales to end-users. Household wipes comprised most of this market, with $1.6 billion in end-user sales. Household wipes include wet and dry wipes for cleaning hard surfaces such as furniture and floors.
The Chinese wipes market also is expected to grow, mainly for wet wipes. After the recent success of the big global players in this market, manufacturers in China, Taiwan and Japan -- countries that have a high level of population diversity -- also added a lot of wet tissue production lines to continue to meet growing market demands.
Environment-centered Textiles
In a way, environment-centered products also have an influence on the people, and therefore can be considered human-centered textiles too. This sector, in which agri- and geotextiles are important products, is one of the most promising. This promise is especially the case for nonwovens made of long-staple fibers such as jute, flax or hemp; and is extremely important for bast-fiber-growing countries in the Far East. These fibers offer the following advantages:
protection from damaging influences from the industrial production of goods;
reduced erosion of cultivated land;
improved storage of harmful substances;
reclamation of land that was previously underwater and therefore unavailable for agricultural and other uses.
The problem for the products is not technical, but communication-related. Unfortunately, these advantages may be known only to a relatively small circle of insiders in the worldwide industry and consumer markets. Insiders are further provided knowledge through networking within their respective lines of business. In some markets, this information often may be restricted and not freely available to the general public.
The Future
Following are some considerations for a promising future of the nonwovens industry:
• Needlepunched nonwovens have an advantage, as they can include recycled fiber material.
• For disposables, more degradable fibers or polymers should be used.
• Bast fibers should be used more, mainly in emerging countries. These renewable, biodegradable primary products mainly are needlepunched. The technology to make these products is readily available.
• "Nonwovens" is a negative word and perhaps should be avoided in marketing.
It must be the aim of producers to develop independent nonwoven products that have advantages over other products. And these advantages must be pointed out correspondingly. The development of new products must be determined by market needs and not just in relation to the existing expertise.
March/April 2010
Advertisement