Spring 2011 In New York
Five trade shows find receptive audiences for apparel fabrics.
Virginia S. Borland, New York Correspondent
W
ithin a two-week period, apparel textile collections from world resources were on view in New York City. For Spring 2011, upbeat colors, glossy surfaces, less structured flowy fabrics, ultra-sheer weights, subtle surface interest, large-scale prints and new denim treatments captured buyer interest. Première Vision Preview opened the season with an emphasis on quality, innovation and creativity. At the same time, Direction by Indigo and Printsource gave buyers an early look at surface design. A week later, Texworld USA showcased more than 140 collections. At Kingpins, the focus was on denim, including what goes into it and what goes with it.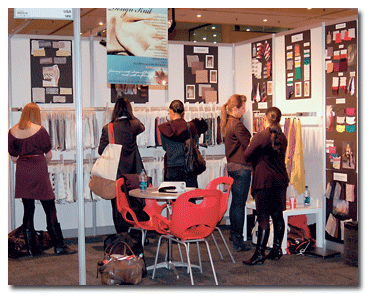 Texworld USA visitors examine fabric in Design Knit's stand.
Première Vision Preview
Philippe Pasquet, CEO, Première Vision S.A., said, "After three weak seasons, things are starting to pick up, and confidence is returning."
Carlo Pozzi, Italy, showed novelty jacquards and fil coupés. Some are double-faced, or have random crushed surfaces and opaque patterns on transparent grounds. There are bi-stretch silk shantung bottomweights, lacy effects and stripe combinations.
Opening, a new division of A.B. Créations by Fabien Doligez, France, has large-scale scenic jacquards. One depicting palm trees and swimmers at the beach drew interest.
Luxe denim turned up in two Italian lines. Federico Aspesi S.r.l.'s denim is washed and embroidered indigo-dyed silk. At Teseo S.p.A., it is ultralight and woven of fine twisted cotton. Philea, France, has the denim look in a linen/cotton/metal blend with a highly glazed surface. Glossy and transparent fabrics; white-on-white prints; ombré check taffeta treated to different finishing applications; and wet, lustered or crinkled looks are other fabrics of note.
Featherweight, silky-hand, water-repellent taffetas are described as "easy to pack" at Everest Textile, Taiwan. Olmetex S.p.A., Italy, showed slippery touch, water-repellent, transparent fabrics. A super-light, polyurethane-finished mechanical stretch fabric is described as "packable."
Knits from Target S.r.l., Italy, include dimensional jacquards, printed burn-outs, subtle tweeds, ruffled all-overs and cobweb effects. Mario Cucchetti S.p.A., Italy, has large, blurred abstract prints on sportswear knits.
Printed fabrics are making a big comeback. At Deveaux S.A., France, and Juan Boluda S.A., Spain, there are small liberty-styled shirtings. At Confetti Tekstil, Turkey, splashy, blurred scenics are large and dramatic.
KBC, Germany, is getting a good reaction to digital prints, despite higher prices. Buyers are looking for novelty, small quantities, and frequent and fast deliveries. Large engineered patterns, photographic abstracts, tribal ethnic patchworks, confetti geometrics and large ethnic florals are some of the looks.
At Miroglio Textile, Italy, flowers are exotic, stenciled or painted. There are rich foliage camouflage patterns, seaside landscapes, ikats and tiles, dip dyes and brush stroke effects, and architecture-inspired digital prints.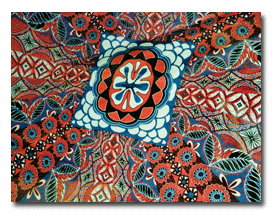 KBC displayed digital prints such as this large ethnic floral at Première Vision Preview.
Surface Design
Direction by Indigo is now colocated with Première Vision Preview. First-day attendance was 2,500.
The film "Avatar" was in evidence at Tom Cody Design, New York City and London. Sumptuous, exotic jungle scenics and African tribals were strong sellers. New looks include photographic florals, exploded engineered florals, luminous effects, blurred images and pixilated landscapes on ombréd grounds.
The Colorfield, New York City and London, has a group of underwater designs, with waves, fish skins and swirling patterns. Color blocking, dots and spots, tribal abstracts, and flowers large and dramatic or petite and romantic are other ideas.
Keelergordon, United Kingdom, (U.K.) showed tile prints, ikats, African tribals, large-scale geometrics and flowers of all sizes. Airbrush stroke effects and pattern mixes were noted.
U.K.-based studios Owens and Kim, Wescott, and Whiston and Wright were at both Direction and Printsource. Hand-painted flowers, sophisticated skins, tie-dyes, ikat florals, fish skins, abstract butterfly wings and African ethnics were pointed out.
At Printsource, Lewis Orchard, U.K., mentioned animal skins in patchwork combinations. New York City-based European Textile Collection showed printed lace looks and lace borders, large watery florals described as vague and ambiguous, Moroccan ethnics, birds and feathers.
Texworld USA
At Messe Frankfurt's Texworld USA, Stephanie Everett, group show manager, said, "Optimism is coming back." First-time North American exhibitors had crowded stands. It was noted that stores are carrying less inventory than previously and looking for more frequent and faster deliveries not readily available from Asia.
At Lenzing Fibers, Austria, Tencel® for children's wear was one focus. It was noted that Tencel is durable, strong, ultrasoft and comfortable for sensitive young skin. Denim is another area where Tencel has made inroads, especially in minority blends.
Buhler Quality Yarns Corp., Jefferson, Ga., launched a sustainable Micro Tencel/Supima® cotton yarn that is strong, soft, lustrous, anti-odor and moisture-wicking; and gives excellent drape in fabrics. Buhler also is looking to combine temperature-regulating Outlast® technology with Supima.
Tuscarora Yarns Inc., Mt. Pleasant, N.C., offers open-end and ring-spun yarns in Modal®, Tencel, cotton, recycled cotton, flax, polyester, rayon, silk and wool fibers and blends. Specialty yarns include heathers, mock twists, mélanges, slubs, nubs and plied yarns.
At commission knitter Design Knit Inc., Los Angeles, tissue weights of 2.5 to 3 ounces in Supima and blends are popular. Laguna Fabrics and Envirofabrics, also from Los Angeles, showed sheer jerseys, ribs, pointelles, slubbed knits, stripes, pleated fabrics and sweater knits. Along with ProModal®, cotton, hemp, bamboo and soy, they are using recycled polyester.
Novelty knits, small yardages and fast deliveries are a specialty of Pacific Coast Knitting Inc., Huntington Park, Calif. There are single jerseys of Modal and blends with silk or cashmere, Modal/linen slubbed jerseys and double cloths.
At Fessler USA, Orwigsburg, Pa., business has increased notably in the last six months. Full package, fast delivery, quality and service are part of the answer. The number-one fabric is a 40/1 Supima/MicroModal® jersey with a subtle slub. With its new solar-powered factory, Fessler can produce 60,000 shirts a week.
Eco-friendly fabrics from Shinjintex Co. Ltd., Korea, include washed Tencel denims and silky-touch silk/cotton/viscose sateens. Elysium Textile Co. Ltd., Hong Kong, showed chintz-finished basic bottomweights, stretch denims, cotton/silk creased and printed lawns, peach finishes, wrinkle-free linens, seersuckers and paper-touch water-repellent fabrics.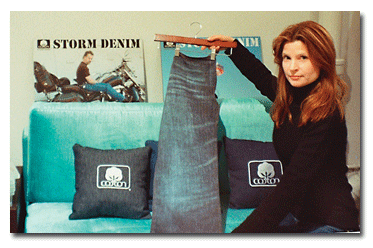 At Kingpins, Cotton Incorporated's Teresa Zugay, manager, cotton solutions, shows denim printed using a new sustainable digital printing process.
Kingpins
Cotton Incorporated, Cary, N.C., was at Kingpins to introduce its three new websites, review performance technologies and introduce a sustainable denim treatment that is an alternative to indigo dying. Information about Storm Denim™, Natural Stretch™ for 100-percent cotton denim, Stay True color retention and TransDRY™ moisture-management technology was of special interest. A new digitally printed denim process can achieve deep-dyed indigo, streaked, faded or vintage looks without using bleach or harsh chemicals.
Kingpins sponsor Dow Fiber Solutions, Midland, Mich., exhibited mono- and bi-stretch jeans woven with its comfort stretch Dow XLA™ fiber -- a heat- and chemical-resistant olefin fiber that enables jeans to undergo any variety of treatment.
Bayer CropScience's Certified FiberMax® Texas long-staple cotton and Stoneville® upland cotton are also Kingpins sponsors. FiberMax is strong and clean, performs well on high-speed spinning equipment, blends well, has a good hand and requires no pesticides. Shorter-staple Stoneville is especially suitable for denim.
Cone Denim and Burlington Worldwide, Greensboro, N.C., were in adjacent spaces. Burlington twills use U.S.-grown cotton exclusively. A new dye technology shown provides color depth and imparts a soft, silky hand. Light weights from 4.9 to 6.5 ounces are current favorites. Half of all Cone denim sold is stretch, and lighter weights are in fashion.
March/April 2010
Advertisement