Optimizing Energy Usage In Textile Finishing
Energy utilization in traditional finishing processes may be optimized through the use of innovative technologies.
TW Special Report
I
n times of declining resources, it is of utmost interest to minimize energy costs. Kurt van Wersch of Germany-based A. Monforts Textilmaschinen GmbH & Co. KG has prepared an article that suggests simple means and methods for achieving optimal energy utilization through the use of innovative technologies in traditional finishing processes.
The introduction and conclusion of the article, titled "Dwindling Resources -- Put Need To Your Benefit," are excerpted here. The complete article,
which can be downloaded here
, describes how energy costs are incurred and how, using simple means and methods, maximum energy utilization can be achieved through the use of innovative technologies in traditional finishing processes.
Dryer configurations, minimum application processes, measuring and control technology and fabric examples are described.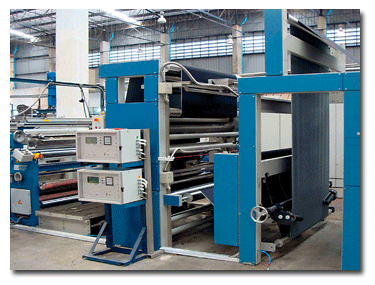 Monforts' soft-coating production range enables energy usage and drying cost reductions as well as increased production speed, among other advantages.

Introduction
Discussing dwindling resources is no longer relevant today. No matter how alternative energies are generated, it is necessary to use less energy more effectively.
The parliamentary state secretary at the German Federal Ministry for Economics and Technology, Dagmar Wöhrl, said during the opening of a congress last year:
"Energy is the motor for economic growth and development worldwide. The conservative use of energy and raw materials is not only a major factor for climate protection, but also and more particularly an important competitive advantage for companies and national economies. Using resources efficiently allows you to produce more cost-effectively than the competition. The awareness that the best energy is the energy that is not used is gaining more and more significance, particularly in the light of the ever-increasing energy and raw material prices."
Final Considerations
This article is intended to show where the problems lie during drying, and how maximum energy utilization can be achieved with simple means and methods through the use of innovative technologies in traditional finishing processes. Energy efficiency is a step in the right direction. What can be eliminated doesn't require disposal, and what isn't applied doesn't require drying.
In order to optimize work flow, older-generation dryers can be redesigned electrically to use frequency controllers, high-efficiency motors and measuring instruments. It is very important to reconcile economy and ecology by using affordable technology to reduce energy consumption and costs and reduce wastewater.
January/February 2010
Advertisement