An Encouraging First Quarter
Robert S. Reichard, Economics Editor
E
vidence pointing to a tolerably good 2010 continues to mount. For one, the just-ended January-March period turned out better than expected -- with textile activity equaling or even slightly topping year-ago levels. And the improvement is pretty much across the board,with only carpets -- hard-hit by the continuing construction slowdown -- continuing to lag behind year-earlier results. One would have to go back a long time to encounter such positive year-to-year comparisons. Still another upbeat sign is the continuing, albeit modest, improvement in mill activity reported by the Institute for Supply Management, a grassroots group representing the nation's top purchasing managers. The downstream apparel picture also is looking a bit better these days, with output at last report pretty much back to where it was last year at this time. Another good sign for apparel makers: Retail clothing sales are again in rising trend -- up 2 percent from late 2009 levels. The fact that both textile and apparel inventories have declined substantially over the past year is still another industry positive. Specifically, stocks -- which are down about 15 percent in both of these industry sectors -- suggest a further incentive for increased production as business turns around. Talks with mill executives further add to the feeling that things are beginning to improve. While few see any big near-term gains, most report a flattening out or even a small uptick in new orders. And nearly all are becoming a bit more optimistic about the future.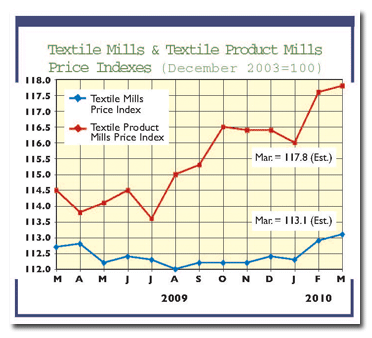 A Second Look At 2010
Add in important macroeconomic factors -- like slow but steady gross domestic product growth, a modest recouping of last year's big net worth losses, and gradually improving consumer sentiment -- and
Textile World
's 2010 textile projections made at the beginning of the year now seem to be somewhat on the low side. Given the latest developments, for example,
TW
's forecast equations suggest that overall mill shipments for all of 2010 are likely to show a modest 1.5-percent gain over last year's $48.7 billion level. That's a huge difference from the 19-percent tumble reported last year. Equally encouraging, our new projection is 3 percent above
TW
's original 2010 estimate made just three months ago. In any event, 2010 should be the first time in years that the industry will avoid a decline in overall mill activity.
TW
's apparel numbers are also being adjusted upwards -- with the originally projected 2-percent gain being upped to somewhere around 3 percent. More importantly, the longer-term prognosis, for 2011 and beyond, also seems to have improved. Again, don't expect miracles. But the latest forecasts by Global Insight, a major economic forecasting firm, suggest that the huge declines of past years are over. In their projections over the extended 2011-2014 period, Global Insight analysts see only fractional annual declines -- 1.5 percent for basic textile mills, less than 1 percent for fabricated mill products, and about 3 percent for apparel. That's not all that bad, given these industries' recent history. And it's another sign that our domestic textile/apparel complex is in a lot better shape than some of the recent purveyors of gloom and doom would have us believe.
An Improved Profit Picture
All the above are also likely to result in a somewhat improved earnings outlook. Global Insight analysts, for example, using their own rough operating profit measures -- shipments less labor and material costs -- have made notable upward revisions to their textile and apparel earnings forecasts. Zeroing in on the basic mill sector, the group now projects a solid 13- to 14-percent profit gain for 2010. That's a significant shift from its beginning-of-year forecast that actually suggested some slippage. And the story isn't all that much different when it comes to more highly fabricated mill products -- with a revised 14-percent gain now replacing the former 8-percent advance. And the picture is basically similar for apparel manufacturers, with a new 15-percent projected increase replaces an earlier decline. Nor are these profit figures expected to experience any significant shrinkage over the following four years, from 2011 thorough 2014. Indeed, operating profits over these years are expected to remain at or just a bit under this year's projected readings. Credit this growing profit optimism to a combination of factors -- today's improving demand outlook, a still-rising productivity curve, and improved cost controls. On the latter score, the typical percentage of the textile and apparel dollar earmarked for labor and material costs is actually projected to continue edging lower over the next few years.
April 2010
Advertisement
Related Files:
Download Current US Textile And Economic Indicators.