Executive Forum: Retail Apparel Solution: Yarn Matters
Industry veteran David Sasso explains how quality apparel costs can be controlled through proper selection of yarn that is engineered to perform.
D
avid Sasso, vice president, sales, of Jefferson, Ga-based Buhler Quality Yarns Corp., has been doing much more than selling yarn. In today's globally competitive marketplace, Sasso has made inroads working with retailers and brands to show that yarn matters to a product's success. Selections of fiber and the proper spinning system have a direct influence on apparel quality - quality that, Sasso explained to
Textile World
, need not come at a higher cost.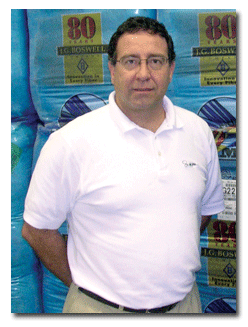 TW:
David, you've said that quality can be achieved with little to no increase in cost. Is that really possible?
Sasso:
There are so many assumptions made when quoting and specifying yarn that the numbers often get exaggerated, and the yarn price ends up as the culprit. When you analyze the details within your supply chain, you often find the assumptions were wrong. Working up and down the supply chain and understanding the goals and constraints of the project are essential to really controlling costs and maximizing quality.
TW:
What is a common yarn cost as it relates to garment cost and garment price at retail?
Sasso
: Let's assume a garment using a 100-percent Supima® 20/1, 205-grams single jersey for a typical T-shirt is retailing at $15 full price. The yarn cost component for the garment is approximately 48 percent of total garment cost and approximately 14 percent of the full retail price.In another example, let's assume a garment is using a 100-percent Supima 50/1, 100-grams single jersey for a fashion T-shirt retailing at $35 full price. The yarn cost component for the garment is approximately 41 percent of total garment cost and approximately 4 percent of the full retail price.
As you can see, yarns can become less of a factor as we go lighter in weight. The key here is designing to achieve the higher margins and using quality fibers to make the garment meet the expectations of the consumer when paying a premium retail price.
TW:
In your experience, are decision-makers at brands and retailers aware that the effect on quality can be influenced by how a yarn is engineered?
Sasso:
To make quality, it is all about fiber and spinning know-how to make a fabric perform at its optimum level. Yes, you can fool brands and retailers at dyeing and finishing to give the appearance and hand of other luxury fibers, but this is short-lived. Once the consumer has worn and washed the garment numerous times, the real quality is apparent. Some retailers have hired talent in this area, but many have not seen the value in investing in true textile engineers.
TW
: You've sent
TW
two women's T-shirts, one pink and one white, from two leading mall-oriented retailers. You've told us that they both sold at an $18 price point and when new were similar in appearance. There seems to be a lot going on here - can you explain?
Sasso
: The pink one is a regular cotton slub, and the white one is a MicroModal®/Supima slub. The interesting thing is that the white MicroModal/Supima tee was made in North America. In the wash test, the pink cotton tee lost its shape, while the white MicroModal/Supima tee continued looking nice. There is no question which one the consumer would buy if both were side by side in their current condition.
Again, it boils down to design and fiber/yarn quality. Brands and retailers need to put products on the shelf that are compelling to buy and will not leave the consumer disappointed.
TW:
There is an apparent difference in appearance as well as hand - the white tee seems to have out-performed the pink. How much can you attribute to yarn properties?
Sasso:
The fiber and yarn properties made all the difference.
TW
: The United States has some really strong spinners. What is the best way for brands and retailers to tap into that storehouse of knowledge?
Sasso:
Getting the message through to the brands and retailers that we can make a difference and that we can help them differentiate their products is what it is all about for quality US spinners. Successful brands and retailers are good for US spinners. It is our job to build better brands, and we can do that if we can show, case by case, that we can supply the product and support that makes a better garment and makes it competitively.
TW:
The owner of the pink T-shirt probably would be disappointed ultimately in the garment and the brand.
Sasso:
Most definitely. There is so much misinformation and price pressure that its easy to fail to give the consumer true value. A relatively small-percentage investment in better fibers and yarns can enhance the value of the product tremendously. Durability or garment lifecycle can increase from 15 washes to 50 or more washes. Imagine how green that is. Yarn really does matter.
September/October 2009
Advertisement