ShanghaiTex Celebrates 25 Years
The 14th edition of ShanghaiTex will showcase the technology of approximately 1,500 exhibitors to an expected 120,000 visitors.
TW Special Report
T
he International Exhibition on Textile Industry (ShanghaiTex), inaugurated in 1984, will celebrate its silver anniversary during this year's event, to be held June 12-15, 2009. Organizers of the biennial show expect more than 1,500 exhibitors to fill 100,000 square meters in nine halls at the Shanghai New International Expo Center in Shanghai's Pudong district. More than 120,000 visitors from China and more than 40 other countries and regions are expected to attend the event, topping the 2007 show's attendance of 108,204 visitors from 42 countries and regions.
ShanghaiTex 2009 organizers include Shanghai International Exhibition Co. Ltd., Shanghai Textile Technology Service & Exhibition Center and Hong Kong-based Adsale Exhibition Services Ltd. Sponsors include Shanghai Textile Holding (Group) Corp., China Council for the Promotion of International Trade Shanghai Sub-Council and China Chamber of International Commerce.
Exhibitors' displays of textile technologies and services will be organized into zones including: Knitting & Hosiery Machinery; Printing, Dyeing & Finishing Machinery & Textile Chemicals; Spinning, Nonwoven & Techtextile Machinery; Weaving Machinery; and Spare Parts & Accessories. Within these zones, visitors will find the newest textile technology including: bleaching, dyeing, printing, finishing and making-up machinery; fiber manufacturing machinery; knitting and hosiery machinery; machinery and accessories for apparel; mill management instruments; nonwoven fabric and tufting machinery; software and information technology for the textile and garment industries, including computer-aided design/computer-aided management/computer-integrated manufacturing; spare parts and accessories for textile and apparel machinery; spinning machinery; testing and measuring equipment; textile chemicals; weaving machinery; and yarn twisters, winders and accessories.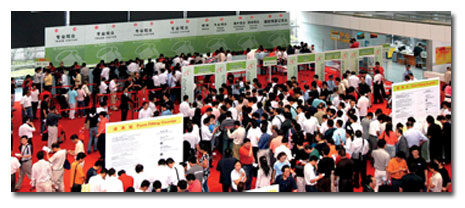 ShanghaiTex will take up 100,000 square meters of floor space in nine halls at the Shanghai New International Expo Center.
Show hours are 9:30 a.m. to 5:30 p.m., June 12-14; and 9:30 a.m. to 3:00 p.m., June 15. Admission is free, and visitors may pre-register online or register onsite during the show. A new Buying Guide Zone will provide guidance to buyers according to their sourcing needs.
The 2009 China Textile Industry Summit, themed "Crisis and Opportunities," will be held concurrently with ShanghaiTex 2009. Discussion topics include the impact of the current financial crisis on the textile industry, and opportunities available to Chinese textile and textile machinery companies to extend their application areas.
In 2007, 93.6 percent of show attendees rated the quality of exhibitors from good to excellent, and 92.7 percent rated the quality of exhibits from good to excellent.
"ShanghaiTex has always been well-organized," said Qi Jian Dong, Zhejiang Netsun Co. Ltd., speaking about ShanghaiTex 2007. "In this edition, I see more exhibitors and they are more professional. There are different varieties of exhibits and products categorization is going to be more detailed. We have met many potential partners at the show and we are very satisfied with it."
---
For more information about ShanghaiTex 2009, contact Fiona Pang or Vivien Wong, Adsale Exhibition Services Ltd.; +852-2516-3348/3340; fax +852-2516-5024; publicity@adsale.com.hk; www.shanghaitexonline.com.
Advertisement