Ahead Of The Trend
Material World returns to Miami Beach to present Spring/Summer 2009 sewn products trends and solutions.
TW Special Report
M
aterial World has been showcasing products, services, trends and solutions for the sewn products industry since 2000. Sponsored by the American Apparel and Footwear Association (AAFA), Arlington, Va., and produced and owned by Urban Expositions, Atlanta, the show has grown over the years, with last year's event in Miami Beach, Fla., registering a double-digit increase in the number of visitors over the previous show.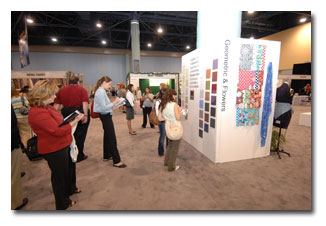 Material World visitors take note of future colors and trends shown at last year's exhibition in Miami Beach.
This year, Material World Miami Beach will take place April 21-23, again at the Miami Beach Convention Center, running concurrently with the Technology Solutions Expo featuring information technology geared to the sewn products industry. The show will highlight six key growth areas:
• MW Fabric & Trim: fabric and trim manufacturers;
• MW Source: manufacturing and contract production providers;
• MW Equip: machinery and equipment for apparel, footwear and other sewn product production;
• MW Delivers: logistics, packaging and other service providers;
• MW Performance: a full range of performance fabrics; and
• MW Green: fabrics made from renewable resources and/or using environmentally friendly processes.
Educational tracks covering new developments and marketing support tools also will target these areas.
"For 10 years, Material World has successfully delivered the one-stop global fashion production, supply chain and technology event designed for US, Canadian and Latin American industry members," said Tim von Gal, president, Material World & Technology Solutions. "For the April 2009 Miami Beach edition, we're tapping into some of the most important and fastest growing areas in the apparel supply chain industry today. We're also working closely with our alliance partner AAFA to bring the best possible product representation and educational programming to support these and other growth areas in order to arm Material World attendees with the best tools and strategies they'll need to thrive and prosper in today's challenging business environment."
Material World is endorsed by the American Apparel Producers Network (AAPN), National Textile Association, National Council of Textile Organizations and Canadian Apparel Federation; and trend forecasters Pantone and Stylesight, which will participate in the trend pavilion showing colors and trends for Spring/Summer 2010.
In conjunction with Material World, AAPN will hold its annual Sourcing Executive Reception April 21 at 6:30 p.m. at Emeril's Restaurant in Miami Beach. The event is free for AAPN members. Nonmembers may attend for a fee that is applicable toward AAPN membership.
---
For more information about Material World & Technology Solutions, contact +800-318-2238, +678-285-3976; mwinfo@urbanexpositions.com; www.material-world.com
.
March/April 2009
Advertisement