A Dismal First Quarter
Robert S. Reichard, Economics Editor
T
he new year is starting out where late 2008 left off. Consumer caution - exacerbated by slumping stock prices, the mortgage crisis, rising unemployment and falling incomes - continues to take its toll on overall activity. Indeed, all barometers of general business activity have been in free-fall. To be sure, the slippage on an industry-by-industry basis has been uneven.
But virtually no area has escaped, including textiles and apparel. True, declines in the latter sector haven't been quite as catastrophic as for some big-ticket items like autos. Nevertheless, they have been significant.
Overall textile shipments at last report were trailing year-earlier levels by some 10 percent. And things were even more disturbing for textile mill production, which now lags year-ago readings by 15 percent. Moreover, more highly fabricated textile products such as home furnishings and carpets - areas that had been holding up better in recent years - have now experienced a more-than-average nosedive, in large part reflecting the housing market collapse. And, as might be expected, apparel activity is down, too - 4.4 percent under a year ago in the case of shipments, and near 6 percent when viewed from a production perspective. Textile mill profits also have suffered. But here the declines in earnings and margins have been somewhat moderated by lessening cost pressures - namely lower fiber procurement bills and rising worker productivity.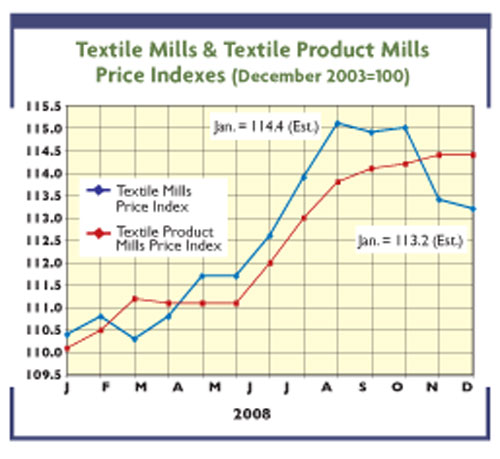 The Rest Of 2009
When then can we expect any turnaround? Clearly, it won't be coming over the next few months. For one, the Obama administration's Wall Street bailout and stimulus packages will take time to percolate through the economy and have some appreciable effect. Consumers will continue to struggle with uncertainties, huge debt loads and fear of job losses. As a result, they will think twice or even three times before making any large expenditures. Also putting a brake on any significant near-term buying spurts is the precipitous drop in family net worth, which reflects both the recent stock market plunge and the huge capital losses in home values. One source estimates that household worth dropped $10 trillion in 2008 - reversing the average $4 trillion annual gains recorded over the previous few years. Given all these still-potent negative factors, it may be autumn before business activity begins to see noticeable improvement. Moreover, even then, any gains that do occur are likely to be relatively small. And the outlook is much the same when zeroing in on textiles. True, mill declines will decelerate, but they will take time. And there's little chance of any big spurt. Bottom line:
Textile World
editors look for another year of sizeable shrinkage in mill activity. Right now,
TW
forecasting equations suggest about a 5-percent decline when all the 2009 textile numbers are in. About the only consolation: That decline would be well under last year's huge 10-percent plunge. Also on a brighter note: If all goes well, 2010 should see only modest further industry erosion.
Trade Question Marks
Elsewhere, new uncertainties about imports from China and the rest of the world will continue to plague the industry. To be sure, the year just ended didn't turn out to be all that bad. New figures show incoming shipments of textiles and apparel on a square-meter-equivalents basis actually declined 5 percent, with even Chinese imports off about 3.5 percent. Unfortunately, however, the international trade ground rules seem to be changing again. Looking at China first: American quotas on imports for a wide range of Chinese garments have just expired. And some fear this could mean an incoming surge in shipments from that country. Compounding these worries is the recent Beijing move that restores export tax rebates to its textile sector. But even more important could be the changing economic climate in China itself. It clearly seems to rule out any further upward revaluation in the Chinese currency, which has risen 21 percent over the past few years. Other things being equal, this would suggest that Beijing's apparel won't be quite the bargain it once was. Also worth watching: the tendency on the part of many US firms to shift their sourcing strategy away from China and toward other lower-cost Southeast Asian countries. One US buyer feels a switch away from China and toward Cambodia and Vietnam could cut procurement costs by 4 to 8 percent.
March/April 2009
Advertisement
Related Files:
Download Current US Textile And Economic Indicators.