Enfilter Installs Sonobond SeamMaster™ Unit
Scotland-based Enfilter Ltd., a division of the Abenco Group, has installed a SeamMaster™ High Profile Ultrasonic Bonder from West Chester, Pa.-based Sonobond Ultrasonics. Enfilter is using the technology to bond longitudinal seams in liquid and gas filter cartridges - replacing a process previously carried out by a third-party company that pleated and seam-glued the products.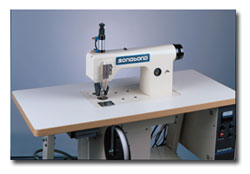 "We identified a number of options for our seaming process. However, Sonobond's equipment stood out above all the others," said Andrew Clark, managing director, Enfilter. "In the time we have had the unit, we have had no downtime except that required for routine maintenance. Sonobond has also been very ready to answer our questions and to provide whatever technical support we need."
Sonobond reports the SeamMaster bonder seals, sews and trims nonwoven and man-made materials in one pass using ultrasonic vibrations to fuse the material. No glues, threads or other adhesives are necessary.
January/February 2009
Advertisement