Silence Is Onyx
PGI has expanded the automotive applications for its SilOnyx™ recycled and recyclable acoustic materials and added an enhanced four-layer variety to the product line.
Janet Bealer Rodie, Associate Editor
P
ursuing a quest to reduce interior noise levels in automobiles, as well as to improve vehicle compliance with revised Corporate Average Fuel Economy standards, Charlotte-based Polymer Group Inc. (PGI) has developed SilOnyx™, a needlepunched, moldable, lightweight, acoustic, high-strength, recycled and recyclable material that PGI says surpasses traditional plastic materials in terms of sound absorption and reduced weight. The product is currently being used in certain vehicles including the Chevy Malibu, Ford Focus and Honda Civic.
Using technology similar to technology it had developed earlier to make automotive headliner substrates, PGI first offered SilOnyx for use in vehicle wheel wells, and recently expanded the applications to include door panels, trunk parts, dash insulators, hush panels, package trays and other automotive parts. SilOnyx materials have a substrate of recycled, regenerated polyethylene terephthalate (PET) or a mix of PET and polypropylene (PP) fibers, and a PET face layer. Products containing a PET/PP mix are recyclable into another product stream such as park benches, and 100-percent PET products can be recycled in a closed loop back into PET products.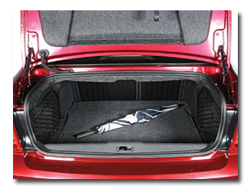 SilOnyx™ can be engineered and color-matched for all the different parts lining a vehicle trunk, ensuring total harmonization of the parts
.
"Using already developed technology and incorporating recycled and regenerated products, we created a very cost-effective product for the automotive industry," said Gale Shipley, PGI's manager of product development — Technical Fabrics. "We started with wheel well liners and launched from there to trunk parts that have a virgin, color-matched face that offers abrasion resistance as well as good appearance."
"What's driving this development to move from polyethylene molded wells is acoustics and weight, plus the cost-competitive aspect," said Don Bokshan, PGI's automotive sales and marketing director. "One solution is to put fibrous-type wheel wells in vehicles." Bokshan mentioned the material also is being considered for use as a solid, abrasion-resistant under-floor to reduce drag and further improve a vehicle's fuel economy as well as acoustic performance.
Advertisement
The manufacturing process is unique to PGI, Shipley said. "Whereas a lot of our competition use a two-step process, making a face product and feeding it back through the line to incorporate it with the substrate, our process does it all at one time," she explained. "This helps in manufacturing efficiency and cost-effectiveness, but it also helps integrate the product for better adhesion."
The name "SilOnyx" refers to the silence the material provides in a car's interior as well as the variegated black color and strength associated with onyx. The materials are engineered according to the acoustic value specified by the customer. Although SilOnyx typically has two layers, it can have up to four layers for more demanding acoustic requirements - for example, for highly engineered wheel well liners. The product weight ranges from 400 to 2,500 grams per square meter, depending on the application. If specified, water and/or flame resistance can be incorporated into the SilOnyx fiber.
Potential nonautomotive applications for SilOnyx include office and in-home theater sound absorption panels, dog beds and other similar uses.

For more information about SilOnyx™, contact Don Bokshan (248) 969-9800
.
---
September/October 2008