Fall/Winter 2009-10 Previews In New York
Five apparel textile trade shows in New York City offered an early look at trends for Fall/Winter 2009-10.
Virginia S. Borland, New York Correspondent
T
echnology and the environment are in fashion. With five New York City-based trade shows offering an early look at Fall/Winter 2009-10, sellers and buyers are focusing on new performance fabrics and earth-friendliness. At Texworld USA, Austria-based Lenzing Fibers sponsored a Botanic Symposium. Luxury was treated with new techniques at Première Vision Preview. At Kingpins, where the focus is on denim, exhibitors offered nontoxic ways to dye and finish. Direction devoted a special section to sustainability, and Printsource exhibitors were into earth-friendly designs.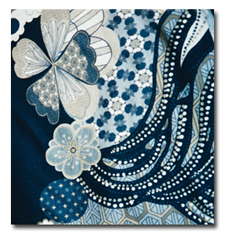 Miroglio displayed a number of print trends at Première Vision, including paisleys, skins and tartans.

Première Vision Preview
Exhibitors provided buyers with novelty and performance. Fashion Director Pascaline Wilhelm pointed out her favorite fabric, The Japan Wool Textile Co. Ltd.'s (Nikke's) 100-percent wool with a paper touch. "There are new ways of working fabrics," she said, "that give a hidden asset." The Nikke fabric has been finished to remove the wooly scale and give it a slick touch.
Olmetex S.p.A., Italy, has double cloths that are waterproof and breathable. There are heavy nylons that are patterned on one side using a new, secret process. Some have surface effects; others are reflective.
Activewear concepts have crept into suitings at France-based Avelana and Roudière. Woolen fabrics are stain- and crease-resistant and thermoregulating, and contain comfort stretch. Tweeds, tonal mini weaves, and small black-and-white patterns with a hint of Chanel were pointed out.
Piece-dyed wool blended with jute or raffia was of interest at Italy-based Picchi. Tonal novelty checks and harlequin shapes, and double cloths of wool reversing to nylon that have been printed with blurred all-over designs are some of the news.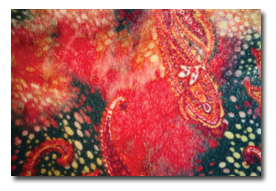 Picchi fabric
Lustered stripe/check novelty wool blends at Spain-based Tintore Turull have metallic stripes running through them. At Linea Tessile Italiana, there are bubble surfaces, flocking and embroidery over woven patterns. Philea, France, uses trilobal yarns for a reflective look and heat application on acetate for shiny pattern effects.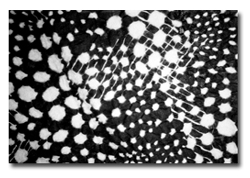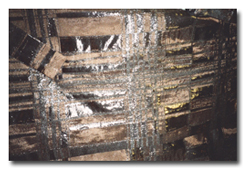 Linea Tessile Italiana (top) and Philea exhibited a range of fabrics at recent trade shows in New York City.
Organic cotton at A-Girl's Co. Ltd., Japan, is knitted into ultrasoft lightweight fabrics that have a cashmere touch and are eco-dyed and finished. France-based knitter Billon Crea'lys has dimensional patterns, puckers and swirling stripes. There are puffy patterned jacquard knits and tonal heather effects at Spain-based Texdam S.I.
Advertisement
Opulence for evening pulls out all the stops. T.B.M., France, has tightly woven crinkled faille that glitters, puffy stretch matelassé with metallic spots, heat-transfer-printed jacquards that resemble fish scales, and thick metallic ribbons used as filling yarn. At Goutarel S.A., France, there are mohair lace and hand-painted lace.
Texworld USA
A major number of exhibitors at Texworld USA were from Asia. Earth-friendliness and functional fabrics turned up frequently.
Lenzing noted that its cellulosic fibers Tencel® and Modal® are made from renewable resources. It had an excellent response to MicroModal® Air, its newest fiber variant. Fifteen spinners with whom Lenzing is working claim it processes well and has a luxurious, silky touch. It is being blended with cashmere and is expected to be adapted for luxury intimate apparel.
SFT Inc., South Korea, reported a good response to its first MicroModal Air fabric. It is ultra-sheer, soft, silky and slinky. Other fabrics contain Seacell® and organic cotton. There are new crepes that have a crisp, dry hand.
Bros Holding Ltd., Hong Kong, is showing recycled polyester and organic cotton heather jersey along with Tencel and Modal. Undyed fabrics are selling in natural shades. Pima cotton/linen blends and cotton/wool with a luxurious, soft hand are other good sellers.
Sean-Da Technology Co., Taiwan, showed a new functional yarn made from mica. Called Cool Zone, it absorbs moisture and offers protection from ultraviolet (UV) rays. Manufacturers of swimwear and sportswear have shown interest.
Performance outerwear at Snow Textile Co. Ltd., China, is described as "luxurious with value." There are double cloths, and laminates that shine and glitter. Yarn-dyed plaids and checks are ultralight, and some contain metal to give them a memory.
ICP Corp., South Korea, sells coated fabrics for outerwear. Some are embossed for surface interest, others resemble animal and reptile skins, and the newest have optic effects. At Takisada-Nagoya Co. Ltd., Japan, there are small, foil-coated checks on knitted fabrics that look dimensional. Polyester fleece and double cloths are also of interest.
Kingpins
Denim was the focus at Kingpins, sponsored by Dow Fiber Solutions, Midland, Mich., and Olah Inc., New York City. Along with fabric manufacturers, there were exhibitors of eco-friendly treatments. DyStar Textile Services, Charlotte, also an exhibitor at Direction, is looking at eco-friendly ways to dye denim. Denmark-based Novozymes AS, a major producer of enzymes, provided information about its environmentally-friendly bio-scouring and bio-polishing processes that clean cotton and reduce pilling.
Japan-based Kurabo Industries Ltd. introduced stretch denim woven with Dow XLA™. Cottons blended with wool, cashmere, angora or silk were pointed out in 7.5- and 8.5-ounce weights. Hong Kong-based vertical knitter Fountain Set Holdings Ltd., showing go-with-denim T-shirt fabrics, has an eco-friendly line made with certified organic cotton, recycled polyester, bamboo, Tencel or Modal. Many of the fabrics contain Outlast® thermoregulating technology, provide UV protection and repel mosquitos.
Print Trends
Early print trends shown by Italy-based Miroglio S.p.A. at Première Vision indicate that paisleys, skins and tartans will continue. Panel prints are new. Turkey-based Confetti Fabrics showed ethnics and ikats on silk charmeuse, chiffon and georgette.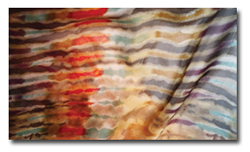 A fabric offering from Confetti Fabrics
Printsource And Direction
Studios exhibiting at Printsource and Direction showed a lot of variety. There are peacock feathers at New York City-based Colorfield Design Studio, overlapping circles at London-based Circle Line; and vintage lace looks at Westcott Design Ltd., London; New World Design Studios Inc., Fort Lauderdale, Fla.; and Marilyn Kern Textile Design Inc., New York City. Argyles, tartans, tile patterns and scrolls are shown at Avon, Conn.-based Group Four.
New York City-based Tom Cody Design is showing new ways with paisley. There are all-over designs, leafy and flowered combinations. Painterly ikats and Bohemian patchworks are other ideas.
Paisleys are elongated at Design Direction, soft and abstract at Bella Prints, and swirling and combined with tartans at Daniel Sager Design Inc. - all based in New York City.
Exhibitors in the Sustainable Direction section included the SOSsourcing guide, giving resources for a variety of products; Rubia Pigmenta Naturalia, the Netherlands; DyStar; and Jasco New York LLC, White Plains, N.Y.
Three years ago, Jasco launched an organic wool division under the Global Organic Textile (GOT) standard. Wool and wool blended with organic cotton are washed and dyed with low-impact dyes.
September/October 2008