Fehrer Products Live On
Fehrer, now doing business as Oerlikon Neumag Austria, continues to offer high-performance needling solutions under the Oerlikon Neumag brand.
Textile World Special Report
N
eedle loom manufacturer Fehrer, long known for its high-performance needling solutions, is alive and well and now operating under the new name of Oerlikon Neumag Austria. The company continues to offer a comprehensive line of needle looms and airlay equipment, but the Fehrer DREF spinning machines have been permanently discontinued.
Oerlikon Neumag Austria, part of the Oerlikon Neumag Carding Division, still operates at the former Fehrer site in Linz, Austria, which now serves as Carding Division headquarters.
Other companies that are part of the Carding Division include Oerlikon Neumag Italy S.p.A., formerly F.O.R., which provides opening, blending, and carding machinery; and Germany-based Autefa Nonwovens, which provides crosslappers, cutters, slitters, and winders.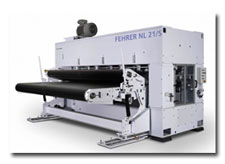 Oerlikon Neumag Austria's comprehensive line of needling machinery includes the Fehrer NL 21/S double-board needle loom.
Linz also is the site of the Carding Competence Center, where three fully operational nonwoven lines are available for customer trials and research and development work.
Line 1 is a Fehrer Aerodynamic card line with V21/R pre-opener, K12 Random Card, optional High Loft device, optional needle loom, Thermobond oven and winder. For high-production and special fiber needs, the RSP volumetric feeder is used. For predominantly man-made fiber blends and improved web evenness, the CF pneumatic chute feeder may be used.
Line 2 is a needlepunching line complete with pneumatic chute, 2.5m Webmaster 2+2 card, Autefa 4006 crosslapper with WebMax feature, 5-trio web drafter, two double-board needle looms, web measuring device and winder.
Line 3 is a pneumatic chute feeding a special triple-doffer Injection card for high-speed carding applications, a special version offered only by Neumag Italy for spunlace.
As one of Oerlikon Neumag Austria's principal product offerings, the needle loom product range includes single-board looms, double-board looms, tandem looms, quad looms, random velour looms, and structuring machines. Standard needlepunch machine widths range from 1 meter up to 7.3 meters. Speeds vary according to machine width and stroke.
Another important component of the Oerlikon Neumag Austria/Fehrer product line is its papermaker felt needlepunch machinery. Pre-needle and finish-needle machines are offered in widths up to 15 meters. Finishing lines can be specified to have multiple needling zones, thus providing the user a range of flexibility.
Oerlikon Neumag Austria is represented in the United States and Canada by Charlotte-based Oerlikon Textile Inc., which offers sales, service, and spare parts for all Carding Division products. Servicing for Fehrer products, including refurbishing and modification, also is available through the company's Greenville-based partner, SIEGI Inc.

November/December 2008
Advertisement