Cotton Numbers Revisited
Cotton data provide insight into continuing trends in a changing global textile marketplace.
Jim Borneman, Editor In Chief
T
his year, 2008, continues to be an interesting year for the multi-faceted cotton industry. As a crop, cotton is affected by overarching demand trends in agriculture. Increased demand in competing crops has led to fewer cotton plantings. As a commodity, cotton survived what some feel was a speculative price run early in 2008 - a run not supported by standard market influences; and, as of early November, the "A" index has fallen to its lowest point since May 2007.
Because cotton is a US consumer product - a precursor to apparel - demand for the fiber is affected by retail forecasts and, ultimately, consumer demand for cotton apparel. Because it is a significant US export, global demand and consumption weigh heavily, with recent export estimates indicating that demand has fallen by as much as 1.8 million 480-pound bales.
In the world of consumer marketing, trends like the green and sustainability movements provide opportunities and questions for cotton.
When
Textile World
reviewed cotton data at the end of the 2004-2005 season and analyzed it through the five-year time series from 2000-01 through 2004-05, global shifts in cotton production and the growth of the textile industry represented by cotton consumption became apparent. China, India, Pakistan, Turkey, the United States and Brazil led the world in both production and consumption of cotton.
In terms of cotton exports, Uzbekistan was second to the United States in global cotton export at the end of the 2004-05 season. The big change here is the development of domestic production in India, which now is producing almost twice as much cotton as the United States and whose production now outstrips domestic consumption by 7 million bales.
In 2006,
TW
observed that a domestic supply of high-quality cotton is a competitive advantage to a domestic cotton textile industry. In 2008, this was reinforced by oil at $140 per barrel earlier in the year and multifold increases in transportation costs. As oil costs retreat, the sting of unexpected and seemingly endless price increases still illustrates a significant value of domestic supply for domestic consumption.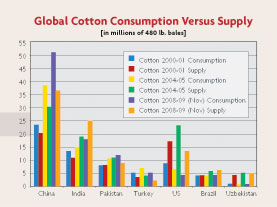 The Top Four Continue
China, India, Pakistan and Turkey collectively consumed 50.3 million 480-pound bales of cotton in the 2000-01 growing season. By 2004-05, the four consumed 71.3 million bales, and as of the 2008-09 November estimates, these four stay in the lead for global consumption, collectively consuming 86.2 million bales.
On the supply side, China, India, Pakistan and Turkey collectively increased output from 43 million bales to 64.6 million bales of the total global cotton supply during the measured period - from the 2000-01 growing season through the 2004-05 growing season. The 2008-09 November estimates have this trend continuing with an estimated 72.8 million bales of production.
Still China, China, China ...
In 2006,
TW
observed that US Department of Agriculture cotton data reinforced what one might expect about the growth of China's cotton consumption in the five years from 2000 through 2005. From the 2000-01 through the 2004-05 growing seasons, China increased cotton consumption by 64 percent - from 23.5 million to 38.5 million bales. The 2008-09 November estimates reflect continued growth in consumption to 51 million bales. These estimates do reflect reductions based on revisions influenced by the dramatically slowing economy in the fourth quarter 2008 and early 2009.
In 2000-01, China exceeded its domestic supply of cotton by 3.2 million bales. By the end of the 2004-05 growing season, the country out-consumed its 30.3 million-bale domestic supply by 8.2 million bales. It is estimated that the 51 million bales will exceed the domestic supply of 36.5 million bales by 14.5 million bales - an export opportunity for US and other net cotton exporters.
China was and is the world's largest consumer and producer of cotton, as illustrated through each of the three analyzed periods.
India's Consumption
And Supply Continue To Increase
As illustrated in the 2006 analysis India, like China, is and was another high-growth story, but with a twist. From the 2000-01 season through the 2004-05 season, India increased its cotton consumption by 11 percent - from 13.5 million bales to 15 million bales. In domestic supply, India made significant increases during the same five-year period, increasing domestic supply of cotton by 8.1 million bales - from 10.9 million bales to 19 million bales - a 74-percent increase in production. This represented a shift from India being a net importer to its being a net exporter of cotton. Through the 2008-09 season, this trend continues, with India producing 25 million bales - the world's second-highest production - and consuming 18 million bales - the second-highest global consumption.
Pakistan On The Move
Pakistan demonstrated even growth in the production and consumption of cotton. As the world's third-largest consumer of cotton, Pakistan increased cotton consumption by 33 percent - from 8.1 million bales in the 2000-01 season to 10.8 million bales in the 2004-05 season. Consumption is estimated to continue to grow to 12 million bales in the 2008-09 season.
Over the same period, Pakistan grew domestic production of cotton by 2.9 million bales, from 8.2 million to 11.1 million bales. This trend will reverse in 2008-09, with production of 9 million bales.
Consumption And
Supply Rise And Fall Back In Turkey
While expanding consumption of cotton by 35 percent, from 5.2 million bales to 7 million bales over the measured period from 2000 through 2005, Turkey was and is a net importer of cotton. Even by increasing domestic production by 17 percent, from 3.6 million to 4.2 million bales, Turkey exceeded domestic supply by 1.6 million bales in 2000-01 and 2.8 million bales in 2004-05. For the 2008-09 period, consumption is expected to fall back to 2000-01 levels of 5.2 million bales, while supply falls lower than the 2000-01 level to 2.3 million bales.
US Consumption Declines, Supply Falls
In the 2006
TW
analysis, the US was the fifth-largest consumer and the second-largest producer of cotton. US cotton consumption fell by 25 percent, from 8.9 million bales in 2000-01 to 6.7 million bales in 2004-05. That trend continues in 2008-09, falling to 4.4 million bales.
Cotton production was up from 2000-01 through 2004-05 by 35 percent, from 17.2 million bales to 23.3 million bales. But pressures for competitive agricultural products - with some observers citing increased demand for plantings of biofuel crops - have reduced cotton plantings and production in the United States, with the November 2008-09 estimates at 13.5 million bales - down almost 10 million bales from the 2004-05 season.
American Pima production has been reduced dramatically, with 2007-08 yielding 851 thousand bales and the October 2008-09 revision pointing to 451 thousand bales - down by 47 percent. Harvested acres have fallen from 288 thousand in 2007-08 to 170 thousand in 2008-09, with the largest declines in California, where acreage has fallen from 257 thousand acres to 151 thousand acres.
Cotton Continues To Thrive
With all the challenges facing the global textile industry, particularly as it enters a time of increased economic uncertainty, cotton offers many opportunities. As sustainability and the green movement surge ahead, cotton will continue to craft an argument for greener crop production and greener textile production. With world mill use estimated at 119.3 million bales, cotton continues to thrive.
November/December 2008
Advertisement