Charlotte Welcomes IFAI Expo '08
Return to Charlotte yields positive tone during difficult times.
Textile World Special Report
E
xpectations that the Charlotte location of the Roseville, Minn.-based Industrial Fabrics Association International's (IFAI's) 2008 expo would deliver a strong show were met and exceeded in late October. Showing their products and services to a record-breaking 8,210 registered participants from 58 countries, IFAI Expo's 470 exhibitors had strong traffic from a diverse group of industry participants. Charlotte has delivered for the expo in the past, and with its proximity to the United States' Southeastern textile complex, few were surprised by the quantity and variety of attendees. Add to that more than 100 speakers and facilitators, innovative symposia and hands-on workshops, and attendees enjoyed a broad variety of programs.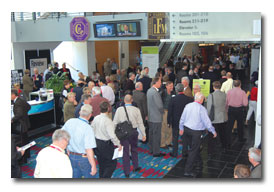 I
FAI Expo 2008 attracted a record 8,210 registered participants.
Keynote speakers for IFAI Expo 2008 included legendary football coach and sports commentator Lou Holtz, whose humorous and self-deprecating style allowed his inspiring presentation on leadership to ring true. Holtz was sponsored by Glen Raven, N.C.-based Glen Raven Custom Fabrics LLC, manufacturer of Sunbrella® fabrics for furniture, awning, marine and graphics applications. Keynote speaker and Pulitzer-Prize-winning historian and author Doris Kearns Goodwin presented "Leadership Lessons from Abraham Lincoln," based on her book "Team of Rivals: The Political Genius of Abraham Lincoln."
The expo also provided the opportunity for industry executives to optimize their time and travel to the show by offering concurrent meetings such as the National Textile Association's Board of Directors meeting held prior to IFAI Expo.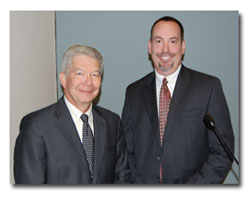 IFAI President and CEO Steven M. Warner (left) and Todd Lindemann, IFAI's vice president, conference management
International Expansion
IFAI announced that it is establishing IFAI Expo Asia, a new trade show and conference to serve the Asia-Pacific markets. The event will be held April 14-16, 2010, at the Suntec International Convention & Exhibition Centre in Singapore.
In a statement released by IFAI, Steven M. Warner, president and CEO, said,"We intend to duplicate the success of our long-established IFAI Expo held in the US. There is a tremendous consumption of specialty fabrics in the Asia-Pacific region. The current trade shows in India and China focus almost exclusively on the nonwoven industry. IFAI Expo Asia will now become the first major trade show in the region that similarly targets as visitors the end-product fabricators who use woven, nonwoven, knit and composite materials."
Todd Lindermann, IFAI's vice president, conference management, added: "For the exhibitors, IFAI Expo Asia will be unique, appealing to suppliers of all these different types of materials as well as related equipment and services that are being used. And, we will attract as visitors the actual fabricators of finished products in applications such as medical, automotive, construction, safety, military, recreation and structures. Another targeted audience will be those who have design, application and market influences such as government purchasing agencies, civil engineers and architects."
Singapore-based MP International, which will organize the event, has organized many leading-edge trade exhibitions and conferences, including the recent ITMA Asia + CITME 2008 in Shanghai.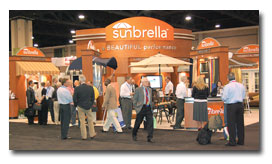 Glen Raven Custom Fabrics LLC and its Sunbrella® brand had a major presence at the expo, both as a sponsor of several events and as an exhibitor.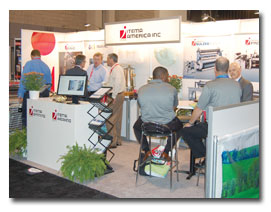 Itema America Inc. was among the record 470 exhibitors showing their products and services at IFAI Expo 2008.

Follow-Up On Berlin
IFAI also announced that following the success of the first Advanced Textiles conference, which took place in Berlin in June 2008, a second conference will be held April 2-3, 2009, in Brussels. The 2008 conference attracted 100 attendees from 14 countries and was conceived as a US-European entrepreneur networking event.
For Advanced Textiles '09, IFAI will partner with Brussels-based Fedustria, the Belgian association for the textile, wood and furniture industries. Several other associations and governmental institutions have confirmed their willingness to actively support the conference's second edition.
In announcing the 2009 conference, Warner said: "As I promised last June, we took up the suggestion from our participating audience and the supporting associations to hold the Advanced Textiles conference on a regular basis and to develop it further. We have a promising road map for 2009. Especially in these difficult world economic times, we want to back our industry by offering this innovative communication platform to foster bilateral business cooperation and valuable knowledge exchange."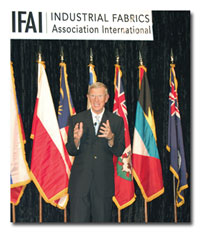 Keynote speaker Lou Holtz
Future Expos
IFAI Expo 2009 will be held September 23-25 at the San Diego Convention Center in San Diego. For the future, the IFAI has scheduled IFAI Expo 2010 to take place in Orlando, Fla.; IFAI Expo 2011 in Baltimore; and IFAI Expo 2012 in Boston.
November/December 2008
Advertisement