UltraTech, UltraSpeed
Ground-breaking fabric and textile construction technologies coupled with space-age product engineering and design enhance the performance of Speedo's LZR Racer® swimsuit.
Janet Bealer Rodie, Associate Editor
T
he latest racing swimsuit from England-based Speedo International Ltd. is creating significant waves as swimmers wearing the suit break records right and left in competitions leading up to the 2008 Olympics in Beijing this summer. The Speedo® LZR Racer®, made from an ultralightweight, high-tech fabric produced by Italy-based Mectex S.p.A., has figured in more than 35 new world records set since its launch in February. Specially engineered to reduce drag and boost efficiency, the suit exemplifies how ground-breaking fabric and textile construction technologies coupled with space-age product engineering and design can enhance product performance.
Speedo's Aqualab research and development group, headed by Jason Rance, conducted 3-D body scanning of 400 elite swimmers to develop the suit's pattern and construction. Testing by the National Aeronautics and Space Administration, the Australian Institute of Sport and Otago University in New Zealand; and computational fluid dynamics software from Canonsburg, Pa.-based ANSYS Inc. also were used to determine the optimal design and fabrics in terms of reducing surface and passive drag.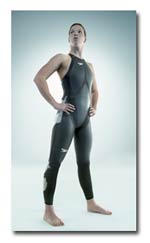 Kate Ziegler models the LZR Racer®, with its futuristic design by fashion brand Comme des Garcons.
Fashion and performance apparel fabrics weaver Mectex, the first company to produce stretch woven fabrics, developed the fabric exclusively for Speedo, which was seeking a fabric that would improve on the performance of the sharkskin-like fabric of its Fastskin® knit racing suits introduced in 2000. The new fabric, LZR Pulse™, is a nylon microfiber/elastane two-way-stretch woven fabric that is extremely lightweight and quick-drying, and provides the compression needed to streamline the swimmer for more efficient performance while also providing good flexibility for ease of movement.
"By using that very fine microfiber in a very high-density weave, we were able to create that kind of compression," said Stuart A. Isaac, senior vice president, team sales and marketing, for Los Angeles-based Speedo North America.
Mectex applied an exclusive water-repellent and other treatments using its newly developed Plasmaterial™ technology, an eco-friendly nanotechnology using the energy of cold plasma and no chemicals or water to permanently modify the fabric surface. Isaac said the treatments reduce water absorption to only 2 percent of fabric weight, as opposed to 50 percent absorption in the Fastskin fabric.
LZR Pulse debuted last year in Speedo's Fastskin FS-Pro® suits, worn by swimmers who broke 21 world records within a year's time. The next-generation LZR Racer features special LZR ultrathin polyurethane film panels laminated to the base LZR Pulse fabric in strategic places and ultrasonically welded seams to further streamline the suit and reduce drag; as well as a girdle-like Internal Core Stabilizer made from the base fabric to provide additional support and, according to Rance, enable the swimmer to swim faster for longer. The suit also provides a natural buoyancy similar to that of a boat riding high in the water.
Advertisement
"You just feel like you're zipping across the surface [of the water]," said Kate Ziegler, world record distance swimmer from Fairfax, Va.
---
Contacts: For more information about Mectex® fabrics, contact Aurelio Fassi, afassi@mectex.it. For more information about the Speedo® LZR Racer®, contact Jason Rance
44-115-9167000.
May/June 2008