Techtextil North America 2008
The fifth edition of TTNA hosted 310 exhibitors from 21 countries and 3,711 attendees from 42 countries.
Textile World Special Report
A
s with previous editions of Techtextil North America (TTNA), organized by the US branch of Germany-based Messe Frankfurt, the 2008 exhibition and symposium series highlighted one of the most vibrant sectors of the US textile industry — technical textiles and nonwovens. Because of the breadth of products and technologies presented at the exhibition, there was a interesting mix of exhibitors and attendees, many of whom could wear either badge.
One exhibitor commented that it was a doubly engaging show for him because he was able to do business with clients who were also exhibitors prior to the exhibition floor opening to attendees, as well as with the attendees during normal show hours. This isn't a new phenomenon, but it seemed more pronounced at this year's show — as if exhibitors were staffing booths with sales and technical staff in order to maximize impact on the show floor and possibly take advantage of the symposium program.
Another pronounced theme was an emphasis on capabilities rather than product. Many attendees commented that between the symposium series — ranging from very technical presentations to sector opening speeches on topics like doing business with the US government — and the broad array of exhibitors, the show presented a chance to connect and see new product and process opportunities.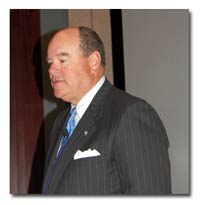 Glen Raven President and CEO Allen E. Gant Jr. delivered the TTNA 2008 keynote address.
That environment was truly fitting for the event's keynote speech, delivered by Glen Raven Inc. President and CEO Allen E. Gant, Jr., titled "The Competition Never Sleeps — How a 127-Year-Old North Carolina Textile Company Transformed Itself into a Global Source for Innovative Solutions." According to Gant, over the years, Glen Raven has exited unprofitable commodity businesses, focusing on value-added technical fabrics that are based on intellectual capital and advanced technology.
"Innovation is not the most important thing, it is the only thing," Gant said. "New ideas are no longer limited by geography or time. Capital will seek out the most innovative products and services. Your goal must be to generate innovative ideas ahead of anyone else, capitalize on those ideas quickly and be prepared to exit and pursue other new ideas based on changing market and competitive conditions."
Gant, always an insightful and motivational speaker, also spoke about the link between freedom and innovation — saying, in essence, the freer a society, the more innovation prospers.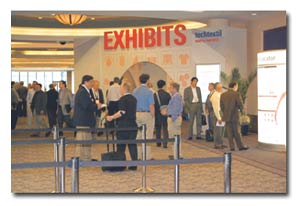 Techtextil North America 2008 was held at the Cobb Galleria Centre in Atlanta.
Going Annual And Heading West
TTNA has taken a big leap by announcing that starting in April 2009, it will be an annual show and symposium alternating between the East and West Coasts of the United States. In even years, the event will continue to take place in Atlanta, its current location. In odd years, TTNA will take place on the West Coast. The 2009 event will be held in Las Vegas at the Sands Expo and Convention Center, and, according to the organizers, it will offer a new audience of buyers a chance to attend the show.
Exhibitors initially seemed concerned about this announcement, and many said they really haven't considered the West Coast market. Others wondered if there is a market they are missing. And still others remarked that they would be there, and that the nonwovens and technical textiles market is too exciting, in contrast to some of the more traditional markets, to be serviced only every other year.
Also, there were those exhibitors concerned about how this show cycle would potentially conflict with Techtextil's international show cycle. Show organizers stated that they came to their decision carefully after doing considerable research into the market and the potential of a West Coast location. In terms of international conflict, this may cause challenges for international exhibitors and those who currently market internationally. However, for those focused on the US market, US-attendance at the international shows is not significant when measured against what the US shows have been able to deliver. "The Western region features a significant concentration of manufacturers and customers in important growth markets," said David Audrain, president of Messe Frankfurt USA. "By offering Techtextil North America annually in two US regions, this event will be accessible and beneficial to significantly more buyers, and make it even more valuable for our exhibiting companies." The organizers pointed to an increased pool of attendees coming from sectors like general textiles, agriculture, industrial, medical, and transportation including aerospace.
The symposium series will continue to be organized by William C. Smith, principal of Greenville, S.C.-based Industrial Textile Associates, and Techtextil Symposium North America director. "The feedback has been nothing but positive." Smith said. "Educating people to the latest research and industry developments in technical textiles, stimulating and motivating them to take what they have learned at the symposium and possibly applying that to their products and to solve problems, is the essence of such a symposium. I think we accomplished that."
May/June 2008
Advertisement