Spunbond & Meltblown Nonwovens
Part two of a five-part series on nonwoven manufacturing technologies
Jürg Rupp, Executive Editor
T
he spunlaid process is the fastest and probably the most economical way to produce nonwovens if the high output is taken into consideration. It is a manufacturing technique whereby molten polymers are directly converted into endless filaments, laid on a conveyor belt and eventually formed into nonwoven roll goods.
Over the past 20 years, some nonwovens have become commodities thanks to spunbonds. Disposable materials, such as baby diapers or hygiene products, are produced mainly using spunlaid technology.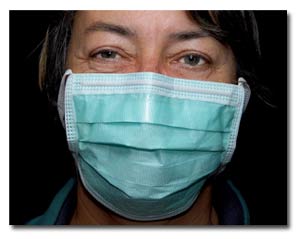 Medical products are one of the most
prominent applications for spunlaid nonwovens.
Basics
All nonwovens are principally produced in three stages: web formation, bonding and finishing treatments. Nonwoven manufacturing starts by the arrangement of fibers in a sheet or web. The fibers can be staple fibers or filaments extruded from molten polymer granules. Four basic methods are used to form a web, and nonwovens are usually referred to by one of these methods: drylaid; spunlaid; wetlaid; and other techniques.
Advertisement
Some nonwoven manufacturing technologies use in their initial production stages processes similar to yarn production processes. For fibrous nonwovens, opening, blending, cleaning and carding are more or less the same processes. The split comes after the card: The web is either bonded into a nonwoven or further processed into a yarn.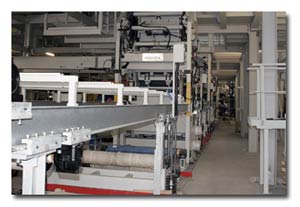 The new laboratory in Reifenhäuser Reicofil's nonwovens technology center features three lines — a composite line for hygiene applications, one for technical applications and one meltblown line.
Spunbonding Process
The same applies to the production of spunlaid nonwovens; it is similar to filament yarn production. From the chips storage, the polymer is vacuum-fed to a dosing station on top of the extruder. Inside the extruder, it becomes melted and homogenized. Passing a filter system and a spin pump, the melt is fed into the spin beam or spinnerets, which form a curtain of filaments. The filaments are cooled by means of a stream of air in a blowing area, drawn by aerodynamic forces and then transported to the downstream discharge channel. For nonwovens, instead of a further stretching process for filament yarns, the filaments are swirled around and then deposited on the wire mesh belt as a random nonwoven. This web is transferred to a bonding calender that uses heat and pressure to set such physical properties as tensile strength and elongation of the final product. After cooling, the material can be wound.
Today, different companies offer production lines for spunlaid nonwovens. Germany-based machinery builder Reifenhäuser Reicofil GmbH & Co. KG is the leading manufacturer globally of spunbond, meltblown and composite lines for the nonwovens industry. The technology allows the production of nonwoven fabrics for a large range of applications in hygiene, medical and industrial areas. Reifenhäuser Reicofil with its 150 employees is a company of the Reifenhäuser Group.
The Reicofil spunbonding process is employed to produce polypropylene, polyethylene, polyester and polyamide nonwovens. The spunbonding process has been developed continually since 1986. It is based on the wish to make the process as simple to control as possible and to be energy-efficient in comparison to similar processes.
Physical Properties
Endless filaments in combination with a uniform discharge guarantee low weight while retaining strength. Spunbonds have a quite high air permeability, use no chemicals, are thermobonded, and have a very good bidirectional machine direction/cross direction, and wear properties. Compared to only a few years ago, modern spunbonds are soft and comfortable, and the average weight today is 10 to 150 grams per square meter.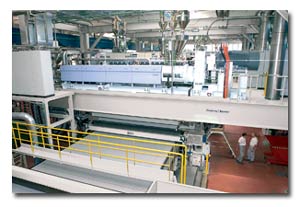 A highly productive Oerlikon Neumag spunbond line was installed in a plant in Asia.
Products
Spunbonds are used mainly for hygiene products such as baby and adult diapers, feminine care, and medical products such as protective apparel. Spunbonds also are used more and more in technical applications. These are used mainly for construction, coating substrates, agriculture, battery separators or even disk covers.
Finishing For More Products
Spunbonds are very versatile products. They can be printed, laminated or electrostatically charged; and have improved hydrophilic properties through the application of tensides. By using additives or pigment pastes, spunbonds can be dyed in many different shades, have flame-retardant or antistatic properties, and be used for increased ultraviolet and gamma ray protection.
Meltblown Nonwovens
Meltblown technology is a younger brother of the spunbond technology. The process allows the production of ultrafine filament nonwovens under very economical conditions. Thanks to its characteristic properties, meltblowns often are used as high-degree filter media for air, liquid and particles.
In the meltblown process, a thermoplastic fiber-forming polymer is extruded through a linear die containing several hundred small orifices. Streams of hot air — exiting from the left and right sides of the die nosepiece — rapidly attenuate the extruded polymer streams to form extremely fine filaments. The filaments then are blown by high-velocity air onto a collector screen, thus forming a fine-filtered, self-bonded nonwoven web. After that, they are bonded and wound to form roll goods for further processing.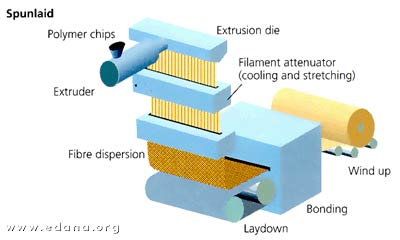 Diagram of the spunlaid process. Schematic courtesy of EDANA

Areas Of Application
Meltblowns are used mainly for absorbent cloths and wipes; oil absorption; and filtration for liquids, gas and air. Very important end-uses of meltblowns include sanitary applications such as hygiene and incontinence products for babies, adults and feminine hygiene.
Endless Combinations
The range of applications increases with the further development of the technologies. Since meltblowns have limited strength characteristics, they often are combined with other nonwovens. Spunbonds and other types of nonwovens also can be covered and refined with meltblowns. Today it is possible to implement production lines not only with spunbonds, but also with a meltblown component, to produce different types of nonwovens with an even more of a textile feeling.
Approximately 40 percent of meltblowns are manufactured using a stand-alone process. The remaining meltblowns are combined with spunbonds or laminated to form other materials. Combinations with spunbonded fabrics are primarily used to make nonwoven materials with barrier properties. Another variation is the combination of meltblown with cellulose or an absorbent powder to produce a soft, strong, but still absorbent material that can retain absorbed liquid while still keeping its strength. The outcome is a combination of spunbonds (S) and meltblowns (M), resulting in SMS, or even SSMMMSS or other combinations, depending on the final product.
Spunlaids also may be coated; having functional inserts for controlled absorption and, as mentioned, applied as composite material for many applications. From SMS to SSMMMSS, everything can be manufactured and implemented. This setup increases the range of applications considerably — including, just to name a few:
• hygiene;
• baby and adult diapers;
• medical products;
• protective masks for medical use;
• general use as a barrier layer;
• combination with other nonwovens/area-measured material;
• paper composites;
• work safety;
• protective clothing; and
• breathing masks.
A Lot Of Interaction Is Needed
The production of different kinds of nonwovens requires many partnerships, mainly between the machinery supplier and the customer. More and more nonwovens producers and newcomers as well are looking for different types of products. This requires a lot of trials, which are only possible in a highly equipped technology center.
In a presentation in April 2008, prior to INDEX 08, Reicofil unveiled its new technology center in Troisdorf, Germany, which offers more and better possibilities of conducting high-speed trials. Dr. Bernd Kunze, CEO, Reicofil, mentioned in his presentation the savings potential for customers in the newly created testing opportunities: The high-speed lines installed in the new technology center should enable customers to develop new products and processes that they could test in the past only on their own lines at high cost in terms of time and money.
The nonwovens technology center accommodates a flexible production line designed specifically for technical nonwovens, and a six-beam line for hygienic and medical products. Trials can be run on both lines at their respective maximum speeds of 400 and 1,000 meters per minute. For the first time, customers and suppliers are offered the opportunity to develop special products, such as ultralight SSS or SSMMMSS nonwovens and hydroentangled nonwovens, in an inline production environment.
May/June 2008